TECHNOLOGY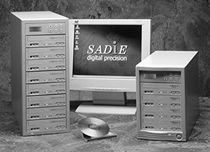 SADiE has announced the introduction of a high-speed audio networking system for its workstations named SADiEnet. The system utilizes ATM (Asynchronous Transfer Mode) networking technology to connect SADiE workstations via Cat 5 (electrical) or OC3 fibre optic connections to share project files and the complete audio data for multiple projects quickly, safely and securely. Projects may be used directly across the network or stored on a local SCSI hard drive first. SADiEnet seamlessly employs two separate networks: ATM for the large audio files and a conventional Ethernet connection for project file sharing, the latter requiring much smaller bandwidths. Also new from SADiE is the CD-R Tower, a multiple CD Burner for the SADiE range of digital audio workstations. The CD-R Tower is available in either a four or eight recorder version. Multiple towers can be connected offering simultaneous recordings of up to 64 discs. Featured within all models is an internal hard drive that is capable of storing up to 20 different bit-accurate CD images. The system can copy from a CD or from a disc image on the hard drive. The CD-R Tower can operate up to 4x in online mode with disc shadowing (in which a disc image is written to the hard drive at the same time as writing CD's to the CD-R drive). In alternative modes, the write speed is dependant on the aptitude of the drives within the CD-R tower. Currently the system uses Plextor ® 12/10/32 drives which can write up to 12x, however other drives may be used. Furthermore, the drives in the tower can be replaced with faster models as they are developed. And one more from SADiE is the new DSD Mastering Workstation capable of editing and mastering stereo DSD material and producing finished masters for the Super Audio CD (SACD) format. The DSD Mastering Workstation will be available later this year and is expected to form the first of a series of new workstations supporting all existing and new delivery formats, offering total system solutions to mastering facilities across the world. The editor will support the recording and full editing capability of stereo DSD material. Full equalization and dynamics control will also be available. www.sadieus.com.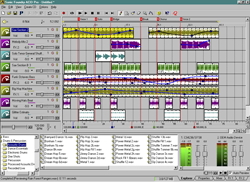 Sonic Foundry® Inc. announced the availability of ACID™ PRO 3.0. The latest version of the loop-based music creation software adds many new features. The Beatmapper™ remixing tool allows users to add tempo information to song-length files, allowing them to remix and combine music loops with existing songs. Video Scoring allows users to create music beds for videos to score alongside their projects. ACID PRO also allows users to change the tempo and pitch at any time in a project to facilitate syncing up audio and video easily. The Chopper™ editing tool allows users to create drum fills, stutters and DJ-style effects using portions of audio loops which can be dropped into tracks as events. With MIDI and DLS Sound File Support, users can combine MIDI files with audio tracks and play them using external or internal MIDI resources. ACID PRO 3.0 includes 12 new DirectX Plug-Ins from Sonic Foundry's XFX™ 2 and XFX™ 3. Effects include Amplitude Modulation, Chorus, Delay, Distortion, Flange, Noise Gate, Reverb and more. The MSRP is $499.95 and is available from Sonic Foundry for $349.97 as a download (30% off) and $399.96 for a boxed product (20% off). Users of any previous version of ACID PRO can upgrade to ACID PRO 3.0 for $99.99 as a download and $149.99 for a boxed copy. www.sonicfoundry.com.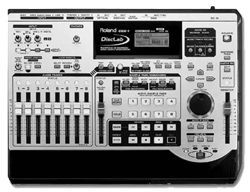 The CDX-1 DiscLab from Roland is a new type of flexible audio workstation. Designed for the recording musician, the unit is part digital multitrack recorder, part phrase sampler, and part CD burner. The digital multitrack recorder section can record 2 tracks simultaneously to the onboard CD-RW drive, 8 tracks total. Load or sample audio phrases on built-in Sample Pads. Create music with samples and multitrack recording simultaneously. Onboard phrase sample tools provide waveform editing, time-stretching, BPM syncing, and more. The Phrase Sequencer and Rhythm Guide/Drum Machine allows sample sequencing and song construction. 2 stereo effects processors include COSM guitar multi-effects, Groove effects, studio effects, Mastering Tool Kit and more. The CD Creation mode for writing directly to CD-R from the stereo audio inputs is ideal for re-mastering vinyl records or cassette tapes directly to CD. www.rolandus.com.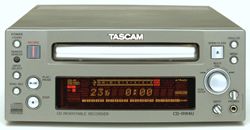 TASCAM introduced its new CD-RW4U professional CD burner. The CD-RW4U is an easy to use rewritable CD recorder that offers the power of the CD-RW700 housed in a compact 3.5x8.5x12 inch case. "The CD-RW4U was specifically designed for installs that had limited equipment placement space but still needed the power of a professional CD recorder/player," says Patrick Killianey, TASCAM systems contractor product specialist. The CD-RW4U offers 20-bit A/D D/A converters and can record to both CD-R/RW and CD-R/RW-DA media with write speeds of up to 4x. The built-in sample rate converter automatically adjusts differing program sample rates before burning to a disc. The front panel control surface features a stereo mini headphone jack with an adjustable level control for monitoring, a program input level control and a VU level meter on the LED screen for visual reference. The rear panel offers both RCA unbalanced analog I/O in addition to coaxial digital I/O. The unit also features a wireless remote controller that offers a number of additional control, program and playback options in addition to those on the front panel. www.tascam.com.
Sennheiser Electronic Corporation has announced the incorporation of their exclusive new Center-Lock(tm) auto-tuning into the ever-popular RS headphone series. Christened the RS 65, this new auto-tuning wireless headphone system debuts an exclusive technology that delivers accurate, drift-free tuning and builds upon the successful features of its predecessor, the RS 60. Chief among them is the SRS(tm) processor, which turns the headphones into a viable surround sound delivery system. The technology transforms an otherwise ordinary TV or music experience into a dynamic, three-dimensional sonic immersion. The new RS 65 system consists of a pair of high fidelity, circumaural headphones of Sennheiser's Open-Aire(tm) design with an integrated RF receiver and a separate transmitter (which can drive any number of headphones). A cradle in the transmitter recharges the headphones, which operates for up to four hours between chargings. www.sennheiserusa.com.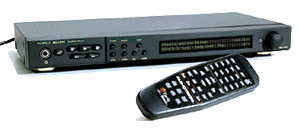 Turtle Beach Systems is now shipping its home-networked digital audio appliance, the AudioTron. The device ($299 estimated street price) organizes and plays an unlimited number of digital audio files stored on the owner's personal computer, transmitting and receiving data via standard in-wall phone wiring or an Ethernet 10BaseT network. With the included Voyetra® AudioStation® software, the PC becomes a whole house music jukebox, delivering audio to any room where the AudioTron is located. Using either the included remote control or buttons on the base unit, users can play digital music stored on their computer. This includes MP3 and WMA files, as well as uncompressed WAV files. The AudioTron will not interfere with normal phone operation or DSL Internet service. The AudioTron is compatible with all major operating systems, including Windows 98, Windows ME, Windows 2000, and Linux, and can be ordered at www.turtle-beach.com. 800-233-9377.
Maxell is adding new 10x CD-RW discs to its line. The new high-speed CD-RW discs enable recording speeds of more than 1.5 MB/sec. and support 4x to 10x recording. The discs, available now, carry a MSRP of $9.99 per three-pack. Also new to the line is the new CD-Rpro700 MB discs which feature triple-coating for maximum scratch resistance and extended expected lifetime of the product and the stored data of 100 years. The CD-Rpro discs are compatible with recorders with up to 16x write speed. www.maxell.com.
THE MIX
Goods Entertainment, Inc. announces VoiceHunter.com a voice casting resource for media companies world-wide. The on-line voice casting service features demos from almost 3000 different VO artists and access to celebrity voice-overs as well. The service is a partnership with the agents throughout the world and demos received from VO artists directly. RadioVO.com and TelevisionVO.com started in November of 1999 as the "only 'on-line' voice casting service" and resulted in the creation of CommercialVO.com, WebVO.net, NarrationVO.com, MovieVO.com, BusinessVO.com, and then the site that linked them all together, VoiceHunter.com. VoiceHunter.com offers three ways to cast talent: 1) the Hunt Yourself section uses a search engine with user configurable filters, 2) Showcase Sites offer media specific demos from VO talent to listen to with credits on the site to help know their work, and 3) VoiceHunter staff members are available to do all the searching and casting for you. www.voicehunter.com.
Steve McKenzie, NextMedia Corporate Creative Director based at WZSR-FM (Star 105.5), in Crystal Lake, Illinois and contributing writer for RAP recently won the coveted $5,000 Radio-Mercury Award Radio Station-Produced category for excellence in radio creative. Of the numerous entries submitted from across the nation, WZSR's "Kid Advertising" Commercial created for Pirro Brother's Pizza in Woodstock, took home this category's top honor. Steve McKenzie was the writer, producer, and voice talent on the commercial. Also making an appearance was Steve's son Joshua and Carol Vohn, morning show host at WZSR-FM. This marks the first time that Steve has won this category. He was a finalist at the 1999 Radio-Mercury Awards and since that time has won numerous additional awards including this year's Radio And Production Awards and the 2000 Chicagoland Achievement in Radio Awards. An audio CD of the forty-eight finalists, including all the winning spots will be available mid-July. For information, or to order a CD, contact the Mercury Awards at 212-681-7212 or by e-mail at This email address is being protected from spambots. You need JavaScript enabled to view it.. To review Steve's winning commercial on his website, please go to www.mckenziemedia.com and go to the "streaming audio" page.
BMG Entertainment has announced the purchase of San Diego-based Network Music. Network Music's products and services will complement two of BMG Entertainment's divisions, BMG Music Publishing and BMG Special Products. Network Music will remain a separate operating unit within BMG, with independent production, sales, marketing, warehouse and distribution units. The company's senior management team will also remain in place. Network offers a full-service library of over 200 CDs as well as a sound effects library and the Short Trax and Production Elements libraries. BMG's current production music assets include nearly 800 CDs, including the Killer Tracks library. (212) 930-6790.
Alesis Studio Electronics unveiled the final phase of its company reorganization. Jack O'Donnell, President of Numark Industries, received court approval to acquire all assets of Alesis and its affiliates for an undisclosed amount. The company will now accelerate plans for the launch of its new product line, including the new HD24 Hard Disk Recorder, which is slated to be in stores at the end of July. www.alesis.com.
♦