TECHNOLOGY
XM Satellite Radio announced that the first of the company's two satellites has arrived at Sea Launch's Home Port in Long Beach, California, in preparation for its scheduled launch this month. XM's satellites — officially named "Rock" and "Roll" — will launch from Sea Launch's floating launch platform near the equator. The first XM satellite "Roll" will rocket into space on January 8th, 2001, and the second will launch later in the first quarter. The satellites will be positioned above the United States, where they will transmit up to 100 channels of radio programming nationwide. The XM signal will transmit directly to XM radios across the continental United States and its coastal waters. www.xmradio.com.
Digigram announced that the upgraded version of its Xtrack Audio Suite multi-track software allows users to import, export and edit MP3 files. Xtrack 4.0 is able to merge a set of tracks, consisting of any combination of PCM, Layer I, and Layer II, to generate a single MP3 file. Format, sampling frequency and bit rate conversions are done by the export process. The software also allows users to convert their MP3 files into a single PCM, MPEG Layer I or MPEG Layer II file. A wide range of compression is offered, from 8 kbps at 22.05 kHz to 320 kbps at 48 kHz. Xtrack 4.0 is priced the same as its previous version at $500. Current Xtrack users may order an upgrade to Xtrack 4.0 for $100 directly from Digigram's website at www.digigram.com.
adDIRECT, a provider of digital ad delivery via the Internet for the print industry, and Central Media Inc. (CMI) the owner and operator of SpotTaxi.com, have merged to create FastChannel Network, Inc., a single-vendor solution for the distribution and management of advertising campaigns and short-form content across multiple media channels. FastChannel Network combines adDIRECT's and SpotTaxi's online network of over 5,000 ad agencies, production studios, broadcasters and publishers in North America. FastChannel ensures a seamless transition for existing customers of adDIRECT and SpotTaxi.com to log in and select the respective application service. Additionally, customers will still be able to directly access SpotTaxi.com and adDIRECT via their respective URL's (www.spottaxi.com or www.ad direct.com).

GT Electronics, a division of Alesis, introduces Vipre, the first full-featured all-tube microphone preamplifier to combine variable impedance, selectable rise-time, and an all-tube audio path in a single unit. Vipre has a suggested retail price of $2199. GT Electronics marketing manager Randy Neiman explains, "Altering the impedance load pushing against a microphone dramatically alters the tone and character of the output signal. Since different mics respond differently to modifications in load, chances are you haven't truly heard your mics until you've heard them with Vipre. With input steps from 300, 600, 1200 and 2400 ohms, the variable impedance feature can fundamentally change the performance of any microphone on the market today." Vipre also features a switch-selectable rise time that alters the speed at which that sound is amplified. You can increase it to preserve the full-percussive and forward qualities of the source, slow it down to help tame aggressive sounds, and make simple adjustments for anything in between. With selectable rise-time control, Vipre changes the responsiveness of the preamp from vintage, to classic, to modern in five easy steps. Customers won't find a single transistor, integrated circuit, or electrolyte cap in Vipre's entire all-tube signal path. Additional features include precise and repeatable gain settings in 1dB steps from 15 to 75 dB and complete audio metering facilities. 310-255-3400, www.alesis .com.
Innovative Quality Software has a new SAWStudio Pre-Release update available online with lots of new additions and changes. Registered users may download the update at www.iqsoft.com. Among the additions, the VST plug-in protocol is now active; the FX Choices listbox Group option has been activated; the Delete Region(s) function in the Regions View is now hooked to the Undo; the FX Final Resolution red patch is now active on the Output Tracks; and many more changes and fixes.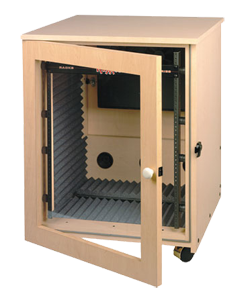 Raxxess, a maker of equipment racks and accessories, has a solution for noisy computers. The new IsoRaxx acousic isolation rack provides engineers with the ideal place to house computers, samplers, hard-disk recorders, MDMs, and other essential, yet noisy studio equipment. The IsoRaxx allows you to keep your gear nearby for easy access, but reduces ambient noise by as much as 19db. The IsoRaxx ($1,299) offers 14 spaces for your rack equipment and is available in two melamine finishes: light maple and ebony fleck. A clear 1/4" plexiglass panel in the front door allows perfect visibilty while the solid rear door houses the specially designed blower box. Three cable access passages in the rear of the rack allow for SCSI, AC and audio cables to be routed separately, reducing cable noise. 973-523-5105, www.raxxess.com.
Sonic Foundry® Inc. announces Perfect Clarity Audio™, its new proprietary audio compression codec. The technology is designed to allow users to compress music in a format that will not sacrifice the fidelity of the original source audio recording. While most audio compression technologies such as MP3 and WMA are considered "lossy," Perfect Clarity Audio delivers audio output that "is identical to the original source" and supports both 16- and 24-bit audio. During the editing process, Perfect Clarity Audio files can be modified and recompressed without degradation that lossy codecs add to every generation. Test files have shown compression ratios of 2:1 and as high as 5:1 with "no loss in audio quality." Perfect Clarity Audio is currently included in Sonic Foundry's SIREN™ Jukebox 2.0 and will be incorporated into all future Sonic Foundry product releases. Sonic Foundry is offering a free download of the demonstration version, SIREN™ XPress, with the Perfect Clarity Audio encoder included at www.sonic foundry.com.
Sony introduces two new Network Walkman players, the NW-MS9 player with MagicGateÔ Memory StickÒ removable media and the NW-S4 Sports Network Walkman player with embedded media. Both devices are SDMI compliant and come bundled with OpenMGÔ Jukebox v2.0 music management software. The units support ATRAC3, MP3, WMA, WAV and are upgradeable to support additional audio formats. Consumers create their own digital music collections by downloading songs from the Internet and ripping personal CD tracks to their hard drive. Music is then transferred at high speed to the player via USB. The new Network Walkman player (NW-MS9) has been redesigned into a more compact, metallic unit. It measures 3.2" x 1.5" x .62" and weighs a mere 2.32 ounces. It comes with a 64 MB MagicGateÔ Memory Stick media card that can store up to 120 minutes of digital audio and has a rechargeable, removable "gum stick" style nickel metal hydride (NiMH) battery that offers up to 10 hours of continuous playback. Since the battery is removable and additional batteries can be purchased, there's no need to carry an A/C adapter. The NW-MS9 Network Walkman player comes with a USB cable, headphones, battery charger and belt clip and will be available in February at around $350. The new Sports Network Walkman (NW-S4) player has a sleek pen shape and sports style, water-resistant design. It measures 5.2" x 1.1" x 1" and weighs 2.1 ounces. The 64 MB of embedded memory provides up to 120 minutes of skip-proof music and the device runs on one "AA" battery. The supplied arm strap makes the NW-S4 perfect for running, skateboarding, in-line skating, and other active sports. The Sports Network Walkman player also comes with a USB cable, headphones and one "AA" battery. It will be available in April and is expected to sell for about $300. www.sony.com.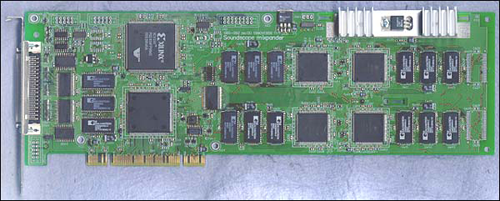 Soundscape Digital Technology announces a new hardware addition to the Soundscape product range. The Soundscape mixpander™ PCI card provides a massive amount of additional DSP processing power for Soundscape R.Ed and SSHDR1-Plus Digital Audio Workstations. It connects to the 512 channel Expansion Bus Port on the rear panel of Soundscape DAWs and integrates with the Soundscape Mixer transparently, taking advantage of all the real-time DSP effects plug-ins already purchased and authorised for the DAW. The V3.0 Dynamic Mix Automation feature in the SSEditor software extends automatically to mixpander, and external control of mixing and effects is provided through Soundscape's Console Manager. mixpander is designed to add serious amounts of additional DSP processing to cope with any size of mixing task and has the power and bussing structure that can be compared to that of top flight digital consoles, plus a rack of outboard effects processor units. mixpander has full 24 bit, 96kHz operation for complete compatibility with R.Ed, and this makes R.Ed the only system available that is able to run DSP based real-time plug-ins like the TC Reverb and TC Dynamizer plus other effects from Apogee, Aphex, Arboretum Systems, Wave Mechanics and Sonic Timeworks all at 96kHz. mixpander/9 ($2,500) contains 9 of the latest Motorola 563xx DSPs on both sides of a full length PCI card. The total processing capability is up to 2.6 GIPS (Giga Instructions per Second). This is more than 11 times the processing capability that's already included inside the R.Ed unit and 15 times the processing power of an SSHDR1-Plus. mixpander/5 ($1,800) contains 5 Motorola 563xx DSPs for up to 1.4 GIPS of processing power and is 5 times more powerful than R.Ed or 8 times more powerful than SSHDR1-Plus. www.soundscape-digital.com.
THE MIX
Vanilla Gorilla Productions, a division of Bill Young Productions, has inked 9 more voiceover and imaging deals. Joining the roster are KCHQ/Albuquerque; KTBQ/Lufkin/Nacogdoches; KTTS/Springfield; WOWQ/Dubois; WHUG/Jamestown; WIMZ/Knoxville; WWOD/Barre; WPRR/Altoona; and WYNG/Evansville. 1-800-811-4847, www.vanillagorilla.com.
♦