TECHNOLOGY
SEK´D has a new CD burner DLL for Samplitude and Red Roaster available for download from www.sekd.com. Version 3.1049 adds support for several new USB CD-burners. There's also a Sequoia update available. Version 5.74 adds new CD burning routines, fixes some problems, and improves several functions. Contact Nathan at This email address is being protected from spambots. You need JavaScript enabled to view it. or 1-800-330-7753 to request the latest update via email or CD-ROM.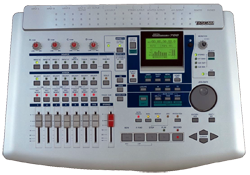 TASCAM's Portastudio line got a digital makeover with the unveiling of the 788 24-bit Digital Portastudio. Offering 24-bit non-compressed recording to an internal hard drive, the 788 ($1,149 MSRP) features six-track simultaneous recording and eight-track playback, with an eight-channel main mixer and six-channel sub mixer and eight-channel cue mix. Also included are four mono balanced inputs with TRS phone jacks and one stereo input with 2 TRS phone jacks, as well as stereo output, monitor output, stereo AUX output and a coaxial digital output. The 788 has 3-band EQ on each channel in the main mixer, high and low sweepable shelving bands, parametric mid, and AUX and EFFECT sends on each channel in the main mixer. Two internal effect processors can be independently assigned as a stereo effect processor, channel dynamics across 8 channels or stereo dynamics. It can also be assigned as a multi-effect processor for a direct guitar input. The available effects include compression, distortion, noise gate, flanging, reverb, delay, chorus, exciter pitch shifting, phasing, an EQ and a de-esser. Among the 788's user-friendly editing and recording features are: auto punch in/out recording with 99 multi-take function; point search for last recording start; dedicated locate and editing buttons with 999 locate points per song; wave form display for intuitive, accurate editing; and low-speed playback function. Up to 250 virtual tracks can recorded on the unit per song. A CD recorder, like TEAC's CD-R565 (TASCAM models CD-R Deluxe and CD-R624), CD-R585 (TASCAM model CD-R Pro) and a forthcoming TEAC CD-RW solution, can be connected to the 788 for data backup and/or CD mastering. The 788 also features: 999 levels of undo/redo locate; forward and reverse Jog scrubbing with real sound; forward and reverse shuttle with real sound; +/-6% pitch control; recording to external hard drive via SCSI port; title edit function for songs, locate points, virtual tracks, scene memory, routing memory and libraries; built-in metronome function; and 3 effects libraries with 128 user-definable presets each. (213) 726-0303, www.tascam.com.

TC Electronic introduces the TRIPLE•C Multi-band, Envelope and Full-band Compressor. The TRIPLE•C features three compression techniques: The Multi-band Compression mode allows you to spectrally compress your source material in three bands independently, making it possible to avoid typical artifacts like "pumping and breathing." A Look-ahead delay ensures intelligent and transparent compression. High resolution metering provides an instant view of individual gain reduction and the absolute gain of each band, while Peak Sensitivity lets the TRIPLE•C be much more responsive to percussive source material. In Envelope Compression mode, you can alter the dynamic envelope of the incoming source by changing Attack and Release gain. Being the most widely used style of compression, Full-band Compression mode simulates the best from conventional analog compressors. An external Sidechain allows you to control the TRIPLE•C via an external source, and the Sidechain I/O's allow for insertion of various processing devices. The TRIPLE•C features 24 bit A/D and D/A converters, S/PDIF, 1/4" analog I/Os and full MIDI controllability of every compression parameter. It comes with 50 factory presets and 100 User presets. The TRIPLE•C is available in both single and stereo channel versions ($699 and $1,049). (805) 373-1828, www.tcelectronic.com.

Symetrix introduces the 460 Presentation Audio Mixer. The 460 is a DSP-based audio mixer that uses front-panel menus to configure dynamics processing, mixing, routing, and level settings. Access to any one of eight available presets is through menu selection or through rear-panel contact closures or serial data links. "In smaller presentation systems, installers usually rely on a combination of router/switchers, VCA control cards, and other units to get the feature set required by the job," according to Steve Kawasaki, Vice President of Sales and Marketing. "The 460 replaces this mix of gear with one unit that can process speech separately from audio, combine multiple audio sources, and provide remote-control compatibility with Panja or Crestron controllers." The 460 features dynamics processing on all outputs. Its mono input channels have 6 dB/octave low pass and high pass filters, plus selectable downward expansion with threshold adjustment. Dynamics processing controls on outputs are AGC, limiting or compression. Each stereo output section provides 6 dB/octave shelving filters with a boost/cut range of +/–12 dB. Each output section also has a sweepable parametric EQ with a +/–12 dB boost/cut range, 16k to 20k frequency range, and a bandwidth adjustable between .05 and 3 octaves. All six inputs are fully assignable, providing a variety of audio mix options. Two mono mic/line and four stereo line inputs mix to two stereo outputs. The mono inputs can be linked and used as another stereo input pair and the stereo outputs can be configured independently as mono outputs. (425) 787-3222, www.symetrixaudio.com.
Newly formed TC-Helicon Vocal Technologies Inc. has unveiled the first product in its line of voice processing tools, the TC-Helicon VoicePrism Voice Formant and Pitch Processor, a full solution vocal processor for stage and studio. "The VoicePrism represents an enormous breakthrough in the control and processing of vocals for everyone from audio professionals to hobbyists," comments Fred Speckeen, Managing Director of TC-Helicon. "As a revolutionary advance in voice processing, the VoicePrism contains a complete complement of tools designed to expand what is possible to achieve with the most beautiful of all instruments, the human voice." Unlike simple harmony processors, the VoicePrism has a full range of lead and backing channel vocal processing under preset control. The VoicePrism provides the ability to go directly from a phantom powered mic into its 48V mic preamp to access any of the onboard processes including Compression, Gating, Dual fully parametric EQ, 4-voice harmony (with individually adjustable gender controls and humanizing parameters), 5th Lead-doubling voice for automatic Double-tracking, 2 separate post-effects blocks (including Chorus/Flanger, Delay and Reverb with predelay), effects and harmony libraries, preset browser with context sensitive help menus, and even audition sampled human voices for preset previewing. Outputs include analog and S/PDIF digital I/O. The VoicePrism also supports an upcoming VoicePrism Expansion Card which will offer new developments in algorithms specifically designed for voice applications, as well as both AES/EBU and S/PDIF I/O. (805) 373-1828, www.tc-helicon.com.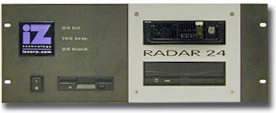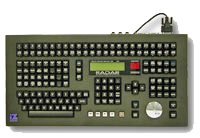 iZ Technology has assembled the RADAR®24, a third generation model of the popular RADAR at a fraction of the original's cost ($4,995.00). The base system comes with the following standard features: An enhanced V-24+ recording engine that records at sample rates of up to 192kHz; a 9 GB removable SCSI drive which records 45 minutes of 24 track audio at 24 bit, 48 kHz; 24 channel TDIF I/O (DB-25 connectors); and 2 channels of AES/EBU and S/PDIF I/O. RADAR®24 reads SMPTE, MTC, Word clock, AES, S/PDIF and Video Sync. You can control a RADAR®24 from a standard PC or MAC via SMPTE or MIDI Machine Control. Software upgrades are available via floppy disk or download from www.recordingtheworld.com. A standard KC-24 keyboard accesses all RADAR® 24 functions. You get full editing capability—Cut, Copy, Paste, Move, Erase, Slide, Loop, Shuttle/Jog, Rev Paste. Plug-in any standard SVGA and view detailed waveforms—no external computer required . RADAR®24 outputs analog and digital signals simultaneously. Assign any track input to be digital or analog. Link up to 8 RADAR®24's with the RADARLINK option. The optinal Session Controller ($1,195) is a professional remote that includes an LCD screen, easy-to-use transport controls, and an aluminum jog wheel. Macro keys, dedicated editing keys, and menu shortcut keys add additional functionality above and beyond the KC-24. Comes with 10 m. (33 ft.) cable. Add a meterbridge to the Session Controller for full remote capability for $495. (604) 430-5818, www.izcorp.com.
MUSIC/SFX LIBRARIES
The sound-effects-library.com is a London, UK based online database of over 30,000 sound effects and music samples, which is constantly being added to with new Sound Libraries from around the world. By clicking on the "search now" button clients are automatically taken to an online search engine where all they need to do is type in keywords relating to the sound they are looking for and a list will be displayed. By scrolling down the displayed list, they are able to audition each of the sounds offered before purchasing them by credit card or through a yearly subscription. Note that for anti-piracy reasons, the auditionable quality has a background hiss added to it. Once purchased, chosen sounds are downloaded automatically to the clients email address and received as full 44.1Khz 16 bit CD quality files. The site includes some free sounds. Other sounds start at around 75 cents each.
THE MIX
Jeffrey Hedquist, President of Hedquist Productions in Fairfield, Iowa and author of RAP's "Radio Hed" column has become a leading voice talent for Ford Motor Company. The spots are currently airing in the southern half of the U.S., from Virginia to Arizona. Nine producers at Ford's ad agency, J. Walter Thompson, have been directing Hedquist from Atlanta, Denver, and Miami on different commercials as he records over an ISDN connection from his digital studio. www.hedquist.com.
Sonic Solutions announced the launch of a 35-city seminar series entitled "The Essentials of DVD" to be offered through March of this year. The seminar is designed to help creative professionals learn about the latest developments in DVD technology, with a special focus on automated DVD production, web-enabled DVD production, and developing DVDs for distribution on multiple formats including DVD-R, DVD-RAM, DLT, CD-ROM and the soon-to be-introduced DVD+RW drives. To register or to learn more about the seminars, interested participants can visit the Sonic website at www.sonic.com/seminars.