TECHNOLOGY
SEK'D now offers an active mixer box for its popular Siena and other sound cards. The Siena PCI card has eight analog in and outputs. The Siena Box connects with a 5 ft cable to the multi pin connector at the back of the Siena Card. The Siena Box rewards you with 4 Balanced Mic XLR inputs with level control and phantom power, 4 line inputs (one of them switchable to phono), eight balanced line outputs, one stereo monitor mix and 2 headphone outputs. With a modified cable, the Siena box can also be connected to other 8 channel soundcards such as Emagic's Audiowerk 8 and ECHO Gina. The ProNet price is $249. www.sekd.com.
Telos Systems has announced the availability of updated software for their popular Zephyr Xstream family of ISDN broadcast audio codecs. Xstream v1.5.5 software can be automatically downloaded and installed using an FTP connection with Zephyr Xstream's built-in update function. In addition to Zephyr Xstream's use of Fraunhofer's latest coding methods (high-quality MPEG-AAC and Low-Delay MPEG AAC-LD), v1.5.5 software adds other enhancements including: a new, exclusive Layer-3 Dual Decoder Mode, which allows reception of two independent mono Layer-3 streams from distant codecs at 56 or 64 kbps each; end-to-end ancillary data support—eight bi-directional contact closures as well as serial data transmission are available in all MPEG Layer-3 and MPEG-AAC / AAC-LD modes, as well as Layer-2 Mono and Half modes (64kbps); adds choice of consumer or professional output line-levels in all models featuring built-in stereo mixers; adds MPEG Layer-2 support transmission of audio at 32kHz. Version 1.5.5 software is available free to Zephyr Xstream users, and can be downloaded from their site at www.telos-systems.com/support/. Before updating, customers should consult with Telos Systems Technical Support.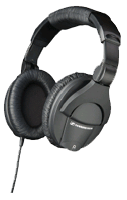 Sennheiser introduces their new HD 280 Pro headphones. Designed to deliver exceptional isolation from ambient noise with precise and linear sound reproduction at high SPLs, the HD 280 Pro combines high fidelity with practical design and maximum comfort. The HD 280's form-fitting, ergonomically designed circumaural earpieces remain comfortable for long periods of listening and can be rotated for flat mobility and space-saving transport. Single-sided coiled cable gives users maximum flexibility on the job. Easy replacement of all wearing parts insures long-life and functionality. MSR: $199. www.sennheiserusa.com.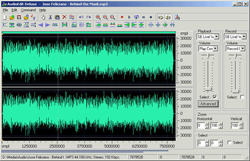 Mystik Media announces AudioEdit Deluxe 1.2 for Windows 95/98/Me/NT/2000/XP. Audio-Edit Deluxe is an inexpensive audio editing software package that allows you to create, edit, copy, move, select and mix different audio clips into one. An easy to navigate waveform interface targets the consumer as well as the pro. AudioEdit supports many formats including MP3, WMA, WAV, OGG, VOX, Compressed WAV, RAW, and others. You can also do two-way conversions between any of these formats and mix or paste from these files. Effects include amplify, delay, echo, fade in/out, invert, reverse, flanger, stretch, vibrato, and more. Get a free 15 day shareware trial or purchase for $40 at www.mystikmedia.com.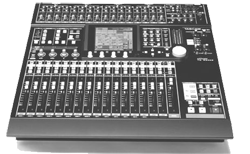 TASCAM has begun shipping their DM-24 digital mixing console (MSRP $2,999 USD). The DM-24 boasts excellent audio quality, highly flexible routing, extremely powerful built-in automation, built-in professional-quality effects, dynamics processing and 4-band parametric EQ. "…it's the perfect match for all of the 24-track recording systems being made today," says Jim Mack, TASCAM division manager. The DM-24 offers 24-bit digital converters, up to 96kHz sampling rates, and 32-bit internal processing. The mixer also features a new circuit design that allows intelligent compensation for fixed latencies within a digital studio. The DM-24 is designed to be an ideal companion for all standalone hard disk multitracks, including TASCAM's MX-2424, Mackie's HDR24/96 and MDR 24/96, Alesis' HD24 and others. For DAW systems, the DM-24 can be combined with computer interface cards to allow the DAW to act like any standard multitrack. Other recorders, such as TASCAM DTRS and Alesis ADAT systems as well as analog open-reel multitracks can be combined with the DM-24 via its built-in digital and analog interfaces and optional expansion interface modules. www.tascam.com.
Orban announces the release of its latest version of software for the Audicy Digital Audio Editor Workstation version 3.1. The new version makes the Cart Chunk standard fully compatible with AES standards, and now accepts URL Internet addresses for file transfer. Cart Chunk is an open standard for file transfers to various systems developed by Audicy developers in 1999. It allows producers to save important traffic information within Broadcast Wave Files. Companies who are Cart Chunk compliant include Spottaxi, BE AudioVault, Enco and Prophet Systems. Also included in this new release is Audicy windows file edit management program. This will allow Audicy Audio file headers to be edited, moved, and transferred more easily. Also, Dean Tiernan has returned to Orban/CRL Systems, Inc. as Product Manager for the Audicy Digital Audio Workstation. www.orban.com.
Turtle Beach has released the Audio-Station jukebox software into retail stores for the fourth quarter of 2001 (ASP $29.95), marking the first time that a version of the product will be sold in stores as a stand-alone product. Among the significant features in AudioStation v.5 are CD ripping in MP3, WMA and WAV formats, CD burning for both audio and data, advanced file management utilities, and CD and jewel case label printing. Audio-Station also includes AutoGain™, which ensures that all song files play at the same volume level. Rounding out the feature set is Turtle Radio™, which is accessible through AudioStation. Turtle Radio streams Internet radio stations from around the world, and allows you to build custom station lists. These stations are available to Turtle Radio members from any Internet-connected computer, provided AudioStation is installed. www.turtle-beach.com.
Yamaha announces the release of Version 2.0 software for the AW4416 digital workstation. Added features include an intuitive Quick Record function, user-assignable Control Keys, support for the Waves Y56K DSP card, full MIDI implementation including a Remote Control function, and more. www.aw4416.com.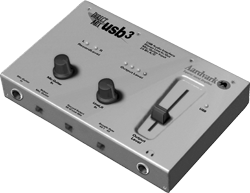 The Direct Mix USB3 from Aardvark is a professional USB audio interface that comes with everything needed to record, playback and monitor professional quality audio from any Mac, PC or laptop. The USB3 enables recording from any analog source directly to the computer without the need of an outboard mixer or preamp. It features a high quality 1/4" mic preamp which doubles as a Hi-Z guitar input. The Hi-Z input's Enhanced Frequency Response (E.F.R.) circuitry is specifically tailored to add maximum clarity and "punch" to direct recording of low-impedance instruments such as electric guitar and bass. The USB3's front panel features a 1/4" headphone jack with slider level control for real-time monitoring. A mixing control surface allows for adjustments of all input and output audio levels. The input clip LEDs and output metering provide an additional source of accuracy. Along with the self-powered USB connection to the computer, the back panel has 1/4" stereo line inputs and outputs that work simultaneously with the mic and guitar input. The Record Select switch allows separate monitoring and recording busses similar to working with an outboard mixer and sound card. This allows for up to 5 channels of low-latency monitoring for recording, mixing and playing back multiple tracks from any audio software. www.aardvark-pro.com.
Audiophile electronics engineer Richard (Dick) Sequerra recently joined forces with audio "renaissance man" Mark Conese to form Sequerra Audio Labs, L.L.C., Stamford, Connecticut, with a mission to manufacture technically and aesthetically perfect professional audio equipment. The enterprise mines nearly seventy years of combined engineering experience between the two founders and has secured distribution through Transamerica Audio Group (TAG). Sequerra's first product, the 1070.A Microphone Preamplifier is being introduced at AES 2001 NYC. The company's second product, the RM-1 Ribbon Microphone will also be showcased at AES. www.sequerra.com.
PRODUCTION LIBRARIES
TM Century, Inc. announced that effective immediately it would begin bartering for all TM Century products in all domestic markets. TMCI President and CEO, David Graupner commented as follows: "Times are tough for broadcasters from New York to New Braunfels. It is no secret that most stations find themselves in a position of having abundant inventory, but increasingly tight cash budgets. This is a way for stations to preserve their cash while deriving maximum value from their inventory. For the first time in our history...and I believe the history of the industry...we will barter jingles. Jingles have historically been a 'cash in advance' business." Additionally, all TM Century products including music services, production and imaging libraries, and commercial jingle production will now be available on barter. Other news from TM Century is the launch of its first business-to-consumer (B2C) website: www.HulaBear.com. HulaBear.com sells background music and sound effects to the home consumer and business professional market for use with applications like presentation software, home video editing programs, multi-media projects and web site design. Hula Bear Music, Inc. is wholly owned subsidiary of TM Century, Inc. David Graupner commented: "Whether you're a high school student working on a PowerPoint presentation for school, or a bank president working on a presentation for your board of directors, Hula Bear Music will provide you with the music and sound effects you need to add an extra dimension of excitement and punch to the presentation." www.tmcentury.com.
THE MIX
Kudos to RAP writer Andrew Frame/Renda Broadcasting of Southwest Florida who became the first Radio Station-produced inductee to the Radio Creative Council of the Radio Advertising Bureau. The Radio Creative Council page can be found on www.rab.com in the "Idea Section." Andrew's commercial for "Southern Trust Auto Sales" is posted there.
First Media Works created a non-commercial website at www.radiocares.org "to provide an historical record of the compassionate work radio stations have done, and to help their listeners cope with the tragedy of 9/11/01 and its aftermath. Secondly, Radio Cares has been designed to provide a forum to help broadcasters hear, see and read how their colleagues are helping their communities connect, care and communicate." Visitors can hear tributes like those on recent RAP CDs, view photos of station-related events surrounding 9/11, and more.
Sirius Satellite Radio announced it will launch its service on February 14, 2002, in Houston, Denver and Phoenix. Consumers will be able to purchase Sirius receivers in more than 200 major consumer electronics outlets. Sirius also announced that it has expanded its music lineup to include 60 channels of 100% commercial free music, all originally produced at the company's national broadcast studio. Sirius' channel mix also includes 40 channels of sports, news and entertainment programming. www.siriusradio.com.