TECHNOLOGY
AudioTX Communicator is a software-only ISDN audio codec from MDO UK Broadcast, compatible with CDQ Prima, Telos Zephyr, Glensound, Dialog, Philips and other well known models. The software enables live bi-directional audio connections in broadcast quality using only a standard sound card and ISDN card in the PC to function. It is also suitable for laptops making it attractive to reporters and correspondents and for outside broadcast use. ISDN operation is MPEG 3, MPEG 2, G.722 and G.711. In addition to the ISDN functionality, Communicator is also able to establish live audio connections over IP networks—from linking studios over a standard company LAN/WAN network to larger ATM networks and leased lines, even over the Internet using ADSL, DSL, T1, cable modem or other high-speed connection. In addition to all the ISDN modes, over a network, uncompressed (linear) connections are also included. The AudioTX software is priced at £500 (UK Sterling) which is approx $725 US. The software autodetects the far-end codec when making a connection and has a simple on-screen phonebook—all you have to do is click and dial. A downloadable trial version of the software is available together with more detailed product information at www.AudioTX.com or contact Mo Dutta at MDO UK at +44 (0) 121 248 0200, email: This email address is being protected from spambots. You need JavaScript enabled to view it..
Turtle Beach Systems is shipping its home-networked digital audio appliance, the AudioTron, in the United States. The unit is also now available at Best Buy stores. The AudioTron organizes and plays an unlimited number of digital audio files stored on the owner's personal computer, transmitting and receiving data via standard in-wall phone wiring (HomePNA 2.0) or an Ethernet 10BaseT network. With the included Voyetra® Audio-Station® software, the PC becomes a whole house music jukebox, delivering audio to any room where the AudioTron is located. Using either the included remote control or buttons on the base unit, users can play digital music stored on their computer. This includes MP3 and WMA files, as well as uncompressed WAV files. The AudioTron will not interfere with normal phone operation or DSL Internet service.The AudioTron is compatible with all major operating systems, including Windows 98, Windows ME, Windows 2000, and Linux. www.turtle-beach.com.
MAGIX Entertainment launches Samplitude 6.0, available this month. Version 6.0 combines the improved use and accessibility of the audio functions with new video and Internet features, opening the door for web designers, multimedia producers, sound and TV studio production teams. Samplitude 6.0 is available in three versions: Samplitude Master for wave editing and CD-production, Samplitude Studio for multitrack editing and recording, and Samplitude 2496 with the most extensive multi-track editing functions and high-end CD mastering. New features include more DSP power delivering high-end audio effects in real-time to individual objects in the arranger. For example, every audio object on the timeline can have its own compressor, FFT-filter, de-hisser or multi-band stereo enhancer. The program is already optimized for Pentium 4 processors and uses its full processing power. You get more flexible recordings: From instant recordings with just one click, up to direct recording into formats, like mp3 or other compressed audio formats. Samplitude 6.0 now integrates a high-end mixer with a freely selectable amount of sub-mix busses and aux-channels. Integrated effects like equalizers, dynamics, delay, reverb and DirectX plug-ins can be arranged freely in the order of usage. More powerful wave editing: If users are working on very long recordings or short samples, Samplitude enables destructive and non-destructive editing even for mp3's and other compressed files. Magix is at www.magix .com.
WaveFrame Inc. announced the release of WaveFrame/7, a new generation of the company's flagship digital audio workstation system. WaveFrame/7 features an entirely new hardware platform running on the multitasking Windows 2000 operating system. The new product line keeps the proven WaveFrame editing interface while adding 24-bit digital audio resolution, 5.1 surround mixing, DSP plug-in effects, networking capabilities, and up to 32 channels of I/O. A variety of digital audio interfaces are available, including AES/EBU, MADI, ADAT, and TDIF. Based on the Mykerinos audio engine from Merging Technologies, the new system also features major upgrades to media management tools, including a new Sound Selector and Volume Manager designed to work in a fully networked environment. Foregoing the proprietary disk file format and audio files of the previous WaveFrame product line, the new system natively records and plays industry standard Broadcast Wave files to standard FAT-32 (Windows PC) formatted drives. The system can also import Sound Designer II audio files recorded on Macintosh HFS volumes and previous generation WaveFrame V6.x files. EDL file compatibility has been addressed in the new systems by options for import and export of Avid OMF, OpenTL (TASCAM MX-2424), and WaveFrame 6.x projects. Future support for AES/31 and AKAI files is planned as well. WaveFrame/7 includes a number of specialized functions for post production, including comprehensive machine control, auto-assembly, Spotting Sheets, Special (over) ADR/Foley recording and editing, and Cue Sheet printing. The system also includes support for Microsoft DirectX. www.waveframe .com.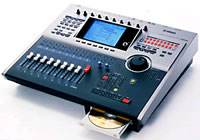 Yamaha announced the all-new AW2816 multitrack hard disk recorder, a multichannel/ multitrack digital audio workstation fashioned after the AW4416, which packaged the technology of the popular 02R mixer inside. You get 28 input channels and 18 mix busses, motorized faders with full mix automation, 16 or 24-bit recording (uncompressed), 16 tracks plus a stereo track, and virtual tracks for as many as 130 tracks total. The built-in CD-RW permits CD mastering without leaving the digital domain and convenient data storage and retrieval. Dual DSPs provide lots of effects with approximately 4 times the processing power of the chips used in the O2R and AW4416, and you get the usual DAW editing functions including time compress/expand and pitch change. All A/D and D/A conversion is handled by 24-bit converters, and all internal processing is 32-bit with the exception of the EQ stages which employ 54-bit processing. Out of the box the rear panel offers eight balanced inputs including two XLR inputs with switchable phantom power. There's also a digital stereo input and dual stereo effect returns. Lots more info at www.aw2816.com.
Audio-Technica adds a new large-diaphragm studio microphone to their lineup. The AT3035 Cardioid Condenser Microphone represents the next generation of the popular 30 Series line of microphones. Featuring an all-new design, the AT3035 is a rugged, large-diaphragm, cardioid condenser microphone that features a fixed cardioid polar pattern and excellent performance specifications, including: a flat, extended frequency response (20-20,000 Hz); high SPL handling capability (148 dB, 158 dB with the 10 dB pad); and an element yielding low self-noise (12 dB SPL). The AT3035 comes standard with a newly-engineered professional shock mount. The microphone requires 11-52V phantom power and has a switchable low-frequency roll-off (at 80 Hz, 12 dB/octave). The high-pass position reduces the microphone's sensitivity to popping in close vocal use while reducing the pickup of low-frequency ambient noise (traffic, air-handling systems) and mechanically-coupled vibrations. www.audio-technica.com.
Behringer's new TRUTH B2031 ($799/pair MSRP) 2-way bi-amplified studio reference monitors feature a 150-watt 8 ¾-inch long throw woofer and a 75-watt 1-inch ferrofluid-cooled tweeter. The TRUTH monitor, BEHRINGER's first entry into the reference monitor market, offers a frequency response from 50Hz to 20kHz. The monitor's vertically/horizontally balanced dispersion characteristics are designed to give it an unusually large sweet spot and a consistent image even off axis. The woofer has a polycarbonate diaphragm and a cast aluminum chassis. A newly designed bass reflexive system increases the speaker's efficiency by effectively reducing low-frequency distortion. Peak limiter protection circuitry is included to prevent overload. The rear panel provides easy access to the adjustable low-frequency roll-off, high frequency adaptation, and a four-way room compensation adjustment feature. Sold in hand-matched pairs, the TRUTH B2031 is fully shielded for use near computer and video monitors. The cabinet stands 15 ¾ inches tall, is 10 inches wide and 12 inches deep. The monitor has servo-balanced ¼-inch TRS and XLR connectors, mute functions and a flexible power mode with automatic standby switching. www.behringer.de.
PRODUCTION LIBRARIES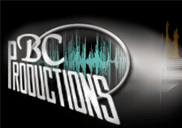 BC Productions presents Pressure, a new radio imaging sound effects package. The single CD library contains over 350 imaging sfx for a $500 buyout. Demo and ordering info at www.bcproductions.cc. A downloadable MP3 version of the entire library is online.
Cakewalk has released the first three audio loop CD titles in its new line of Cakewalk Loops™. Each Cakewalk Loops CD collection contains ACIDized audio loops that can be used in SONAR™, ACID™, and other ACID-compatible audio software programs. Cakewalk Loops are optimized to work with SONARä, Cakewalk's digital multitrack recording system for Windows, which was released earlier this year. Cakewalk Loops can be imported into SONAR or any other ACID-compatible software product, and can be modified to match the tempo or key of any existing music project. The CDs are: X-Mix Studio Loops: X-Treme Dance and Hip Hop Loops — X-Mix is known as a producer of club remixes. Now X-Mix is making available the same samples they used for artists like Puff Daddy, Janet Jackson, Whitney Houston, Tori Amos, New Order and others. Smart Loops: Rockit Fuel — Rockit Fuel is a Pop/Rock/Funk loop collection. PowerFX: In Your Face FX offers a "new generation" in sound effects designed for musicians and producers. All sounds are recorded, processed and mastered in the digital domain. Effects genres include Sci Fi, Atmosphere, Machines, DJ FX, and more. Cakewalk has plans to release additional Cakewalk Loops CDs this year and beyond. All three Cakewalk Loops CDs have a suggested retail price of $89, and are now available. For more information, visit www.cakewalk.com; or call (617) 225-3925.
THE MIX
Rich VanSlyke Productions is on a roll. Just 8 weeks after leaving WKLS Atlanta, Rich has signed on as the exclusive imaging voice for WNOR Norfolk, WRQK Canton, and as as additional promo voice for WIMZ Knoxville. Rich is also doing voice and production for MJI's Rock Image Kit and MJI's News/Talk image Kit. And he just sold two jingles in Atlanta. (There is life after radio!) 770-962-4788, email This email address is being protected from spambots. You need JavaScript enabled to view it..
Voice Creative has been named a National Winner in the Silver Microphone Awards for the year 2001. Voice Creative president and RAPster Neil Holmes took home the National Winner award for a commercial campaign in the Shopping Centers/Malls category. In addition, three other commercials were National Finalists in the Best Copywriting, Automotive, and Talent categories. Way to go! (518) 248-2705, This email address is being protected from spambots. You need JavaScript enabled to view it..
XM Satellite Radio announced a programming agreement with MTV Networks to create two 24-hour XM channels under the MTV and VH1 brand names. The MTV and VH1 channels will feature the best of their unique programming from music, news and entertainment reports including interviews from top artists to features from their popular shows. Other news from XM, their second satellite, "Roll," has been formally handed over to XM by Boeing Satellite Systems and has begun broadcasting. The satellite has begun broadcasting XM's channels as part of the preparation for XM's launch later this summer. XM also recently opened their midtown Manhattan broadcast studios and offices, creating a New York City base where it will produce specific shows and showcase talent. The 5,000-square-foot facility will feature talk studios, production studios and several offices. www.xmradio.com.
♦