TECHNOLOGY
Syntrillium Software has released a free plug-in that enables Cool Edit 2000 to use DirectX plug-ins. Now registered Cool Edit 2000 users can use effects from companies like Waves, TCIWorks, Arboretum, and other manufacturers of DirectX plug-ins. The DirectX Support Plug-In is available for free downloading direct from Syntrillium's web site at www.syntrillium.com/cooledit. Syntrillium Software has also released "A Short Course in Digital Audio Processing," a free, animated tutorial authored in Director by Macromedia. The tutorial covers fundamental digital audio concepts such as waveforms, sampling, bit depth, and how sound travels from the air to the computer's hard drive and back. This latest tutorial serves as an anchor to Syntrillium's growing collection of free tutorials, How-To guides, and other resources covering topics related to audio and music recording found at http://school.syntrillium.com. (480) 941-4327.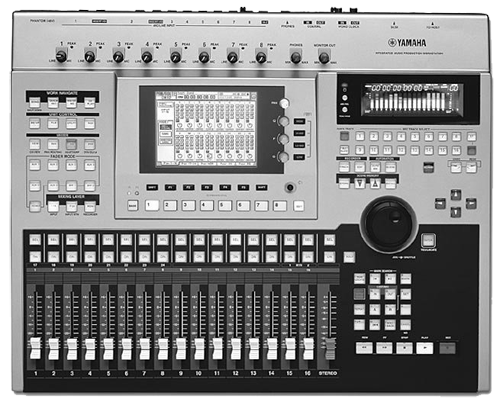 Yamaha has a new DAW. The AW4416 Professional Audio Workstation features 16-track digital recording (x 8 virtual tracks) to internal hard disk (64 GB maximum), 24-bit recording with no compression and 32-bit processing. The mixer section is based on the popular 02R and offers a maximum of 44 channels, 8 groups, and 8 Aux Send busses. Other features include two internal multi-effects processors, automated mixing with motorized faders, on-board mastering to internal stereo tracks, and an optional built-in CD-RW drive. $3,599 without the drive, $3,799 with the CD-RW. (714) 522-9011, www.yamaha.com.
Alesis announces the release of Version 3.0 M20 ADAT software. Version 3.0 features improved functionality, faster lock times, and enhanced diagnostic capabilities. M20 is a professional digital multitrack that records 20-bit data to eight discrete tracks using 24-bit A/D and D/A converters. Among the alterations that bolster M20's functionality is a tape-format-verification feature that tracks errors, enabling engineers and musicians to easily monitor tapes for quality and/or unseen damage. Alesis also reworked M20's ventilation system to ensure reliability and performance and added an automatic deck standby function to reduce head and drum wear. Customers can download the software directly to their M20s via MIDI at www.alesis.com.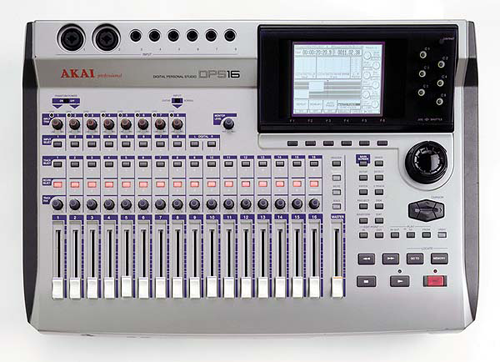 Akai Musical Instrument Corporation recently unveiled their new 24-bit/96kHz digital personal studio. The DPS16 16-track digital workstation ($2,695) offers a host of editing, mastering, mixing and recording tools and is targeted to project studios, radio broadcast production, and DVD creation. Features include true 24-bit/96kHz, uncompressed digital recording, 16-track simultaneous playback with full fader and pan controls on each channel, and ten tracks of simultaneous recording. The DPS16 offers 56-bit internal signal and effects processing, a standard 10GB internal IDE drive, the ability to link up to seven additional external SCSI devices through the SCSI port, and support for CD-R/CD-RW drives. The DPS16's digital mixing capabilities include programmable EQ, 16 assignable faders and pan pots, and a virtual mixer display allowing real time mixing control of all 16 tracks simultaneously. Graphic waveform editing features include Cut, Copy, Move, Insert and Erase, and sections of single or multi-track recorded audio can be moved from anywhere to anywhere within the project. The DPS16 also offers 256 levels of Undo. (817) 831-9203, www.akaipro.com.
MeasureCast, Inc. launched the first third-party streaming audience measurement service featuring next day reports, and announced it has signed its first customer, BroadcastAmerica, the world's largest Internet broadcaster. The MeasureCast Streaming Audience Measurement Service provides Internet broadcasters, advertisers, and media buyers with audience reports that pair demographic data with true audience size. While existing streaming measurement companies deliver results within months of a streamed broadcast, MeasureCast is the first service to provide its customers with data within 24 hours of a webcast. (877) 840-6800, www.measurecast.com.
The MusicBooth, an online advertising services and technology company introduces its patented new AdAcoustics technology, enabling advertisers to deliver targeted, one-on-one audio messages within broadcast and web cast radio streams to both live radio and web cast radio listeners. With this technology, radio stations that were previously limited for their online programming to using the same local ads used in their regular broadcasts, can now customize ads to individual listeners, regardless of market. AdAcoustics removes broadcast ads from the streaming content "on the fly" and replaces them with personalized messages more likely to appeal to particular listeners. The MusicBooth recently signed an agreement with Interep, which will sell targeted audio advertising for MusicBooth's AdAcoustics Network. www.music booth.com.
BroadcastAmerica.com announced a partnership that will deliver its spectrum of live music radio, TV news and talk radio programming to web enabled wireless devices around the world. The agreement with Savos Inc., a wireless technology and services company delivering streaming audio to the mobile public, will make audio programming available from BroadcastAmerica on any wireless or standard phone. www.broadcastamerica.com, www.savos.com.
Sonic Solutions plans to introduce a version of DVDit! for Macintosh® OS X, the new operating system from Apple Computer. Introduced last fall for Windows® PCs, DVDit! offers DVD-Video authoring on the Windows platform. DVDit! for Macintosh will allow anyone with a Macintosh to create DVD titles on their desktop. www.sonic.com.
MUSIC/SFX LIBRARIES
Manhattan Production Music has a new feature that allows producers and editors to quickly locate music in the style of any artist. Whether it's a cue that sounds like Kid Rock or Benny Goodman, with the Sound-Alike Database, producers can search for the artist they need and the database will match it with something that sounds like that artist from their BRg, MPM and Apple Trax libraries. Manhattan Production Music will e-mail the database to you at no charge by visiting their website at www.mpmmusic.com, going to the "Contact Us" page, and typing "Sound-alikes" in the comments box. (800) 227-1954.
Fresh Music Library produces a buyout production library consisting of 65 CDs of production music and Fresh Produce, 12 CD collection of production elements and sound effects. A fully searchable CD-ROM database contains every disc currently in the library enabling the user to audition all 77 CDs with various search parameters. The CD ROM runs on both Windows and Mac platforms and is free from Fresh Music. www.fresh music.com, (800) 545-0688.
THE MIX

KSJO/San Jose, SportsFan Radio Network/Las Vegas, WIOT/Toledo, Ed LaComb Audio Imaging/Syracuse, WKLQ/Grand Rapids, and Clickradio Inc./New York all add Distortion to their arsenal of imaging libraries. Distortion is the new imaging CD available from Rich VanSlyke Productions. (404) 962-7117, rvsproductions@mind spring.com.
Radio Works recently purchased the rights to their book, "Radio Advertising 101.5—The Step-by-Step Guide to Creating Better Radio Advertising," gave the book a new look, and drastically reduced the price to $19.95. For more info, call (800) 235-6646, see the ad on page 15, or visit www. usradio works.com.
BENMARadio, Inc., the premier copy provider and creative consultant to radio stations around the world, is pleased to announce the launch of BENMAR Online. BENMAR Online will offer radio stations an online connection that provides agency-quality copy and ideas to close business. Utilizing the BENMARadio database of almost 45,000 scripts, radio stations now have the equivalent of a creative factory at their fingertips. Mark Margulies, President of BENMARadio, explains. "What BENMAR Online does is allow salespeople to close business with market-tested creative ideas and scripts. What we envision is Account Executives using their laptops to literally bring scripts up right when they're pitching the client. The client then chooses the concept or idea that excites them, knowing it gives them the best chance they have for success on the air. The A.E. can close the business on the spot." Each script can be customized using a simple menu field. Thus, scripts can be used as an idea starter, or the finished product. For more information, visit www.benmaradio.com and click the BENMAR Online logo, or call toll free 877-751-6667.
A new Arbitron/Edison Media Research Internet Study reports that the number of Americans who have listened to radio stations online has tripled from 6% of Americans in 1998 to 20% in July 2000. When listening to Internet-only audio channels is added to those who have listened to radio stations online, one quarter of all Americans have listened to Internet audio which is approximately 57 million people. www.edisonresearch.com.
♦