TECHNOLOGY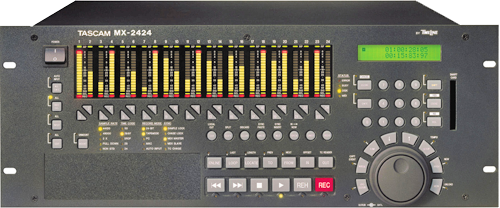 TASCAM recently announced its plan for software updates for the MX-2424 24-track, 24-bit hard-disk recorder. Released in September, MX-OS version 1.1 for the MX-2424 incorporates FAT-32 compatibility, which allows for larger PC formatted hard drives. Hard drives may now be formatted by the MX-2424 for direct compatibility with PC/Windows-based systems. Additionally, MX-OS Version 1.1 offers compatibility with the Broadcast Wave file format for easy file transfer between the MX-2424 and PC-based DAWs. MX-OS Version 2.0, scheduled for release in late fall 2000, allows for recording and playback at the 96kHz sampling rate. 12 tracks of 24-bit, 96kHz audio will be available on the MX-2424, or 24 tracks at 24-bit, 48kHz rates. Another MX-OS 2.0 feature allows for audio file transfer via the MX-2424's Ethernet port. Finally, MX-OS 2.0 also provides compatibility with the HFS+ Macintosh drive format. Like the FAT-32 update, the HFS+ update offers capabilities for larger drive sizes. Also from Tascam is the new CD-RW2000 CD recorder/player ($1,125). Incorporating many of the design elements of its sister low-cost versions—the CD-RW5000 and CD-RW700—this new unit also features balanced XLR analog inputs and outputs, a word clock input feature, and AES/EBU digital inputs and outputs. The CD-RW2000 also includes a control I/O, offering users total control of the unit through such functions as fader starts and stops and event start. Other features include unbalanced RCA analog I/O, S/PDIF digital I/O in coax and optical formats, a RAM buffer, 24-bit A/D and D/A converters, a built-in timer for preset play and record, digital gain adjustment on the I/Os and digital processing of fade-in and fade-outs from three to 30 seconds. (323) 726-0303, www.tascam.com.
TC WORKS has launched SPARK! Version 2.0, offering a new set of features and major enhancements for the popular MacOS application, including dramatically enhanced file editing speed and an increased powerful FX Matrix for up to 40 instances of real-time plug-in processes. Other enhancements in SPARK 2.0 include a real time analyzer with a detailed visual tool for processing and mastering, a classic guitar Wah-pedal Plug-In called TouchWah, and an increased number of bundled plug-ins—18 total in Spark! 2.0 and 20 plug-ins with Spark XL, the version with Pro Tools TDM Plug-In support and De-noising and De-Clicking restoration features. (805) 373-1828, www.tcworks.de.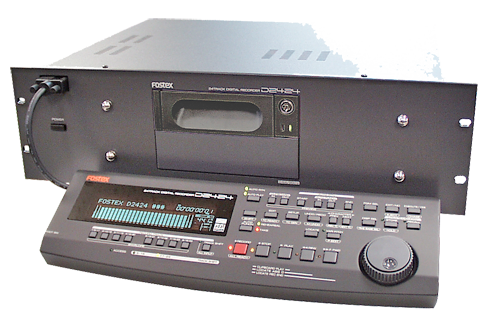 Fostex recently topped its line of hard disk recorders with the introduction of the D-2424. The recorder/editor offers 24-bit/96kHz record/reproduce and 128 times over sampling AD/DA. The unit features 24 tracks with 32 virtual tracks for a total of 56 tracks. To address professional requirements, the D-2424 offers a Time Code package which includes a generator reader, optional 4.7GB DVD-RAM backup, and eight channel AES/EBU interface. You get unlimited UNDOs, copy/paste between programs, a dedicated All Input key and more. (562) 921-1112, fax (562) 802-1964, or visit www.fostex.com.

Earthworks new SR69 cardioid microphone ($350) accurately captures voice with just a bit of bass warmth available if you need it but no presence peak. It offers clean easy to use on-axis pick up and uncolored off-axis rejection. It is well protected from all popping of P's and has low handling noise. Specs include frequency response at 50Hz to beyond 20kHz at 6 inches, 48V Phantom powered, XLR output, peak output voltage is 3V into 1K ohm, 10V into 5K, and weighs in at .3 lb. 603-654-6427, www.earthwks.com.
Central Media Incorporated (CMI), owner and operator of SpotTaxi.com, announced that it has successfully moved its Network Operations Center (NOC) to Intel Online Services. Intel Online Services will provide SpotTaxi.com with its global network of Internet Data Centers, integrated systems and components built with N+1 redundancy. This includes certified engineers who are on-site and available year-round, 24-hours-a-day, seven-days-a-week. Says Peter Barnes, President and Co-Founder of CMI, "With this move, SpotTaxi.com resides within a totally reliable, scalable and fault-tolerant network, but it is Intel's commitment to customer service that ultimately fits our overall corporate strategy." CMI also announced an alliance with Broadcast Electronics (BE), Enco Systems and MediaTouch in order to streamline the receiving, processing and airing of radio spots. Additionally, SpotTaxi.com announced the release of two important enhancements to its services, including an upgrade to its Downloader/Decoder application, as well as multiple service enhancements to the SpotTaxi.com Web site. A spot can now be delivered to the radio station over the Internet via SpotTaxi.com, downloaded to the radio station's local network as a Broadcast Wave file with a Cart Chunk extension or as an MP2 file and can easily be opened in the BE, Enco and MediaTouch on-air system. In addition to the audio file, certain fields in the on-air system interface will automatically be populated with Cart Chunk metadata in systems that support the Cart Chunk extension. This information will include file length, advertiser name, ISCI code, agency name, and spot title, which can be displayed without having to manually enter the data at the radio station. (206) 903-3400, www.spottaxi.com.
Activate, RCS and Engage announced a collaborative effort to launch the Activate Radio Network featuring RCS's SplitStream Dynamic Live Ad Insertion software. Based on the Microsoft Windows Media Technology, the new service marks the first integration of broadcast automation, streaming media Webcasting, and established third-party ad serving technology. Activate offers radio stations a comprehensive solution to extend their broadcast programming to the Web by delivering live 24x7 broadcast program encoding, dynamic live ad insertion, and reporting based on actual listener data. Extensions of the service support audience targeting and banner advertising. (914) 428-4600, www.rcsworks.com.
Qsent announced the launch of its first product, iQradio. This interactive radio station directory helps users locate stations that broadcast their favorite music, talk shows, sports teams and network programming from Internet-ready phones, Palms, and PCs. iQradio contains all 13,000+ commercial and non-commercial radio stations nationwide. iQradio not only connects users with stations broadcasting what they want to hear, it recommends stations in any U.S. location based on the user's listening preferences. Users simply select a U.S. city on their Web-ready phone, Palm or PC, and iQradio provides a personalized station list. Within seconds, users can find radio stations by: musical artist, talk show hosts or program, sports affiliate, station call letters, frequency, format, or network programming. www.qsent.com.
MUSIC/SFX LIBRARIES

TA&A, Toby Arnold & Associates announces the release of a new imaging package for Urban & Rhythmic stations, Street Beats. The package includes a large variety of winner beds, call in beds, hip hop in all styles, club spots, R&B, smooth jazz, and Urban dance beds. The initial release consists of 200 different cuts. Available on barter in selected markets. Format exclusive. TA&A also announces the follow up to Lifestyles and Lifestyles II with the production of Lifestyles III. The commercial library will consist of acoustic, rock, holiday, international, jazz, orchestral, Urban, Sports, etc.—a full service library for all formats. Call TA&A for more information and a demo of their newest "Power Imaging" libraries. Available on barter in selected markets or cash. 800-527-5335, www.taamusic.com.

AvDeli has signed an exclusive deal with XM Satellite Radio to provide XM with its entire imaging production catalog. www.avdeli.com.
THE MIX
ABC Radio Networks executive Steve Harris has joined XM Satellite Radio as Vice President, External Programming. He will supervise all content provided by XM's brand-name programming partners, including BBC World Service and BBC Concerts, BET, Radio One, One-On-One Sports, CNN/Sports Illustrated and CNN Financial Network, Bloomberg, Hispanic Broadcast Corporation, C-SPAN Radio, and others. www.xmradio.com.
Only one industry asks the most profound questions of our time: Where's the Beef? Have you driven a Ford lately? Got Milk? Answers to questions like these can be found at the new, interactive William F. Eisner Museum of Advertising & Design in Milwaukee, WI. The only one of its kind in the country, the Eisner Museum offers visitors an amusing and enlightening opportunity to explore the science and art of advertising and design. Developed as an outgrowth of the Milwaukee Institute of Art & Design, the Museum began as Elaine Eisner's dream to develop a memorial for her late husband, advertising executive William F. Eisner Sr. The Museum's Web site, www.eisner museum.org, offers a virtual tour of the Museum.
Arbitron announced that international webcaster, Virgin Radio (www.virginradio.co.uk), ranked number one in terms of Aggregate Tuning Hours (ATH) in the July webcast ratings, followed by internet-only sites, NetRadio (www.netradio.com) and KNAC (www.knac.com). NetRadio occupied five of the top ten slots with five of their streaming channels. Ranking number eight was WABC-AM's webcast channel, www.wabc radio.com. Slot nine belonged to CFNY-FM (www.edge102.com) with the tenth slot going to KPIG-FM (www.kpig.com).
ByteAudio.com, a Pompano Beach, Florida based music portal company, announced the launch of the first four of its music industry internet services. Lunched under the GroupWerkz banner, the services include StudioWerkz, BandWerkz, VideoWerkz, and SkinWerkz, a family of internet services that provide music professionals with access to the rapidly growing digital music distribution e-commerce market, while still protecting copyright owners. www.byteaudio.com.