By John Pellegrini
Imaging a station is possibly one of the most difficult jobs in radio. I've always felt that a station's on-air imaging is as vital as any air personality. It is also one of the quickest sources of creative burnout in the business. To help prevent burnout factor, MJI Broadcasting presents their new Image Kits specifically targeting six different music formats, Oldies, Classic Rock, Hit Rock, Rock, Country, and Urban.

Each Image Kit starts with two "Launch" CDs with loads of stuff that will fit the station's format perfectly. You get positioning promos, street sweepers (featuring listener testimonials) and theme sweepers. Each one has the demo of the finished sweeper, a mixout that just needs your station voice added, and clean cuts of the separate work parts of each piece. The work parts are a nice touch, should you decide that you want to change the order of the audio tracks, or use the cuts somewhere else. You also get station IDs, hit collages, artist promos, listener testimonials, jock talk beds, morning show promos, comedy drops, stingers and sfx, weekend and holiday promos, and bonus songs.
After the two CD Launch Kit, you get a new CD each month loaded with more of the same, plus birthday promos featuring collages of artists who were born in each month, and updated promos featuring topical stuff in any given month. You also get a quarterly "Booster" CD with added material in time for the Spring Book, summertime, Fall Book, and the holidays.

The real benefit to libraries such as these is that not only do you get quality stuff that you can put on the air instantly; they also make great idea starters. There were several cuts in the different formats that I listened to which had me thinking that I could make a campaign out of the basic concept. And at least two cuts had me thinking that, while I might not use them, I could take the idea presented and do something else that would fit my style. I've seen other packages before where you mostly just get music beds, some drops or collages of sounders, and only one or two actual imaging promos. Each monthly update CD in MJI's Image Kit packages contain no less than 13 different imaging promos and sweepers, and sometimes as many as 23, depending on format. That's at least one new promo or sweeper idea every other day per month. Plus factoring in the drops, beds, stagers, sound effects, and you may wind up with more than you'll use, though I doubt it.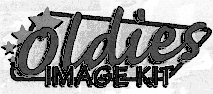 The artist drops are especially helpful. They're clean tracks of well-known artists saying hello that sound like they were recorded in person at your studio, not over phone lines. Though the greetings are generic, they can easily fit into music profile sweepers. MJI even gives examples of how to use them. You could also use them in music sampling promos. MJI has artists for every category, even the classic rock and oldies categories. You also get some of the artists telling the story of how they came to record some of their more famous songs. Great for positioning your station as being the "leader" of your format, and it'll make it sound like your air talent talks to the big names all the time.
There are those who may question how one company could do all these different formats so well, and keep the sound individualized to each music type, but all you need do is listen to the demo to know that MJI has it right for every category. Sometimes with music libraries you get a lot of one particular music type being marketed for formats other than what it is best suited for, but not in this case. Country means country, Hit Rock means hit rock, Oldies means oldies, Urban means urban, and there's no crossover on any formats. You get exactly the sound that is supposed to be there in each category.
These Image Kits are definitely worth looking in to for your station needs, especially if you're one of those overworked maniacs who have to handle both the imaging and the commercial production for your station. The added benefit is that they're available on barter, so you don't have to worry about sacrificing any libraries you already have to get this one. But as always, make sure your station has enough spot load inventory to make room for any barter deals you want to put together. For more information about MJI's Image Kits, call (212) 896-5285. They don't appear to have a Web site (at least they're not promoting one), and it's too bad they don't have a toll free number yet (for those prod folk who's bosses count every penny spent). However, it's worth the long distance charge to get the demos.
♦