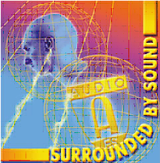 by Steve Cunningham
The glitterati of the audio biz gathered at the LA Convention Center for the 109th edition of the Audio Engineering Society Convention last month. The show was definitely smaller than past conventions and not well-attended, but there were certainly roses to be found among the thorns.
The AES show is traditionally devoted to high-end music recording, and this convention was no exception with its surround-sound theme, "Surrounded by Sound." Undaunted by all the over-$2000 tube microphone preamps and multi-hundred-thousand-dollar recording consoles, I decided to sleuth for cool goodies that radio-heads could afford...or at least some stuff that we could get our GM to spring for. A diligent day-long search turned up several nifty nuggets.
RECORDERS
Perhaps the biggest news of the AES Show was Digidesign's ProTools FREE. This software application is a fully functioning version of ProTools 5.0.1 LE that doesn't need any hardware to run, except a computer. PT FREE gives you up to 8 tracks of audio and 48 tracks of MIDI in either Mac or Windows 98. Drivers are included for Windows 98 Wave and Apple's Sound Manager hardware. It will support both RTAS and AudioSuite plugs, and the best part is that PT FREE is indeed free! It should be on Digi's website as you read this at www.digidesign.com.
For those of you running big ProTools rigs, Digidesign also announced ProTools version 5.1, which adds full surround sound support. Also shown was their new ProControl Edit Pack, an add-on for ProControl that adds two motorized joysticks, a QWERTY keyboard, a trackball, and metering to ProControl systems.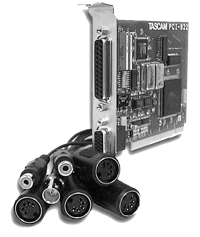 TASCAM's new PCI-822 Computer Interface Card can turn a PC or Mac into a digital recorder, allowing for a multitude of interconnections to outboard recording systems and direct interfacing with MIDI programs. At a retail price of $369, the PCI-822 is a PCI-compatible card for use in a PC or Macintosh computer with an 8-channel TASCAM TDIF digital audio connector, a breakout cable supporting S/PDIF in and out via coaxial connectors, two MIDI input and two MIDI output ports and a word clock output on a BNC connector for synchronization.
The PCI-822 comes bundled with NemeSys Music Technology's GigaSampler LE, and works with numerous software packages including Cubase VST, Cakewalk Pro Audio, Logic Audio, Cool Edit Pro, Samplitude and Reaktor for the PC, and Cubase VST, Logic Audio, Digital Performer, and BIAS Peak for Mac. Check it out at www.tascam.com.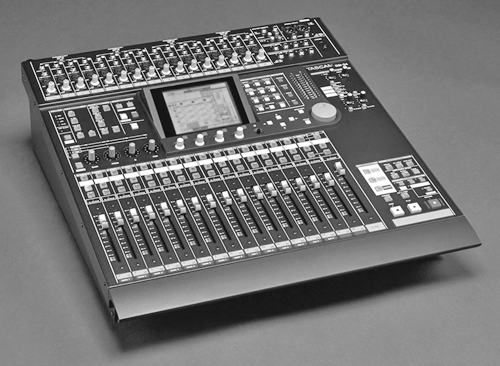 MIXERS
TASCAM also created a Big Buzz with its DM-24 digital mixing console. The DM-24 is a 24 input mixer with 100mm motorized faders, built-in automation, and built-in effects, dynamics and 4-band parametric EQ on every channel. It will handle digital audio at up to 24-bits, and up to 96 kHz sampling rates. It has 16 analog inputs, 24 channels of TDIF I/O, and eight channels of ADAT optical I/O. All this at a suggested retail of $2,999! Three grand, yikes! This will be a winner.
TASCAM has teamed with TC Electronic and Antares to offer reverb, mic modeling, and speaker modeling for the DM-24. I've heard these effects, and they should not only sound great, but having them as an integral part of the mixer itself is very cool. Look for this beast to ship in the spring of 2001.
PROCESSORS
Aphex Systems demonstrated its new Model 2020 Dynamics Processor, which has been supplied to a number of other webcasters, including Westwind Media.com, ChristianPirateRadio.com, GratefulDead.com and Comedy world.com. These and other organizations are using Aphex dynamics-control units in front of data-compression systems that provide high-quality Real Media(tm) and Windows Media(tm) streaming audio.
The Model 2020 is derived from the FM Pro 2020. The Model 2020 is combination leveler, multiband compressor and peak limiter, self-contained in a single 2U rack mount chassis, and can be interfaced with external PCs. Aphex set up an A/B comparison of live streaming Real Audio, both with and without the Model 2020 as a front end. The difference in loudness and clarity was apparent, even on the noisy show floor. Get more info at www.aphex.com.
TC Electronic unveiled the new Triple-C Multi-band, Envelope and Full-band Compressor, a dedicated 3-band insert compressor. Triple-C comes in both single and stereo channel versions, and offers three compression techniques — Multi-band Compression, Envelope Compression and Full-band Compression. Multi-band lets you spectrally compress your material in three independent bands of Low, Mid and High frequency. Envelope Compression allows you to alter the dynamic envelope of the incoming source by changing Attack and Release gain, and Full-band simulates conventional analog compressors. An external sidechain I/O is provided to let you control the Triple-C via an external source.
Triple-C comes with 50 factory presets, and 100 user preset locations are also available. It features high resolution metering, 24 bit resolution converters, S/PDIF, MIDI (automatable) and 1/4" analog I/Os. Retail price of the Triple-C is $699, and $999 for the dual channel model. Check it out at www.tcelectronic.com.
TC-Helicon Vocal Technologies Inc. unveiled its TC-Helicon VoicePrism Voice Formant and Pitch Processor. The VoicePrism provides the ability to go directly from a phantom powered mic into its 48V mic preamp to access any of the onboard processes including compression, gating, dual parametric EQ, 4-voice harmony (with individually adjustable gender controls and humanizing parameters), 5th lead-doubling voice for automatic double-tracking, 2 separate post-effects blocks (including chorus/flange, delay and reverb with predelay), effects and harmony libraries, preset browser with context sensitive help menus, or even audition sampled human voices for preset previewing. Outputs include 1/4" analog and S/PDIF digital I/O.
The VoicePrism also supports an upcoming VoicePrism Expansion Card (available 2001) which will offer new developments in algorithms specifically designed for voice applications, as well as both AES/EBU and S/PDIF I/O. The VoicePrism's retail price is $1299. The VoicePrism generated some very interesting and useable effects, and looks to make a nice addition to your production toolbox. See it at www.tc-helicon.com.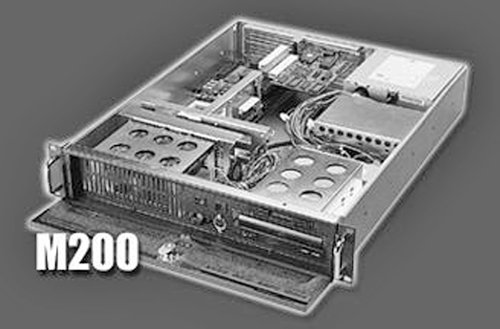 Waves Ltd. demonstrated MaxxStream, its hardware and software audio processor that pre-processes and streams audio over the Internet. MaxxStream promises Internet broadcasters the hardware and software they need to ensure consistently high quality audio streaming. MaxxStream is available in several configurations based around one or more audiocard/software packages, and a turnkey rack-mount system with a choice of two different architectures.
MaxxStream supports both multiple encoders and multiple bit rates (target bandwidths), and has the ability to encode and condition audio for several different bandwidths simultaneously. MaxxStream enables audio content to be conditioned and prepared for high quality audio streaming, to enable speech to be intelligible, and music and other sounds to be clear. It utilizes Waves' audio processors that provide automatic loudness control, voice intelligibility enhancement, noise reduction, equalization and digital filtering, peak limiting and dynamic range control, stereo enhancement, and virtual bass enhancement.
MaxxStream is available as a PCI DSP audio card and software package, or as a turnkey system featuring a one or two rackspace computer running Windows NT with built-in MaxxStream software. MaxxStream provides a complete, self-contained desktop or rack-mounted streaming solution. In addition, Waves also introduced the M1600, a 16 stereo/32 mono integrated sound processing and encoding solution for Web audio streaming. The M1600 is a specialized configuration of Waves' MaxxStream Internet audio processing product, and it is the only integrated product capable of conditioning up to 16 stereo or 32 mono audio streams over the Internet simultaneously.
This looks to be a turnkey, one box solution for streaming your station on the Internet. Waves' software plug-ins are some of the best-sounding I know of, so if you're looking at streaming, you should definitely check out MaxxStream at www.maxxstream.com.
CONTROLLERS
One of the most stunning products at the show was a control surface from Radikal Technologies. The SAC-2K (Software Assigned Controller) is a fully motorized and touch sensitive control surface that gives one touch access to recording, mixing, and editing functions of Mac and Windows digital audio and sequencing software. The SAC-2K connects to your computer via USB (5 ports) and MIDI. It features three large LCD displays, which can be assigned to either all tracks simultaneously (three displays for an individual track), or may be split to show various data (for use with parametric EQ or plug-ins).
It has nine motorized and touch sensitive 100mm faders, with the ninth fader being the master fader. There are twelve 31-segment LED rotary encoders which have velocity control for potentiometer emulation. These encoders provide for parameter adjustments, and are laid out beneath the LCD screens. Like the screens, the encoders can be applied to all tracks simultaneously (for pans) or up to twelve to one individual track (for editing four bands of parametric EQ). The encoders all contain touch switches. There are also 72 illuminated and color identifiable buttons, which enable all of the various editing parameters in logical groupings.
The Transport section contains a weighted metal Jog/Shuttle wheel, large SMPTE LED display, numeric/edit pad, marker store and recall buttons, as well as the conventional record transport. Radikal has plans for two expanders for the SAC-2K, including an eight fader, eight encoder, two LCD expansion with metering, and a motorized and touch sensitive surround matrix with monitor and talkback control.
The SAC-2K currently works with Cubase VST, Steinberg's Nuendo, Emagic Logic Audio (all levels) and Emagic Sound Diver, Digidesign 001, Digidesign LE, Digidesign Pro Tools TDM, and SEK'D Samplitude. Products that will work with the SAC-2K in the near future include MOTU's Digital Performer, Soundscape, TCWorks' Spark, SAW Studio, Sonic Foundry's Vegas and Acid, and Creamware's Pulsar.
With a retail price of $1849 the SAC-2K is not inexpensive, but it is one very impressive control surface for computer workstations. This one's tempting and very sexy — see it at www.radikal technologies.com.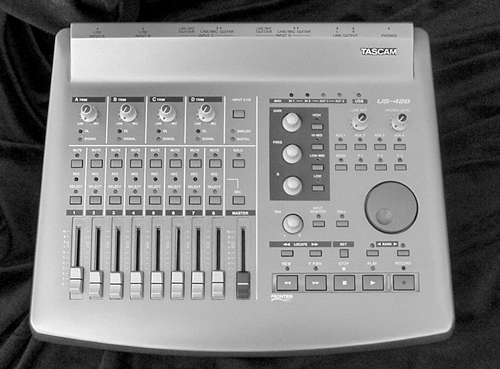 TASCAM showed its US-428 workstation controller that combines a hardware interface with computer functionality to interface with both Windows- and Macintosh-based sequencing platforms via a Universal Serial Bus (USB) port. The US-428 requires no additional interface card to install, and is compatible with applications that accept a standard MIDI controller message.
With a suggested retail price of $599, the US-428 allows users full control over any number of software faders through eight hardware faders and groups of eight software faders selectable with buttons located beneath the US-428's jog wheel. The unit's control surface also supports transport, EQ, and control functions for sequencers and DAWs.
You can record 16- or 24-bit mono or stereo audio at 44.1 or 48 kHz, with four analog inputs able to be recorded at once. The US-428 also features a 2-channel digital input. Two audio output channels also support 16- or 24-bit resolution in stereo or mono, and at 44.1 or 48 kHz. The US-428 comes bundled with Steinberg Cubase VST for Windows and Cubase for Mac. In addition, Minnetonka plans to integrate the US-428's hardware controller surface to directly map to the software mixer and other features of their MxTrax and Mx51 software, along with tactile control of panning, mutes, solos, aux sends, and transport controls. Other products that currently support the US-428 include BIAS Deck, Cakewalk, eMagic Logic Audio, and Sonic Foundry Acid. Products whose support is under development include MOTU Digital Performer and Syntrillium Cool Edit Pro.
MICROPHONES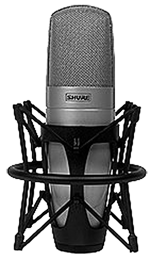 Shure introduced a new multi-pattern condenser microphone. The KSM44 features externally biased large dual diaphragms in a side-address design. This latest addition to Shure's KSM studio microphone line offers multiple polar patterns (omni, cardioid, and bidirectional).
With a frequency response of 20 Hz - 20 kHz, the KSM44 contains Class A, transformerless preamplifier circuitry and dual one-inch, gold-layered, Mylar diaphragms. Also included is a three-position low frequency filter function, and an internal shock mount to reduce stand-related noise. Accessories provided with each mic include a locking aluminum carrying case, a color-matched ShureLock (TM) elastic-suspension shock mount, a swivel mount, and a protective Velveteen pouch. The KSM44 carries a suggested retail price of $1340, and you can check it out at www.shure.com.
AKG showed a new microphone targeted at the voiceover market. The C4500B-BC is a single pattern, large-diaphragm condenser microphone. The main axis for sound entry is the front of the microphone rather than the side, which is unusual for a large-diaphragm condenser. It's shielded against external electrostatic and magnetic fields, which should help greatly when using it around a video display or computer monitor. The C4500B-BC features a cardioid pattern, reduced proximity effect, a switchable 20dB internal pad, and a 6dB per octave low-frequency roll-off filter. It comes complete with a spider shock mount and a windscreen. Get more info at www.akg-acoustics.com.
ACCESSORIES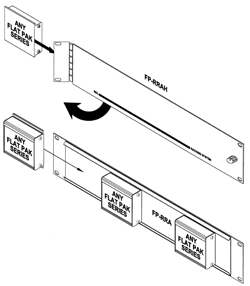 Radio Design Labs has always made some of the coolest interface boxes available. Best known for their Stick-On series, RDL introduced rack adapters for their Flat Pack series of interfaces. These adapters let you mount several Flat Pack modules, including a power supply module, onto a single rack space panel. The Flat Packs slide onto the rack panel, and the power can be daisy-chained between the Packs. Very slick.

RDL also introduced a new collection of digital audio interfaces, including analog-to-digital and digital-to-analog converters that work at up to 24-bits and 96kHz sample rates, and format converters for SPDIF and AES/EBU. In particular, their new RU-UDC1 Universal Digital Converter lets you convert digital audio signals between consumer and professional formats. There are four jacks for input, and four for output: SPDIF Phono, SPDIF BNC, SPDIF Optical and XLR AES/EBU. LED indicators show the direction of conversion: SPDIF to AES/EBU or AES/EBU to SPDIF. It's another nifty little converter from RDL. See it and lots more at www.rdlnet.com.
Yamaha created quite a buzz with their mLAN digital networking system. mLAN is Yamaha's implementation of the IEEE-1394 serial networking protocol (popularly known as FireWire). Yamaha showed three mLAN products: an expansion board for several of their synthesizers (the mLAN8E), an interface card for their digital mixers (the CD8-mLAN), and an interface box for connecting existing audio and MIDI gear to mLAN.
mLAN will handle up to 100 channels of digital audio or 256 channels of MIDI data, although the mLAN products Yamaha showed were limited to 8 channels of digital audio and 32 channels of MIDI. mLAN is a very promising product, but it remains to be seen whether it's adopted by other manufacturers. But you can get all the gory details at www.yamaha.com.
SWAG
What trade show report would be complete without listing some of the cool swag? Heck, it's half the reason we attend these shows, isn't it?
Top honors go to Shure for giving away a very nice baseball-jersey with their logo on it... second place goes to TASCAM, who gave away a nifty little hand-held slitter for getting the shrink wrapping off of CDs or DVDs. If you missed this bit of swag, head over to www.cdessentials.com and order one for yourself.
I got mine already, and I'm not giving it up...
♦