TECHNOLOGY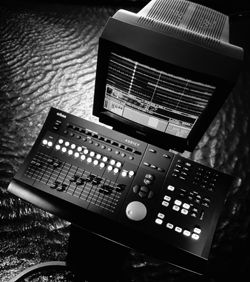 New version 3.0 software for Orban's Audicy digital audio workstation is now shipping with all new systems, and is available from Orban or Audicy dealers. Version 3.0 highlights include support for five new types of digital effects, including high-quality stereo and dual-mono Digital Delay, Chorus and Flanging effects, a "Stereo Toolkit," which acts as a center channel "vocal eliminator" for some stereo music, as well as a mono-to-stereo synthesizer, and a new combination Compressor/EQ effect. Each new class of effect comes with a set of factory presets, specially tuned for broadcast use. New features allow the user to more easily create, name, store and manage customized user effects presets. Up to 20 custom user presets can be created for each class of effect. Custom presets can be moved between systems by simply exporting them as part of a production, meaning studios and facilities can share special preset tunings. A new production import/export feature enables users to bundle or "zip" all elements belonging to a full multi-track production into a single file, making it as easy to send a production as sending an e-mail attachment, or posting to an FTP site. Users with Audicy networks also can export such condensed productions to their file servers, with the option of burning the productions to a CD, using a CDR device on the network, or to DAT and JAZ systems. Support for SCSI-CD ROM drives in the Audicy tower allows users to import wave files directly from CD, or to import condensed productions burned to CDR on the users' file server. Audicy networking also includes more secure handling of network and secondary drive failures. If a network drive and network go offline, new software allows the user to convert a project to temporary status, letting the user continue working even though the selected shadowed drive has gone offline. This added measure of security takes advantage of Audicy's unique RAM architecture to minimize the risk in networked installations. Another new feature is enhanced fast wind, which offers a choice of standard transport wind-up speed or instant full-rewind speed that saves "ramp-up" time. Version 3.0 software is compatible with any Audicy system and is available for $450 per single system license, $420 per license for quantities of 5-9 units, and $390 per license for 10 or more units. Any new full system purchased since November 1998 qualifies for a free upgrade. (510) 351-3500. fax (510) 351-0500, www.orban.com.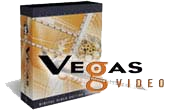 Sonic Foundry unveiled their new Vegas Video Multitrack Video Editing System. Vegas Video integrates video editing and compositing, audio editing, and advanced encoding tools into one application. It includes a nearly unlimited variety of effects, compositing tools, transitions, filters, and crop and track motion controls. Key features include: advanced video editing and compositing tools, powerful encoding tools, real time previewing of effects and processes, keyframeable transitions and video filters, automatic crossfades for audio and video events, and multiple file formats and bit rates in the same project or on the same track. A free demo is available at www.vegas-video.com. (608) 256-3133, fax (608) 256-7300, www.sonicfoundry.com.
Five leading audio equipment manufacturers, Klotz Digital, Northeastern Communications Concepts, Acoustic Systems, Radio Systems Inc. and Telos Systems have joined forces to build XM Satellite Radio's state-of-the-art radio production facility, the largest of its kind in the United States and the first-ever, end-to-end digital radio complex, encompassing 60,000 square feet. Scheduled to commence operations in the fall of 2000, XM Satellite Radio Inc.'s new Programming Center will contain a network of more than 80 inter-connected audio studios including production, multi-format and voice-track studios; a two-story 2,300-square-foot performance studio large enough to accommodate a full orchestra; and more than a dozen stand-alone studios equipped to broadcast live performances. In other XM news, XM Satellite Radio and Pana-Pacific Corporation, a supplier of mobile electronics, announced that Pana-Pacific will provide XM-Ready radios to its extensive commercial truck customer base. Pana-Pacific supplies the majority of mobile electronics for Peterbilt, Mack, Kenworth, Freightliner and International trucks. "The trucking industry is an important component of our national distribution strategy and we are delighted to join with Pana-Pacific to deliver XM's choice entertainment and information services to their extensive customer base," said Hugh Panero, XM Satellite Radio's President and CEO. In another agreement, Avis will offer XM Satellite Radio to its extensive US customer base, making Avis the first car rental company to announce that it will offer satellite radio in addition to traditional AM/FM radio in its fleet. The two companies will also forge strategic co-marketing and promotional alliances. 202-969-7070, www.xmradio.com.
Sonic Solutions announced at the NAB Convention a Macintosh version of DVDit!, their DVD authoring software. DVDit! for Macintosh allows users to combine virtually any video and audio file with multi-level menus and exceptional interactivity for release on the DVD format. DVDit! includes integrated transcoding of multimedia content into DVD-compliant formats, as well as support for virtually all graphic file formats. Also announced was a new addition to the DVDit! product line. Sonic DVDit! Professional Edition joins DVDit! LE ("Limited Edition") and DVDit! SE ("Standard Edition"), which were introduced last year at NAB. DVDit! PE will carry a suggested retail price of $999. 415-893-8000, fax 415-893-8008.
Central Media Inc. announced the national launch of SpotTaxi.com. The fully integrated suite of services is designed to expedite the production and distribution of radio advertising, using high-quality audio compression and the Internet as the distribution method. SpotTaxi.com will allow advertising agencies, production facilities and radio stations to access radio spots for approval and distribution from any computer with Internet access. SpotTaxi.com's application will also serve audio advertising in the developing Webcasting arena. SpotTaxi.com went on-line mid-February of this year and has successfully completed beta testing in the Seattle market. Throughout this time, SpotTaxi.com has been forming strategic alliances with some of the biggest names in the audio and technology industries to increase SpotTaxi.com's visibility and compatibility. Agreements have been forged with Microsoft, Orban, Scott Studios and Broadcast Electronics. 206-903-3400, www.spottaxi.com.

The ISA430 ($3,499) from Focusrite is a professional analogue audio processor with an optional, multi-format digital output board. You get a preamp, EQ, compressor, gate, de-esser, and a limiter. The ISA430 is the first Focusrite product to include a range of different classic Focusrite modules in a single unit. In addition to retaining the classic look and sound of Rupert Neve's original ISA110 EQ and Focusrite dynamics (ISA130), it adds new processing technology, state-of-the-art routing flexibility, and digital connectivity. www.focusrite.com.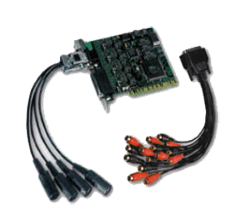 SEK'D America announces Siena (ARC8896) a new PCI-bus audio card ($499). Created to serve the needs of the Project studio and Professional studio alike, Siena features (8) 24-bit 96kHz analog inputs and (8) 24-bit 96kHz outputs along with (2) MIDI inputs and (2) MIDI outputs. Siena is compatible with most any Windows based DAW software including Samplitude Studio, Samplitude 2496, Cakewalk, Logic, Vegas Pro, and others. Surround sound mixing, as implemented by Samplitude, MX tracks, and other programs is now achievable in true 5.1, 24bit 96kHz quality. Packaged along with every Siena is Samplitude Pro, a 24-bit 96kHz capable 8-track version of the Samplitude engine, coupled with a DirectX compatible mixer with real time reverb. 800-330-7753, fax 707-578-2025, www.sekd.com.
MUSIC/SFX LIBRAIRIES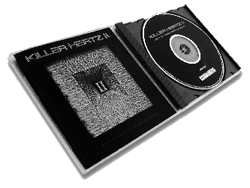 Premiere Radio Networks announces the release of Killer Hertz II, the long awaited follow-up to the popular imaging library from Jeff Thomas Productions. Killer Hertz II offers "ID's, jock beds, impacts, bits, explosions, work-parts, samples, power trips," and more. Creator and producer Jeff Thomas is currently the Creative Services Production Director of KIIS-FM, Los Angeles and previously worked as the Group Production Manager for the Triple M national FM network in Australia. Prior to that he was the Production Director of Virgin Radio London. Premiere Radio Networks, Inc., a subsidiary of Clear Channel, currently syndicates more than 60 radio programs and serves more than 7,800 radio station affiliates. Be sure to check out the demo included in this issue of Radio And Production and see the ad on page 7 for more info, or in the US call (818) 461-5485, outside the US call (818) 461-8638.
Rich VanSlyke, award winning Production Director at WKLS Atlanta announces the availability of Distortion, a new CD of crunchy effects and short guitar beds. Distortion has 99 cuts, 251 sounds, and is available as a buyout for $395. "These are sounds I designed especially for rock radio imaging," says VanSlyke. "All of them are big, fat, stereo work parts that set up and accent liners perfectly." Distortion is already on WLUP Chicago, KIOZ San Diego, KLOL Houston, WAXQ New York, KUFO Portland, WDVE Pittsburgh, KRFX Denver, and KLOS Los Angeles. For a Distortion demo, e-mail Rich VanSlyke at This email address is being protected from spambots. You need JavaScript enabled to view it. or call Rich at 404-325-0960 or 404-962-7117.
THE MIX
Vanilla Gorilla Productions, a division of Bill Young Productions, announces the addition of 5 new stations to the VGP roster. The "Chunky Monkey" can now be heard on ROCK 105/Tuscaloosa, WINK 101.5/Baton Rouge, 94.1 'ZBQ/Tuscaloosa, WBVR/Bowling Green, and 98 'TXT/Tuscaloosa. 800-811-4847, This email address is being protected from spambots. You need JavaScript enabled to view it..
MP3.com, Inc. announced that it is acquiring the majority position in mp3radio.com from its joint venture partner Cox Interactive Media. "As we began to work more closely with over-the-air radio stations to help promote the artists posted on our web site, both ClMedia and MP3.com realized that we were duplicating some of mp3radio.com' s efforts on a number of fronts." said Michael Robertson, chairman and chief executive officer of MP3.com.
Who Did That Music? Library has staffed up with the hiring of three new executives. Richard Zimmerman has signed on as project coordinator, Frankii Elliott will be heading up the film and television music department, and Ann Burke will join the sales team, as announced by President/Owner, Dain Blair. www.whodidthatmusic.com.
♦