TECHNOLOGY
Under the TC Electronic umbrella, Tube-Tech is now shipping the new SMC 2A, a stereo, all tube based Multi-Band Compressor. The SMC 2A's multi-band compressor technology is derived from Tube-Tech's well known Opto Compressor low distortion gain reduction element and features linked stereo operation for control over both left and right channels with a single potentiometer for each parameter. It provides 3 independent band specific gain, threshold, attack and release controls with a single master gain control, in a 3-space rack unit. The frequencies of each of the individual bands are variable. Inputs and outputs are balanced and fully floating.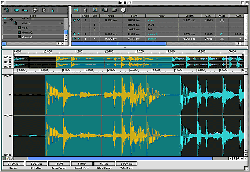 TC Works is showing a new hi-end version of Spark supporting Pro Tools 24Mix and featuring audio restoration facilities. The new hi-end version adds real time De-noising and De-clicking to Spark's processing portfolio, allowing users to restore material with tape hiss or click problems with floating point accuracy. The restoration facilities do not require a Pro Tools system to be present. Pro Tools users now also have access to TDM Plug-Ins from inside Spark, a new TDM FX window allows for up to 4 TDM Plug-Ins to be inserted in addition to the 4x5 native Plug-Ins, enabling the user to build FX chains with TDM and native Plug-Ins running at the same time. Spark for TDM will be available this month. Suggested retail price, $699. Upgrades from Spark 1.0 available. Also from TC Works, TC|MegaReverb for Pro Tools NT systems, a new high end reverb plug-in on the NT platform ported over from the original TDM plug-in. TC|MegaReverb ($799) utilizes the new DSP architecture of Digidesign's Pro Tools NT, via an intuitive graphic user interface with an overview of all relevant parameters at a glance. Features include a 3-band crossover section for extra-smooth and fast reverb tail design, 6 different room shapes: Hall, Fan, Prism, Horseshoe, Small and Club - automatic room shape, diffusion and size defaults, and more than 50 high quality Reverb Preset programs. (805) 373-1828, www.tcworks.de.
Xenote, Inc. is a new company in Silicon Valley that lets users 'bookmark the real world' by allowing listeners to become more interactive with their favorite radio stations without changing any of their listening habits. The first generation of the Xenote iTag-which is currently in trial periods in six cities in the United States-allows users to 'tag' the radio to learn more about songs and advertisements. For instance, when driving down the road and the user hears a song she likes, she can 'tag' the song and the Xenote iTag remembers the instance. Then, at a later time, the user links up the Xenote iTag to her PC and goes to the Xenote Web site and then can get the name of the song, the artist, the title of the CD and be able to purchase the CD or single from her favorite e-tailer. 415-241-7086. www.xenote.com.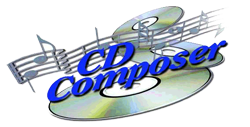 Micro-Magic introduces CD Composer an inexpensive ($50) software package designed for producing custom audio CDs from existing CDs, MP3 or WAV files. The 32-bit multi-threaded application features easy one-click operation and on-line help. Identify audio CDs via CDDB (Internet connection required). Create MP3 files from audio tracks. Burn ISO CD images onto CD. CD Composer also allows you the flexibility to compare and copy data CDs for back-up or mastering purposes. (925) 516-0977, fax (925) 516-9084, www.cdcomposer.com.
Studio Audio & Video Ltd., makers of the SADiE workstations, announces the Cedar DeClick 96 Plug-in for the SADiE 24.96 and Artemis workstations. Auto and Manual operating modes permit off-line playlist operation, or sample-accurate region editing for removal of individual events in the audio waveform. (615) 327-1140, fax (615) 327-1699, www.sadieus.com.
E-Mu/Ensoniq introduces the E-Mu PC, an integrated computer-based recorder, sampler, sequencer, editor, and publishing system. The PC compatible design features a Pentium III processor, extra RAM and hard disk storage, a CD-RW drive, modem, MIDI interface, multi-channel I/O, and Steinberg VST software, all for $2,495 (monitor not included). The company also announced that they will be distributing the Creative BlasterKeys MP3 Keyboard, a sub-$100 product that consists of a 49-note keyboard which connects directly to Creative's popular SBLive! soundcard. (831) 438-1921, fax (831) 438-7854, www.emu-ensoniq.com.
Panasonic Consumer Electronics Company has a couple of new toys around the corner. The VDR-10000 DVD Video Recorder is a DVD-RAM recorder that allows digital recording of video to DVD-RAM discs. The unit uses 4.7GB high-capacity optical discs which support real-time MPEG2 compressed video recording. A single-sided disc can record 2 hours of high-quality motion video in the SP mode and up to 4 hours in the LP mode. When transferring old videotapes to DVD, the new recording is capable of having better quality than the analog version due to the unit's built-in noise reduction processes…even comes with VCR Plus+! Price to be determined. Also from Panasonic, the PV-HS1000 ShowStopper Hard Disk Recorder, another replacement for that old VCR. Rather than recording to DVD, the PV-HS1000 records to hard disk using MPEG2. Hit the Pause button when watching live TV to have the unit record in the background while you answer the phone. When you return, press Play to resume watching where you left off. A subscription service provides TV listings via built-in modem. The unit is expected to be available in April; price to be determined. Goodbye VCR! www.panasonic.com.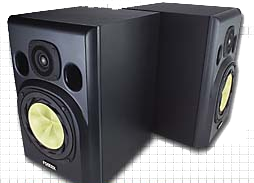 Fostex introduces the NF-1 Nearfield Studio Monitor. Features include a 16cm (6.5 inch) woofer with a newly developed HP diaphragm, which delivers a highly transient sound and low distortion. A 'UDR' tangential diaphragm edge eliminates unwanted anti-resonance. This, combined with the use of a push-pull damper in the woofer assembly results in a super-accurate response at even the most subtlest of audio signals. The wide-range UFLC soft dome tweeter is capable of reproducing audio signals up to 40kHz. Highly rigid cast aluminum frames for both woofer and tweeter units keep unwanted vibrations and resonances to a minimum. Includes terminals for bi-amplification systems. (562) 921-1112, fax (562) 802-1964, email This email address is being protected from spambots. You need JavaScript enabled to view it., or visit www.fostex.com.
MUSIC/SFX LIBRARIES

TM Century unveiled JingleBank .com, a new service for producing commercial advertising jingles for clients worldwide. JingleBank subscribers receive a large base library of commercial jingles and monthly updates. Thereafter they can then re-license to individual clients on a market-by-market basis. Each jingle is then customized to the specific requirements of the client. "JingleBank.com now makes national quality commercial jingles affordable for every advertiser on the planet, regardless of the size of their business," commented TMCI President and CEO David Graupner. "What's so unique about JingleBank is that clients get an entire catalog of music from which to choose for virtually nothing and only pay when they actually license a specific composition for their market," remarked JingleBank Product Manager, Paula Fox. JingleBank.com is available in the United States today and will be rolled out to all other English and Spanish speaking countries over the coming months. (972) 406-6823, www.jinglebank.com.
THE MIX
Vanilla Gorilla Productions adds 5 new stations and now handles voice-over/imaging duties at Maximum Country 104.5 WQIX/Knoxville, The New B93/Ft. Wayne, Q105/New London, Oldies 96.7/Portsmouth, and Q106/Claremont. Also, Vanilla Gorilla's GM, Randy Horvath as been named the new General Manager of Bill Young Productions. New responsibilities will encompass the operations of the entire Bill Young facility, including the Concert division, Entertainment Marketing, Agency division, Y-TV, Graphic & Animation, and Vanilla Gorilla Productions. Rich Witt has been elevated to Creative Services Director of Vanilla Gorilla Productions and is now managing the day-to-day projects and sessions. (281) 277-7878, fax (281) 277-7883, www.vanillagorilla.com.
Tom Richards is leaving B101/WBEB, Philadelphia to develop his growing voiceover/production company. He will retain ties with The Bee. PD Chris Conley and Tom are looking for Tom's replacement. See RAP Classifieds for more info. Tom can be reached at (610) 538-1214.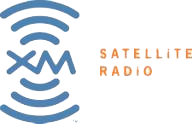 SFX Entertainment, Inc. and XM Satellite Radio Inc. announced an exclusive sponsorship deal that will introduce XM's new band of national, digital radio to millions of live entertainment enthusiasts who attend SFX's more than 24,000 events annually. Audiences at SFX's live music, theater, sports and family entertainment events will have the opportunity to experience XM Radio first-hand. Under the agreement, a special XM Radio kiosk at every SFX venue will offer personal, one-on-one demonstrations of XM's multi-channel radio service. SFX will help educate the public and will build brand awareness and subscribers for XM Radio's service, which is expected to launch in 2001. XM will gain added exposure at all SFX events and venues through on-site demonstrations and sampling, signage, video spots, branded premium giveaways (e.g., XM CD samplers) and public address announcements. In addition, XM Radio will have a presence on the SFX.com portal and will have print ads in all SFX entertainment program guides. (212) 981-5226 (SFX), (202)-969-7070 (XM), www.sfx.com, www.xmradio.com.
AMFM Inc. and traffic.com, Inc., a provider of real-time traffic and logistics information services, announced a strategic alliance whereby traffic.com will act as a national representative for a portion of AMFM's active information spot inventory and provide traffic reports to AMFM radio stations in Philadelphia beginning in April 2000. In connection with the representation agreement, traffic.com will receive future advertising and promotional time on AMFM's radio properties. Additionally, AMFM received warrants to purchase a minority equity stake in traffic.com. Effective immediately, traffic.com will represent AMFM on a portion of its previously un-obligated, active information 10-second inventory, utilizing a specialized sales force targeting national sales. Starting in April, traffic.com will also begin providing traffic information for broadcast and Internet use in the Philadelphia market. www.traffic.com.
Albert Berkshire exits ROCK 94 as Creative Director to become a Senior Writer with SILK FM in Kelowna, BC.
Audio post house Music Annex, NBC affiliate KRON-TV, and independent media consultant John Chase are using an innovative system for distributing time-sensitive spots to radio stations via the Internet during television sweeps week. Music Annex and KRON first employed the system for television sweeps last November, with 26 radio stations participating. Using the MP3 streaming audio format, Music Annex is able to post finished spots on its own Web site for security-controlled downloading by the participating radio stations. How much money might an advertiser save using the Internet? Chase estimates that KRON saved more than 60 percent of its normal distribution costs in November. Chase adds, "The advertiser who will see a significant impact on the bottom line is anyone who does many spots that change often - and that includes almost every retailer and TV station. That's why the system works so well for sweeps."
♦