TECHNOLOGY

Syntrillium Software has released the newest member of the Cool Edit 2000 family of products: the Pro EQ Plug-In. Cool Edit 2000 ($69) is a professional 2-track audio recording and editing application for Windows 9x, Windows NT, and Windows 2000. The Pro EQ Plug-In adds advanced equalization and filtering tools to Cool Edit 2000. Apply a subtle or powerful frequency bias with the 10-, 20-, or 30-band Graphic Equalizer. Boost or cut up to five bands with adjustable widths and center frequencies with the Parametric Equalizer. Take out a hum or tone with the Notch Filter. Apply low-pass, high-pass, and other sophisticated IIR filters with the Scientific Filters. Download a functional demonstration version from Syntrillium's web site at www.syntrillium.com/cooledit. 480-941-4327, fax 480-941-7100.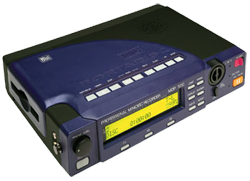 HHB recently debuted the PORTADISC™, a rugged, fully featured MiniDisc portable recorder. The PORTADISC™ records on standard MiniDiscs, easily available anywhere in the world, and uses the latest ATRAC recording algorithm to ensure optimum sound quality. Sonic performance is further enhanced by high-quality balanced microphone input circuits, which also feature switchable phantom power and limiting which can be stereo linked. Eighty minutes of continuous stereo recording is possible on an HHB MD80 disc, or 160 minutes in mono. Power is supplied by standard AA alkaline batteries or by supplied rechargeable Nickel Metal Hydride batteries. Connectivity is comprehensive, including balanced XLR mic/line inputs, RCA line outputs, headphone jack and both coaxial and optical S/PDIF digital I/Os. Radio journalists will be interested in the USB interface for the real-time transfer of files to laptop editing systems, enabling the production of finished news pieces in the field. In addition, basic editing functions are also available on the PORTADISC™ itself, accessed via a software-controlled menu system. The PORTADISC™ is housed in a tough, shockproof case with a large, illuminated display, a built-in monitoring speaker and back-up microphone. A memory buffer delivers glitch-free recording on the move, and a six-second pre-record buffer ensures that sound engineers never miss the start of a take. www.hhb.co.uk.
Sonic Foundry announces the release of SIREN Jukebox 1.5 ($35.95), their MP3 music player and song manager for the PC. Rip CDs to MP3 and Windows Media and burn audio CDs. Features include a 16-band EQ, reverb, and time compress/expand. www.sonicfoundry.com.
Xenote, Inc., the makers of the iTag, the keychain-sized device that lets anyone 'bookmark the radio', announced its national consumer debut with San Francisco radio station KKSF. The Xenote iTag is a small, tear-drop shaped device with a single button, that works in conjunction with a personalized, private Xenote Web service. The device is free for an introductory time to consumers, and fits easily on a key chain or in a purse. Driving in their car, at work or at home, users can click the iTag to create a 'tag' when they hear a song or ad of interest on the radio. Later, users upload their tags to their PCs and go online to view their Xenote home pages, where they are presented with the artist, song, and CD title; opportunities to purchase music or tickets; and links and special offers related to advertisements they tagged. (415) 241-7195, fax (415) 241 7191, www.xenote.com.
Honda Motor Co., Ltd., and OnStar, a wholly owned subsidiary of General Motors Corp., announced an agreement to offer OnStar mobile communications services in Honda and Acura vehicles beginning with the 2002 Acura RL luxury sedan sold in the United States. In addition, Honda, OnStar and XM Satellite Radio have also agreed to jointly develop opportunities for future telematics and data applications. American Honda Motor Co. Inc. and XM Satellite Radio are also negotiating to provide digital satellite radio service to Honda and Acura customers in the United States. XM Radio, 202-969-7070, www.xmradio.com.
DUY announces its latest software release, DUY Everpack, a native bundle of 5 plug-ins for RTAS (real-time Audiosuite), MAS, VST, Audiosuite and Premiere. The included plug-ins are DaD Valve (a physical-modelling-based classic tube simulator), DUY Shape (a sound enhancer featuring 3-band smooth filters), Max DUY (a sound level maximizer), DUY Wide (a stereo and multichannel spatial enhancer), and a new reverb, DUY Z-Room. The retail price for DUY EverPack is $499. Phone: +34 932 174 510, fax: +34 932 176 313, www.duy.com.

Arbitron announced that the Philadelphia market has been chosen for the first U.S. field test of its revolutionary new radio, television and cable TV audience measurement device, the Portable People Meter (PPM), beginning in the fourth quarter of 2000. The portable people meter is a pager-sized device that is worn by consumers throughout the day. It automatically detects inaudible codes that broadcasters embed in the audio portion of their programming using encoders provided by Arbitron. At the end of each day, the meter is placed into a base station that recharges the device and sends the collected codes to Arbitron for tabulation. The technology has been successfully tested in the field in Manchester, England in 1998 and in late 1999 - early 2000. The field test in Philadelphia will take place in two phases. The initial deployment will use 300 meters in the Wilmington, Delaware radio Metro, which is embedded within the Philadelphia DMA®. Late in 2001, Arbitron plans to begin increasing the sample to cover the Philadelphia market. Separately, The Arbitron Company and Nielsen Media Research announced an agreement that gives Nielsen Media Research the option to join The Arbitron Company in the commercial deployment of the Arbitron Portable People Meter in the United States. www.arbitron.com, www.nielsenmedia.com.
BroadcastAmerica.com has launched two pilot programs as a major step toward adding emerging wireless and ad stripping technologies. More than 100 of its affiliate radio stations across the nation have asked to participate in one or both of the programs. Broadcast America.com, which has partnered with more than 575 radio stations and 67 television news stations for Internet broadcasting, is developing both a wireless Internet distribution platform and an Internet-only ad stripping platform, which will allow stations to insert new commercials into their audio stream and earn additional revenue in the process. Broadcast America.com is planning to launch the ad stripping program later this year with wireless Internet broadcasting to follow in 2001. A testing phase of the pilot program, however, will begin in the next couple of months and will involve a small number of stations currently broadcasting online with BroadcastAmerica.com. John Brier, president/COO and a founder of BroadcastAmerica.com, said, "Soon our affiliate radio stations will be able to be heard around the world on cellular telephones and other wireless devices connected to the Internet." The new ad stripping technology will also enhance the site, he said. "This technology will allow our affiliate radio stations to replace local ads with national ads that will be heard only when listening on the Internet," Brier said. BroadcastAMERICA.com also announced that it has incorporated support for Microsoft's Windows Media into its network of online TV and radio broadcasts and that its programming will be featured at WindowsMedia.com, the MSN guide to audio and video on the Internet.
MUSIC/SFX LIBRARIES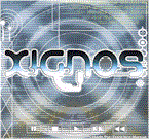 FM Audio Production announces the availability of XIGNOS 1 CD with more than 350 cutting edge production elements—statics, phones, lasers, scratches, drones, bleeps, servos, textures and more. It's a buyout at $199. Demo online at www.xignos.com. (323) 468-5301, This email address is being protected from spambots. You need JavaScript enabled to view it..
THE MIX
Syntrillium Software announces the "That's a Cool Edit!" online composition contest. Musicians and radio content creators can submit their entries between now and July 23, 2000 at the contest site, http://thatsa.cooledit.com. There are two categories: (1) original musical composition or recording and (2) radio commercial or promo. A panel of judges will determine the Grand Prize and Second Place winners in each category. The Grand Prize is a Diamond Rio500 MP3 player. Second Prize is an MXL2001 Microphone from Marshall Electronics. Contestants can submit their own audio creations and everyone can listen to and download the entries at the contest website. Syntrillium Software Corporation, headquartered in Scottsdale, Arizona, was founded in 1995. Cool Edit Pro ($399) is Syntrillium's flagship product. Syntrillium also publishes Cool Edit 2000 ($69), the predecessor to the popular 2-track digital editor, Cool Edit 96. 480-941-4327, fax 480-941-7100, www.syntril lium.com, www.cooledit.com, thatsa.cool edit.com.
Circuit Research Labs, Inc. (CRL) announced that it has finalized its acquisition of Orban from Harman International Industries, Inc. CRL and Orban will keep their separate brand identities but will operate together as the publicly traded company, Circuit Research Labs, Inc. Located in Tempe, Arizona, CRL has 12 employees and more than $1 million in annual sales. Orban is based in San Leandro, California. The company has 75 employees and annual revenues of $15 million. (510) 351-3500, fax (510) 351-0500, www.orban.com.
WBEB-FM/Philadelphia announced the launch of a new Radio Internet marketing strategy involving their new website at www.b101radio.com. While many stations provide links to clients partnered in promotions and contests, B-101 is providing links to the websites of each and every on-air advertiser. "Imagine if your radio came equipped with credit card swipe so that you could buy instantly anything you heard advertised on the air," said B-101 President and co-owner Jerry Lee. "That's the new level of radio e-Commerce we're talking about here." The B-101 website allows computer users to hear the station in real time audio through the B-101 Virtual Radio, which has a visual component that shows CD artwork of each song as it airs and the logo of each advertiser as their commercial airs. Listeners can click on an advertiser's logo and go straight to the advertiser's website for additional information and a possible purchase. A listener interested in a commercial heard earlier in the day is able to open the daily program log in the virtual radio and click to play the ad again, with the option of linking directly to the advertiser's website. On-air commercials will be stored on the website for the duration of the advertiser's campaign, exponentially increasing a commercial's "active life" of 60 seconds. If an advertiser doesn't have a website, B-101's Internet department will create one for it. There is no minimum advertising purchase necessary to get these services. Lee expects 20-percent of B-101's core audience to be using this new technology within the first year, and 50-percent to have used it by June of 2002. B-101 will use software developed by Radiowave.com.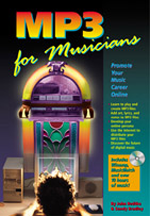 Top Floor Publishing has announced the publication of a book that explains how musicians can use the MP3 format to effectively promote themselves, sell music, and gain recognition. Written by the award-winning author of 18 books, John Hedtke, MP3 for Musicians: Promote Your Music Career Online ($27.95) shows how to take advantage of the extensive opportunities now available with digital music. The CD that accompanies the book contains MP3 software—MusicMatch and Winamp—plus more than 10 hours of music. MP3 for Musicians can be purchased directly from the publisher by calling 877-693-4676 or online at TopFloor.com/mp3m.