TECHNOLOGY

Tascam introduces the DA-78HR 8-Track Recorder/Player ($3,199). The DA-78HR—and its bigger brother, the DA-98HR—bring 8-track, Hi8 tape-based recording to the 24-bit level. The units provide full record and playback compatibility with all DA-98, DA-88, and DA-38 tapes utilizing the 16-bit, 44.1 or 48kHz standard. In High-Resolution mode, the unit will record and playback all eight tracks with 24-bit resolution, 44.1khz or 48kHz sample rates. The DA-78HR features a built-in 8x2 MIDI compatible mixer that offers volume and pan control over all eight tracks, and mixes can be routed to two tracks of the existing tape or to any digital recorder with the S/PDIF interface. The DA-98HR ($6,499) is built on the DA-78HR and adds several features for post-production including AES/EBU digital I/O and a High Resolution 24-bit/96kHz 4-track mode and 24-bit/192kHz 2-track mode. Also from Tascam is the new CD-A700 CD Player and Auto-Reverse Cassette Deck ($649). Features include balanced XLR and unbalanced RCA analog I/O, coaxial S/PDIF digital I/O, a 12 percent pitch control on both the CD and cassette, and D-sub 15-pin parallel control I/O. The CD-A700's CD and cassette operations work individually of one another except when operating the CD to cassette dubbing feature. And Tascam's new T-3000 Cassette Duplicator ($1,460) is a handy 3 rack-space, 3-deck unit featuring 4x duplication of both sides of a cassette simultaneously. Make two copies of a 60-minute cassette in just 7.5 minutes. Make two copies from one master or slave several units together for larger quantities—two machines can make 5 copies from one master. (323) 726-0303, fax (323) 727-7635, www.tascam.com.
Quantegy announces the expansion of its CDR offering with the addition of a low cost, high performance Silver CDR. The Silver CDR is 8x certified. The company also recently announced an agreement with Imation Corp. that authorizes Quantegy to sell and distribute Imation data storage media products worldwide. (334) 742-7992, fax (334) 749-7738, www.quantegy.com.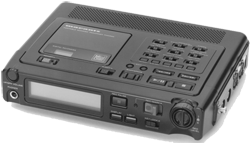 Superscope Technologies, exclusive American distributor of Marantz professional products introduces the latest additions to the Marantz line of CD players. The PMD330, PMD331, and PMD340 are among the first CD players available that are able to play CD-RW discs recorded on CD-RW compatible recorders. Key features in all models include a multi-function programmable cue button, a 10-digit keypad for quick access to tracks, A-B point audio loop playback, audible frame-by-frame search control, index searching, 21 preset functions for tailoring user preferences, 12% +/- digital pitch control, and scrolling CD-Text display. Each model includes RCA analog I/O, digital S/PDIF coaxial output, and RC5 remote I/O. The PMD331 and PMD340 offer all the features of the PMD330 and add XLR analog output, optical digital output, XLR (S/PDIF) digital output, and a GPI port with fader start. Exclusive to the PMD340 is a hi-durability CD mechanism designed to hold up to heavy daily use and intensive track and disc changes. Suggested retail prices are $499, $629, and $789 for the PMD330, PMD331, and PMD340 respectively. Also new from Marantz is the PMD650 Professional Portable MiniDisc Recorder ($1,399). Designed as a field unit for journalists, sound producers and other pros, the unit features the usual MiniDisc editing features plus a 20-second stereo recording (40-second mono) pre-record audio cache that ensures rock-solid field recording while enabling recording of up to two seconds of audio before the record button is pressed. Also, the TOC is updated before recording to make sure recordings aren't lost in the event of unexpected power loss. The PMD650 comes with a full compliment of analog and digital I/Os. The coaxial digital input with sample rate converter can be used to record from digital sources with sampling frequencies of 32kHz-48kHz. A SPDIF format XLR output and stereo analog outputs are included. Balanced XLR mic inputs feature phantom power. (630) 820-4800, fax (630) 820-8103, www.superscope-marantzpro.com.
Realnewsnet.com is a new on-demand digital news video and audio clip service for news stations. realnewsnet.com allows broadcast-quality video and audio to be downloaded via the Internet, for immediate airing. To facilitate the downloading and playback of the service's broadcast-quality video and audio, realnewsnet.com has formed a strategic alliance with Sigma Designs and will offer its customers the Sigma Designs REALmagic Hollywood Plus DVD decoder card to support the news service's online capabilities. Footage is digitized and encoded to MPEG-2 format, then posted onto the realnewsnet.com FTP server for immediate retrieval. Once downloaded, the file can be decoded and mastered to tape directly using the Sigma Designs REALmagic decoder card. All news footage and one-minute features are offered to stations for a fee. Visit www.realnewsnet.com for more info.
Need a serious CD changer? The DCM-5000 from Denon features a 100 disc changer with dual CD drives. Two sets of analog and digital outputs permit sending different audio from each drive to different destinations. Other features include a disc naming function via front panel controls, external PC keyboard, or remote control. Up to six DCM-50000s can be connected together for 600 disc programming. (973) 575-7810, fax (973) 808-1608, www.denon.com.
SADiE recently introduced ARTEMIS, the latest system in the SADiE digital audio workstation range. Designed for Film/TV post production, DVD production, CD mastering and music editing, the unit is aimed at applications requiring large amounts of digital signal processing. ARTEMIS systems are supplied as fully configured, rack mounting turnkey systems in a range of input/output configurations, from 8 to 24 inputs and outputs. The entry level ARTEMIS system is equipped with 8 inputs and 8 outputs and can replay 24 tracks of edited 16-bit audio. 20-bit analog conversion is built into the system, and external converters are provided for by AES/EBU digital I/O on every channel. Support for 24-bit 96kHz and 192kHz audio editing is standard, making ARTEMIS ready for DVD. The 8 channels of I/O make ARTEMIS perfect for surround sound editing and mixing, which is supplied as standard in the SADiE software. Every system includes full time code support and 4 channels of RS422 interface. The supplied Breakout Box 800 includes 8 channels of XLR digital I/O, XLR digital reference input, RS422 9-pin I/O, XLR time code I/O, and 8 channels of unbalanced analog I/O. The optional Breakout Box 800B adds balanced XLR analog inputs and outputs at standard operating levels. All ARTEMIS systems include on-board SCSI interfaces for direct communication with audio disk storage, CDR, DLT, DDS or Exabyte drives. (516) 784-7865, fax (516) 784-7866, www.sadie.com.

Mackie Digital Systems recently unveiled the HDR24/96, a 24-track, 24-bit/96kHz-capable stand-alone hard disk recording/editing system with a suggested U.S. retail of $4999. The HDR24/96 includes an internal 20 gigabyte Ultra-DMA hard disk that delivers over 100 minutes of 24-track recording at 48kHz, plus an extra drive bay for pull-out hard disks of any size. Sampling rates of 44.1 and 48kHz are currently implemented; 96kHz will be possible with future software upgrades. No external computer is required to take advantage of the HDR24/96's graphic operating interface and editing software. Rear panel ports are provided for plugging in an SVGA monitor, PC mouse, and keyboard directly into the recorder. The intuitive editing software includes 999 levels of undo, nondestructive drag-and-drop crossfades, regions and super regions, track slipping, audio phase inversion, normalization, pitch shifting, time compression and expansion, audition and scrubbing modes, quantization, one-to-multiple replacement, 192 virtual takes (8 per track), track and take bouncing, and many other familiar features. The SVGA display also provides complete control over HDR24/96 recorder functions and features a meter display, virtual transport controls, time code display, scrolling waveforms with 1x/2x/4x/8x/24x zoom, time bar with user-defined resolution, Punch, Loop, Cue and Tempo Change markers, snap functions, locate, loop and rehearse. The HDR24/96 uses the same I/O cards as Mackie's Digital 8•Bus console, enabling analog audio input with 24-bit A/D, or digital input from AES/EBU, ADAT® or TDIF sources. Two remotes will be available for the HDR24/96, a "compact" version, (the Remote 24) and a larger model with integrated meter bridge to be released at a later date. Other HDR24/96 features include front panel 3.5-inch disk bay for importing tempo maps and software upgrades, familiar analog tape-style monitor modes, punch-in footswitch jack, 100 Mbit Ethernet port, and optional SCSI output for back-up to external sources. 425/487-4333, fax 425/487-4337, www.mackie.com.
Amulet Audio Software UK is offering VST to DirectX Adapter ($50), a utility that lets you use Cubase VST® format Plug-ins in many DirectX Plug-in compatible applications. It takes the form of a DirectX plug-in that is capable of loading VST plug-in DLL files and converting the audio passed by the application to the VST format. VST to DirectX Adapter is known to be compatible with the following applications: Sonic Foundry Sound Forge 4.x, Emagic Logic Audio Silver/Gold/Platinum 3.5 and 3.6, Cakewalk Pro Audio 7.x and 8.x, Sonic Foundry ACID and ACID Pro, Steinberg Cubase Audio VST 3.5x and 3.6x, Syntrillium Software Cool Edit Pro 1.1. Amulet says it is also "probably" compatible with several others. Because of the wide variety of VST Plug-Ins available, compatibility with every one of them is not guaranteed. Email This email address is being protected from spambots. You need JavaScript enabled to view it. or visit www.surf.to/amulet for more info.
Waves, Ltd. announced the release of the C4™ Multiband Parametric Processor exclusively for the Pro Tools 24|MIX systems. The C4 is available for both the Macintosh and Windows Pro Tools MIX platforms for a MSRP of $595. The C4 Multiband Parametric Processor harnesses the compression design from the TEC nominated Renaissance Compressor™ including the ARC™, Electro and Opto bands. Key features include transparent cross-over design with global adjustable Q and true parametric control including independent threshold, range, gain, attack, release and bandwidth per band. 423-689-5395, fax 423-688-4260, www.waves.com.
THE MIX
Radio image creators, Marketing Mania Studios unveil a new product called IMAGE 2000. IMAGE 2000 is a sweeper package of 75 liners created to package and brand most progressive radio stations in any format. The package is fully written and voiced by Jennifer Vaughn and is produced in the theme of the future. Call (941) 574-6850 for a demo and more info.
MUSIC/SFX LIBRARIES
River City Sound Productions adds a new CD to their Specialty Series of buy-out production music. Volume 14 – Suspense features 11 themes with broadcast edits. (901) 274-7277, fax (901) 274-8494, www.rivercitysound.com.
♦