TECHNOLOGY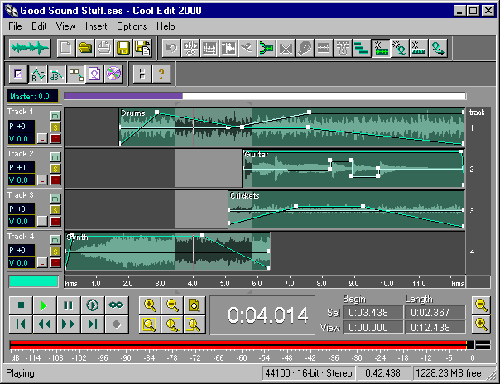 Syntrillium Software announces Cool Edit 2000. Cool Edit 2000 adds many new features to its predecessor, Cool Edit 96. You get MP3 support, full MPEG Layer 3 import and export based on codecs from Fraunhofer, the inventor of MP3. There are optional plug-ins such as the Studio plug-in which adds a 4-track mixing view to Cool Edit 2000. The Audio Cleanup plug-in offers advanced audio restoration tools, including automatic Click and Pop Elimination for cleaning up old vinyl records. Other new features include faster processing throughout, up to 300% faster effects processing; a complete interface overhaul including new colors and toolbar buttons, multiple file support, enhanced zoom and transport controls, 24/96 support, automatic silence detection and deletion, automatic beat-finding, "snap" features, timed record—program to start recording while you're out, user-definable keyboard shortcuts, and more. Cool Edit 2000 is $69 and the plug-ins are $49 each. (480) 941-4327, fax (480) 941-8170, www.Syntrillium.com.
Soundscape Digital Technology Inc. previewed its R.Ed Recorder and Editor for the PC platform at a recent event held at its Ventura, CA offices. The company demonstrated R.Ed both separately and in combination with its mixtreme PCI digital mixing card, and with a wide variety of both proprietary and third party software packages. R.Ed, which appeared quite fast and stable during a hands-on session, is a 32-track, 24-bit digital audio workstation designed for music recording, post-production, and broadcast production. Using a PC-compatible computer running Windows 95/98 or NT, the system can record 32 tracks at 44.1 or 48 kHz sampling rates, and 16 tracks at 88.2 or 96 kHz sampling rates. The recorder/editor system consists of a host interface card and a 2U rack unit with 24 channels of TDIF Digital I/O, 2 ins and 4 outs via AES/EBU, MIDI In/Out/Thru, and Wordclock I/O. The rack unit has mounts for two internal fixed hard disks, and for two more removable hard disks. Software includes an enhanced version of Soundscape's capable V2 Editor from its SSHDR1-Plus product, its Console Manager 16 buss mixer software, and its Remote Device Control software for controlling external devices via Sony 9-pin or MMC. Soundscape's design philosophy is "to expand and enhance what you already own." In keeping, they showed several interfacing solutions for R.Ed, including the iBox 8-XLR/24, an interface featuring eight channels of 24-bit balanced analog I/O, eight channels of ADAT I/O, plus Wordclock/Superclock I/O and LED metering. Up to three of the iBox 8-XLR/24s can be connected to a single R.Ed. In addition, R.Ed can be expanded by adding mixtreme PCI cards to provide additional DSP for mixing and real time effects. Optional software for R.Ed includes a full featured EDL package with autoconform, and various plug-ins from manufacturers including TC Electronics and Cedar Audio. Complete R.Ed systems start at $6,495. For more information contact Soundscape Digital Technology Inc. at 805-658-7375, or visit www.soundscape-digital.com.
MediaFORM's CD Director is now available with the 12X SmartDRIVE 2, which allows stamping of audio as well as data discs. SmartDRIVE2 includes 12X compatibility and has the ability to produce copy-protected CD-Rs. Also from MediaFORM is SmartPRINT, the newest feature on the CD Director, enabling accurate printing on pre-silk screened media. CD Director is MediaFORM's top of the line, network ready, CD-R imaging, mastering and integrated duplication/printing solution. Also new is the MediaFORM CD-5916, capable of duplicating up to 16 CD-Rs simultaneously without the need of a PC. It comes preconfigured with eight or sixteen CD writers. The system is equipped with an A/V hard drive, allowing you to write your images to the hard drive while a first set of copies is made and subsequently duplicating from your choice of local images on the hard drive. (610) 458-9200, fax (610) 458-9554, www.mediaform.com.
CNET, Inc., the source for computers and technology, and AMFM Inc. announced that they will join forces to create CNET Radio, the country's first all-tech radio format. The first CNET Radio station will launch this month in San Francisco on AMFM's KNEW 910 AM. CNET and AMFM will incubate the new format in the San Francisco Bay area, with plans to roll it out nationally by the end of 2000. Broadcasting from CNET's San Francisco studios, CNET will produce daily tech-focused news radio programming, from the start of the morning drive to the end of the evening commute. CNET Radio will draw on CNET's extensive experience producing award-winning online and on television technology news and information. CNET Radio will have a companion Web site at www.cnetradio.com, which will feature live streaming audio of CNET Radio broadcasts, as well information on CNET Radio programming and talent, useful Web links, and other resources for the listener community. (415) 364-8357, www.cnetradio.com.

German manufacturer SPL is offering the Channel One, a complete channel strip based largely on processing elements already developed and proven by SPL within their existing range of separate processors. The target customers are computer based recording studios who are seeking a premium front end, though it is equally applicable to any demanding recording situation, whether digital or analog. Channel One incorporates a tube mic/line preamplifier, a de-esser, a compressor/limiter with noise gate, an special EQ-section, and a headphone monitoring solution. Channel One's tube mic preamp offers 48V phantom power, both pad and phase reverse switches, and may also be used as instrument tube preamplifier via a high impedance jack connector on the front panel. As an option, Channel One can be equipped with a 24/96 AD-converter and Lundahl transformers are available for the analog I/O stage. +49-2163-9834-14, fax +49-2163-9834-20, www.spl-electronics.com.
SADiE announces that it has licensed POW-r, a new technique for digital audio word length reduction, which will be available as an optional plug-in for its entire line of SADiE digital audio workstations. POW-r, and acronym for Psychoacoustically Optimized Wordlength Reduction, is a unique algorithm which reduces longer word lengths (20, 24, and up to 32 bits), to CD standard 16-bit format while retaining a high degree of perceived dynamic efficiency and very low noise. It is a scalable algorithm, making it ready for all sample rates from 44.1kHz to 192kHz and beyond. (530) 647-0751, fax (530) 647-9921, www.sadie.com.
SEK'D's new Prodif Plus Digital and Analog Audio Interface Card ($449) features high quality 24-bit/96-kHz digital audio and 20-bit/48-kHz analog audio. Digital connections for SPDIF, unbalanced AES/EBU, and ADAT™ interfaces allow connection to a large variety of equipment. Driver support includes Windows™ 95 & 98, which allow this PCI card to be an excellent solution for most sound card needs. (800) 330-7753, www.sekd.com.
Waves new Pro-FX plug-in bundle features four plug-ins. SuperTap offers six taps with up to six seconds of mono or true stereo delay. Each tap includes independant Q10-style filtering, rotation (stereo panning), gain, and precision time control. MetaFlanger produces vintage tape-flanging, phaser-emulation, and special effects. Create gentle choruses, sharp phasing effects and a variety of true dual-delay flanging sounds. MondoMod is a unique combo of linked modulators: AM, FM, and Rotation (stereo panning), for gentle wandering guitar solo panning or bizarre destructive effects, all in one plug-in. UltraPitch is a formant-corrected pitch shifter with 6-voices. All pitch shifting is done with optional formant-correction to avoid the old chipmunk effect, or for excellent gender-bending. Make a guy into a girl, or an alto sax into a tenor, etc. Each voice has independent stereo panning and delay, plus a little Animator delay-randomizer. (423) 689-5395, fax (423) 688-4260, www.waves.com.
Sonorus, Inc., has a new sound card designed for professional use. MEDI/O ($599) sports features like balanced inputs and outputs, industry-standard professional connectors, high quality analog and digital audio connections, MIDI and synth connections, and built-in vocal and guitar processing. A breakout cable and optical cables are included, and a rack-mount breakout box is planned. Analog connections include: Stereo XLR MIC in, 2x Stereo 1/4" balanced line in, Guitar In, stereo 1/4" balanced line out, stereo 1/4" headphone/speaker out, and CDROM audio in. Digital connections include ADAT lightpipe I/O, SPDIF RCA I/O, and Word Clock I/O. (212) 253-7700, fax (212) 253-7701, www.sonorous .com.
Focusrite Audio Engineering Ltd., the U.K. based audio signal processing company, appointed Digidesign, a division of Avid Technology, as exclusive distributor of the Focusrite product line in North America. Digidesign will distribute Focusrite hardware and software products for the United States (including Hawaii, Bermuda, and the Bahamas) and Canada. Terms of the agreement took effect January 1, 2000. www.digidesign.com, www.focusrite .com.

Lexicon has a new effects box. Powered by Lexicon's proprietary Lexichip, the MPX 500 has 240 presets with classic, authentic stereo programs, including Ambience, Plate, Chamber and Inverse, as well as Tremolo, Rotary, Chorus, Flange, Pitch, Detune, 5.5 second Delay and Echo. Dual-channel processing gives you completely independent effects on the left and right channels. Editing is straightforward, with dedicated front panel controls and graphic display of program number, metering, tempo and routing. An easy Learn mode allows Dynamic MIDI® patching of front panel controls. Tempo-controlled delays lock to Tap or MIDI clock and tap tempos can be controlled by audio input, the front panel Tap button, dual footswitch, external MIDI controller or MIDI program change. (781) 280 0300, fax (781) 280 0490, www.lexicon.com.
MUSIC/SFX LIBRARIES
Manhattan Production Music has launched their new web site at www.mpmmusic.com. The site uses a search engine called Music Source to enable searching for music by keywords, categories, descriptions, genres, and by instruments. (800) 227-1954.
♦