TECHNOLOGY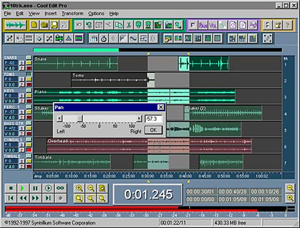 Syntrillium Software announced the online release of its new MP3 Plug-In for Cool Edit Pro. This software enables Cool Edit Pro to read and write MP3 files directly. The new version supports variable bitrate (VBR) data, performs up to nine times faster than the previous release, and sports an easier-to-use interface. Syntrillium offers a demonstration version of the plug-in on its web site at www. syntrillium.com. Users can also buy and download the full version of the software at Syntrillium's online store for $29. 888-941-7100.
Sirius Satellite Radio and XM Satellite Radio today announced an agreement to develop a unified standard for satellite radios. The standard is expected to accelerate growth of the satellite radio category by enabling consumers to purchase one radio capable of receiving both companies' broadcasts. The unified standard will represent a second generation of satellite radios. At the time of the commercial launches of XM Radio and Sirius, consumers will be able to purchase radios capable of receiving one of the two companies' broadcasts. These radios are already being developed by leading electronics and automotive manufacturers. XM and Sirius will work with their existing automobile and radio manufacturing partners to integrate the new standard under the terms of their existing agreements. All future agreements with automakers and radio partners will specify the new satellite radio standard. XM has also announced a preliminary agreement with Freightliner Corporation to jointly develop new, integrated wireless information and entertainment services that will be compatible with Freightliner's Truck Productivity Computer(TM). XM will partner with wireless communications companies to develop wireless solutions for the trucking market and will work with its strategic partners to incorporate their products and services in an integrated solution for commercial vehicles. In addition, Freightliner will distribute, market and merchandize XM Satellite Radio through its fleet-owner relationships, its extensive dealer organization and Freightliner's network of 160 "TravelCenters of America" retail outlets. Freightliner will begin to offer XM radios in its new model Freightliner, Sterling, American LaFrance trucks and Thomas Built buses beginning in 2001. Another agreement with LiveTV, the leading supplier of real-time programming from DIRECTV on commercial aircraft, will make XM's entire offering of radio programming available to airline passengers across the country beginning in 2001. www.xmradio.com, www.sirius radio.com.
Sonic Solutions announced the world¹s first integrated production system for preparing, encoding, authoring, and formatting content for use in DVD-Audio mastering using Meridian Lossless Packing (MLP), a required format for DVD-Audio titles. MLP, which was developed by Meridian Audio, allows more than 74 minutes of a six-channel, 24-bit, 96kHz audio stream to fit onto a single-layer, single-sided DVD-Audio disc and guarantees a decoded output that is bit-for-bit identical with the original stream. The disc space saved can be used to deliver additional content such as motion video or audio content. (415) 893-8000, fax (415) 893-8008, www.sonic.com
Korg's new D16 ($2,399) is an all-in-one digital multi-track recorder and 24-channel mixer that expands on the company's previous D8. The D16 features 128 tracks (including "virtual" tracks) with 16 tracks of simultaneous playback/8 tracks simultaneous record at 16-bit, or 8 tracks playback/4 tracks record at 24-bit recording. Recording is uncompressed at 44.1kHz. The mixer is a 24-channel, 8-bus mixer with one Aux and one Master bus. Other features include an internal 2.1GB drive, cut and paste editing, 100 locate points, EQ, DSP effects, a large LCD display, and lots more. (516) 333-9100, fax (516) 333-9108, www.korg.com.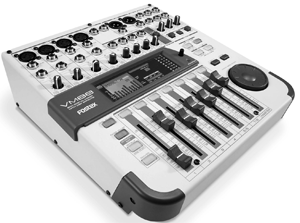 Fostex recently introduced the VM88 Digital Mixer, the company's first eight-input, two-output digital mixer designed to accommodate both live sound and recording applications. The VM88 offers 24-bit A/D and 20-bit D/A converters, a 44.1 sampling rate and Fostex's 24-bit A.S.P. (Advanced Signal Processing) effects processing technology. The VM88 offers balanced inputs on all channels with 48-volt phantom power and individual inserts. Stereo A.S.P. effects are also available on each channel, as well as two auxiliary sends that are pre/post selectable. The ADAT direct out is pre fade only, while the ADAT/SPDIF is mixable. To accommodate low light levels, the VM88 offers self-illuminating keys and a back-lit LCD display. Channel parameters are selectable via a combination of Edit and View buttons and are adjustable with a data jog wheel. The VM88 also provides a 20-scene memory. Suggested retail price is $799.00. 310/921-1112, fax 310/802-1964, www.fostex .com.
NextAudio Inc. announced the company's first product. MyRadio.com debuts this Spring and features an easy-to-use MyRadio Player built on a patent-pending system that automatically assembles and delivers music directly to a consumer for secure playback on a PC, portable music player, or car and home stereos. MyRadio is a free, advertising supported service, and MyRadio listeners can interactively respond to an ad to purchase or request additional information. www.myradio.com.
Waves Ltd. announced the release of MaxxStream, a state-of-the-art hardware and software suite optimized to stream live audio signals over the Internet. Aimed at Internet broadcasters, streamers and content providers, MaxxStream provides a user-friendly front end for Real and/or Microsoft audio encoding systems. MaxxStream, in conjunction with Waves' PCI sound cards, can encode eight audio channels simultaneously on a single computer. This task previously required eight separate computers and external pre-processing equipment, but can now be accomplished by a single PC with four cards. Waves recently signed a distribution agreement with Broadcast Electronics which will integrate MaxxStream technologies into the Broadcast Electronics eSTREAM streaming media solution. Users may order MaxxStream through Broadcast Electronics in Quincy, Illinois and on the web at www.audiovault.com. Other info can be found at www.waves.com and www.maxx stream.com.

MasterLink ML-9600 ($1699), the new mixdown and mastering unit from Alesis is now shipping to dealers around the globe. MasterLink integrates hard disk recording, digital signal processing, and compact disc creation/playback in a stand-alone system. MasterLink ML-9600 allows studios, musicians and mastering facilities to store, deliver and play stereo 24-bit, 96kHz audio as well as conventional 16-bit, 44.1kHz Red Book CDs on standard recordable compact discs. MasterLink features a 4.3 GB internal hard drive with editing, digital signal processing and mastering functions, a 4X write speed CD-R drive, and 24-bit, 96kHz A/D and D/A converters.
Digidesign is announcing the first upgrade to its Pro Tools 5 software, Pro Tools 5.0.1. Among the key updates to Pro Tools 5.0.1 is the support of Windows 98 by the Pro Tools-LE powered systems, Digi 001 and Digi Toolbox XP. For home studio users, the Digi 001 and Digi Toolbox XP bring the power of Pro Tools to the Windows 98 desktop. The recording, editing and mixing capabilities of Digi 001 and Digi Toolbox XP are powered by Pro Tools LE software. Pro Tools LE supports up to 24 tracks of 16- or 24-bit audio and introduces the newly developed Real-Time AudioSuite (RTAS) plug-in architecture, delivering real-time, host-based mixing and effects processing. With the 5.0.1 release, Digidesign also adds Windows 98 support for the SampleCell II Plus PCI sampling card and MP3 export option, as well as low-latency record monitoring for simultaneous all-input recording on Digi 001 systems (PC and Mac). Users of Pro Tools TDM systems have reason to rejoice as well. The highly anticipated AVoption|XL is also scheduled for release in early Q2 '00. Based on Avid's newer Meridien hardware, AVoption|XL brings unrivaled audio Post Production power to Macintosh-based Pro Tools TDM systems with support for capture, import and playback of uncompressed, Avid-compatible video media directly within Pro Tools. Also new is Digidesign's DirectConnect plug-in for Macintosh-based Pro Tools systems. DirectConnect provides a 24-bit path from host-based audio software directly into the Pro Tools mixing environment for integrated mixing and processing within the Pro Tools session. The Pro Tools v5.0.1 software upgrade will be provided free of charge to all registered Pro Tools 5 users. Visit www.digidesign.com for further details.
MUSIC/SFX LIBRARIES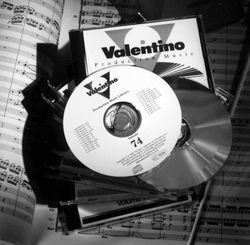 tvmusic.com recently announced the availability of the complete Valentino Production Music and Sound Effects Libraries as downloadable files for use by feature film-makers, television and radio producers, and interactive computer programmers. Over 350 CDs of music and sound effects. Details at www. tvmusic.com or at (800) 223-6278. l
THE MIX
The MidWest Family Sound Factory received several awards for excellence in radio during the Springfield Advertising Association's 21st annual Addy Awards, held recently. "Caroline's Pampered Pet Motel/Front Desk" received the Judge's Choice Award for Radio. Addys were also awarded to "Melanie Walker-ERA Rutherford/Bug Zapper" in the :30 Commercial category, and to "Norwest/Mortgage Theatre" in the :60 Commercial category. The Sound Factory is the production and creative services branch of the MidWest Family Broadcast Group - KOSP/KKLH/KOMG.
Get online with industry professionals to share tips, tricks, resources and more at the Canadian Radio Message Board, www.mediawebproductions.com/canradio.
Voiceover talent Jeff Matzka adds KGMO, Cape Girardeau, Missouri to his roster of client stations. Jeff Matzka is based in Stafford, Virginia and provides voiceover services to radio stations across the country, and around the world. (540) 840-9806, www.jeffmatzka.com.
♦