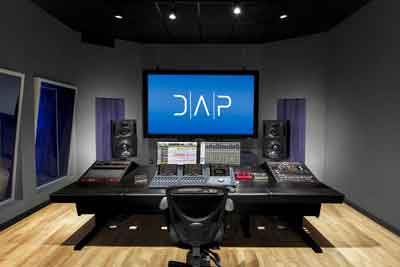 Dallas Audio Post Studio ADallas Audio Post (DAP) is one of the largest and most successful post-production facilities not located on an American coast. Its client roster includes notable companies such as FOX Sports, the NHL Dallas Stars, Travel Channel, Universal, NBC, DreamWorks, Sony Pictures, and more. Following a harrowing year in 2020, where so much entertainment production came to halt, Roy Machado, DAP's owner/chief engineer, didn't like the idea of sitting still. "While 2020 was a really tough time, it also presented opportunities I'm really thankful for," says Machado. "In some ways we were lucky, but we always stay prepared by implementing the latest and smartest technology, like upgrading to Dolby Atmos in 2019."
This year Machado and Control Room A engineer, René Coronado decided it was time to improve DAP's capabilities once again. "It's a great room," says Coronado. "It's served us well on recent projects like 23-channel mixing for Time Warner's AT&T Discovery District, an incredible modern public space in downtown Dallas. The execution of an entire sound design package for the national rollout of Bally's Sports Network. In-arena and award-winning open-ice videos, plus all TV and radio spots for the Dallas Stars. I also had great fun doing sound design, foley and mixing for feature films Joey and Ella, C.I. Ape, and A.R.I. My Robot Friend." But as with all great control rooms the time came to make DAP's primary control room even greater. Adds Coronado, "Over the course of a few weeks, Control Room A underwent a huge upgrade."
To start, the room's front LCR loudspeakers were upgraded to Genelec 1238A speakers, which build upon the proven acoustic performance of the 1038s, but with onboard Smart Active Monitoring technology. The 1238A is the largest three-way speaker Genelec makes and the onboard calibration is stored in the speaker's RAM module that allows for playback calibration with no external software. In addition, the C24 mixing console was replaced with a pair of Avid S1 slimline mixing surfaces engineered to deliver unrivaled speed and superior visual feedback with the software integration of Avid's high-end consoles. "The S1," explains Coronado, "gives me direct and natural hands-on control of my go-to audio and video software." Also installed is an Avid Dock (formerly Pro Tools | Dock) that provides intelligent studio control in a portable and ergonomic surface. "This upgrade moves Control Room A to the latest Avid EUCON automation and keeps it completely current to all of the latest workflows."
"Dante infrastructure is central to the routing philosophy and workflow at Dallas Audio Post," adds Machado. "In keeping with this, we've also added dozens more channels of I/O over Dante via our newly installed Pro Tools MTRX interface, which gives us the superior sonic quality of Digital Audio Denmark's (DAD) legendary AD/DA converters, thus making Control Room A one of the most capable and flexible suites in our entire region."
In detail, the new upgrade includes the Avid MTRX interface, Avid Dock (one unit), Avid S1 (two units), Genelec 1238A Monitors (three units), DAD MOM Monitor Controller, Focusrite RedNet X2P Network Audio Interface, Netgear Poe + Ethernet switches for Dante connectivity and Avid EUCON connectivity. These upgrades are directly in line with the Dallas Audio Post philosophy to keep a vigilant eye on the latest technology that will allow the team here to continue to serve and expand their impressive list of clientele today and well beyond.
ABOUT DALLAS AUDIO POST
Dallas Audio Post is a world-class, full-featured pro audio services company specializing in audio production and post-production for TV, film, live events and radio. They provide location sound mixing services and operate one of the largest pro audio rental firms in the region. Their headquarters is in Carrollton, Texas – a city nestled in the sprawling and quickly expanding international business hub known as the Dallas/Fort Worth Metroplex. For more information please call (214) 350-7678 or email roy@dallasaudiopost.com. www.dallasaudiopost.com.