Logitek has introduced JetConnect, an easy-to-use management system for the company's JetLink remote audio software. JetLink enables sending and receiving of broadcast quality audio from computer to computer. Using a high bitrate Opus software codec, JetLink has been proven to keep a solid, low latency connection on corporate LAN connections, DSL lines, WiFi, and 4G LTE connections. Logitek has been running a free beta program for JetLink since last fall; the feature set of the beta program has been renamed JetLink Free and will remain available at no charge.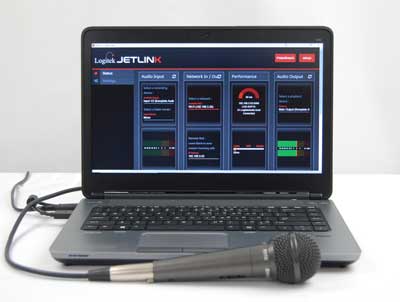 Soon to be available via a subscription service is JetConnect. This PC application makes it easy to click and connect to other computers and includes firewall transversal so users can easily access remote computers without the inconvenience of port forwarding. With JetConnect, users set up a master account for their station/company and then assign clients to the account. Clients can have easily-identifiable names such as studio, site name or call letters. Within the JetConnect sofware, users can then select which sites to use for connection rather than having to type in an IP address or port. Because licenses are managed through a cloud service, users can easily change assignments of computers for JetLink, making the system both versatile and more secure. Licenses may be managed either corporate-wide or by market.
JetLink and JetConnect are easy to integrate with an Audio-over-IP console system, using the system's soundcard replacement drivers.
"With JetLink and JetConnect, it's easier than ever to manage remotes or to set up a backup STL for your station, with full fidelity audio and extremely low latency," said Tag Borland, Logitek President. "We will soon be expanding the abilities of JetConnect even further, and are excited about the opportunities these technologies will bring to the Radio market."
More at www.logitekaudio.com.