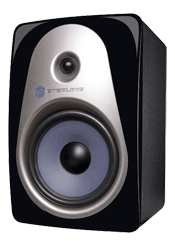 ► Sterling Audio announces its new MX Series powered studio reference monitors, combining next-generation materials and Sterling's proprietary dual-axis WaveGuidanceVH™ technology to deliver high efficiency and ultra-low distortion, even when mixing audio with challenging content. The series includes three models: the MX8, which features an 8-inch low-frequency driver and 1-inch silk-dome tweeter; the MX5, with a 5-inch woofer and 1-inch silk-dome tweeter; and the MX3, with a 3-inch woofer and ¾-inch tweeter. Sterling's advanced, dual-axis WaveGuidanceVH technology gives MX monitors a very wide "sweet spot," with extraordinarily wide and high dispersion. This provides a clear, articulate, and centered sound, even when listening off-axis both horizontally and vertically. The MX Series' low-frequency drivers employ a proprietary, multi-fiber cone design with superior damping, which minimizes sonic artifacts and unnatural resonances. A custom, four-layer voice coil delivers greater motor force for outstanding low-frequency performance. The silk-dome tweeter, powered by a neodymium magnet, provides smooth and natural high-frequency response. Each MX Series monitor sports a rear-panel acoustic port, which reduces low-frequency turbulence and distortion. All three models feature variable highpass (+2, 0, or -2 dB) and lowpass (-3, 0, or +3 dB) filters that enable you to custom tune your MX monitors to suit your listening preferences and recording environment. The MX8 and MX5 provide balanced XLR, balanced ¼-inch TRS, and unbalanced RCA inputs; the MX3 offers unbalanced RCA inputs. MX Series monitors pack plenty of natural bass punch and superior transient response, thanks to powerful Class A/B power amps. The top-of-the-line MX8's 125W power amp and 8-inch woofer enable it to deliver big, tight, accurate low end. The MX5 is more compact, making it an excellent choice where space is at a premium; it is driven by an impressive 80 watts of Class A/B power. The highly portable MX3s feature a 20W power amp, more than enough to deliver plenty of clean, clear sound wherever you travel. MX3s are sold as a pair, while MX5 and MX8 monitors are sold individually. The MX8s will have a street price of $249.99; MX5s will be $149.99 and the compact MX3s will be 99.99 for a pair. www.sterlingaudio.net.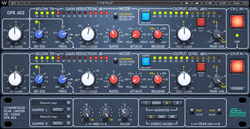 ► Waves Audio is now shipping the Waves BSS® DPR-402 Compressor/Limiter/De-Esser. The original BSS® DPR-402 dynamics processor is known for delivering the punchy, explosive sound of countless rock, dance and hip-hop recordings since the 80s. Working in association with BSS Audio, Waves has now modeled this super-versatile, long-unavailable hardware unit, bringing back its diverse functions and sounds, and adding new features for extra flexibility and ease of use. BSS DPR-402 can be used as a straightforward compressor, de-esser or limiter. However, it really shows its colors when these processes are combined, and when it is used to selectively process individual parts of the audio band while leaving the rest of the spectrum untouched. The limitless possibilities range from low-frequency expansion and narrow-band compression to general dynamic equalization for creating surprising enhancement effects. Waves has also added five features unique to the plugin: an MS matrix to separately process the mid and the sides, a Mix control to balance the processed and unprocessed signal, a Noise control to add or remove the modeled inherent noise of the original unit, a Gain Reduction control, and an option for separate L/R metering. www.waves.com.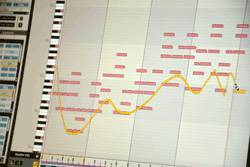 ► WaveDNA announced Liquid Music, a new VST & AU plugin that instantly crafts original song ideas with advanced music tools. This latest version of Liquid Music is the natural evolution of Liquid Music for Live that was released in the fall of 2015. No more waiting around for inspiration to strike. Simply create inspiring beats, chord progressions and melodies using a unique visual workflow. Paint melodies, harmonies and chords using the Sketch tool. Make unique beats instantly using a collection of rhythmic building blocks. Inspiring pre-sets help create original ideas and rich harmonies in seconds. Swap between five layers of control for nearly limitless possibilities. MSRP $199.99 US. www.wavedna.com.
► Audiofile, maker of the popular Sample Manager App for OS X, released Myriad, a next generation batch processor. Developed with feedback from professional users, Myriad includes modern features, a new workflow for a better user experience, and improved performance. Myriad sports a redesigned and intelligently organized interface. In addition to significant performance gains, Myriad integrates the world-class Goodhertz Good Dither and Goodhertz Sample Rate Converter. Over 100 Actions, or automated tasks, are included in Myriad including 20 new Actions and many more improved. Users can also save an unlimited number of custom-configured User Actions. The new "Intelligent Stereo to Mono" Action finds mono sounds in stereo files and converts to mono given a user-chosen threshold. Myriad provides support for Broadcast WAVE metadata, SoundCloud, Dropbox and advanced FLAC and Vorbis conversion options. Myriad also supports compressed files on input allowing AAC, MP3, FLAC, Apple Lossless and more to be added to the File List. Audiofile has partnered with audio DSP developers Goodhertz to include world-class processing capability to Myriad. Goodhertz Good Dither is a custom-tailored noise shaping algorithm that, rather than relying on noisy peaks or drastic high frequency shaping, always remains smooth and natural sounding while preserving every possible detail of the audio. Myriad retails for US $99.99 and is now available via the Audiofile Store at www.audiofile-engineering.com.
► DiGiGrid continues its focus on the I/O market with the recent launch of its new Desktop series. The range includes the [Q] Headphone amplifier, [D] Desktop interface, [M] Musician recording interface, and [S] PoE Switch. These new devices pack a punch despite their small size, offering maximum flexibility and ease of use to the recording, monitoring, and creative development markets. The [Q] Headphone Amplifier is a high-end audio interface. At just 90mm cubed, it has been designed to drive headphones at serious volume, and is fully controllable to suit any audio application where high-end audio is required. Coupled with an AES/EBU interface, it allows a direct digital interface loud enough for any drummer. [Q] features 1/4-inch and 3.5mm outputs, so can accommodate in-ear or headphone product, and has four input options to suit all users: XLR (for professional use), Ethernet/CAT5 (to connect to the SoundGrid Network for true audio networking, should it be required), Analogue (for the consumer audiophile), and Bluetooth, for a fun and fast experience, working direct with your digital music collection. The [M] Musician recording interface is perfect for any musical environment, and boasts two inputs and two outputs, again, at only 90mm cubed. It is super-easy to use: plug and play, with simultaneous monitoring and recording capabilities through two dedicated I/O. Input one is a dedicated mic/line, and input two is instrument/line, which allows for many musical combinations. Audio capture is also of the highest order thanks to its top quality converters and industry-proven mic preamps; and when listening back, a dedicated high-power headphone output guarantees that classic warm analogue control path. There's also an optional mic-stand adapter plate, which works with both [M] and [Q]. Designed in much the same way as [M] and [Q], the DiGiGrid [D] is the more expansive option, allowing the user to get even more creative. With four inputs rather than two, and six outputs, [D] provides great flexibility in all applications. Inputs one and two are mic/line, and three and four are line/instrument. There are two outputs with level control - ideal for monitoring - and two further fixed level line outputs. At home, in the studio, or out on location, monitor with headphones or speakers, and enhance your favourite DAW to expand your recording capabilities. The DiGiGrid [S] is the ultimate in fixed networkable power sources. It features one upstream (non-PoE) port, and four downstream PoE ports, which allows connection to four further DiGiGrid devices. [S] is also Dante compatible. www.digigrid.net.

► The new PreSonus® Studio 192 Mobile USB 3.0 22 x 26 audio interface and studio command center delivers the same high-end audio, low-latency monitoring, tight software integration, and studio command center functionality introduced in PreSonus' Studio 192 audio interface but in a smaller form factor suitable for both mobile and studio use. The Studio 192 Mobile records at up to 192 kHz and combines 2 digitally controlled XMAX Class A, solid-state mic preamps and premium Burr-Brown converters with 118 dB of dynamic range. It offers 18 channels of digital I/O, making it easy to add up to 16 additional remote-controlled microphone preamps when expanded with two DigiMax DP88 A/D/A converters. It's also the central command center for your studio, featuring talkback control, Mono and Dim for the main mix output, word clock I/O, a dedicated DAC for the headphone output, and the ability to use its six balanced outputs for monitor mixing or for speaker switching. Studio 192 Mobile also features the same Fat Channel plug-in found in PreSonus' award-winning Studio One® DAW to add parametric EQ and dynamics processing, which can be used for near-zero-latency monitoring or printed to tracks. When used in conjunction with Studio One 3 (Artist edition included), the hybrid Fat Channel plug-in shifts to native processing on playback for a seamless experience between recording and playback. In addition to Fat Channel processing, the Studio 192 Mobile features extensive integration with the Studio One production environment, including full preamp control and zero-latency monitor mixing. All Studio 192 Mobile features are also controllable from Studio One Remote for iPad®, giving you the freedom to step away from your computer while recording. For third-party DAW users, PreSonus' innovative UC Surface touch-ready control software for Mac®, Windows®, and iPad is included for easy management of all Studio 192 Mobile functions, including speaker switching and talkback. Use your iPad or Windows Surface Pro as a second screen dedicated to Studio 192 Mobile functions, including preamp control, to simplify gain staging when recording alone. The preamps can also be controlled from the Studio 192 Mobile front panel and via MIDI in third-party DAWs. The Studio 192 Mobile offers 2 front-panel mic/instrument inputs and 2 rear-panel direct-to-ADC line inputs; 16-channel ADAT Optical In and Out (8 channels at 88.1 or 96 kHz); coaxial, stereo S/PDIF I/O; and BNC word-clock I/O. You get four balanced TRS outputs, balanced stereo Main outputs, and a headphone amplifier with independent output, level control, and Cue Source switching. Estimated street price $599.95. www.presonus.com.