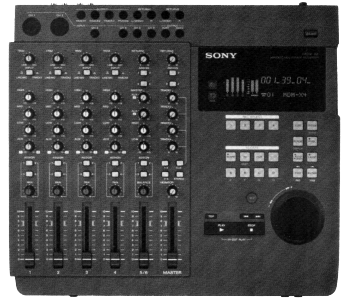 by Dave Oliwa
Are you keeping up with it all? The hard drives, the digital audio-on-videotape, MiniDisc, DVD, not to mention CD, CD-ROM, and our "old" friend, the DAT machine? Well, start a new file...
It's new, it's talented, it's inexpensive, and it's a lot better than you might think. It's the studio-in-a-box concept invented by the company that starts with a "T"—little cassette "portastudios" sold by the zillions to garage bands and tweak-free propeller heads making synthetic music in their attics. They used a standard cassette, had a little mixer with simple EQ onboard, four inputs, four tracks, stereo out, worked on batteries or the optional adapter, and almost—almost—fit into a guitar case. A couple of dynamic mics and you were in the studio! They were kewl. For a little over $200, multitrack technology was in the hands of the masses. Damn the noise—full volume ahead!
Sony, with a few other companies including the one with the "T", decided this arrangement wouldn't be half bad as a semipro box if they stuck the current MiniDisc recorder tech into it and added a versatile mixer. Now, with the addition of functions normally found only in fairly expensive pro-audio editors, it was easy to copy, move, exchange, and erase portions of tracks, entire tracks, portions of 4-track productions or entire productions, all while mixing it down at the same time. Compact, complete, quick, and quiet, the rebirth of the idea in the digital domain made sense. And, once it was digital, it was easily adapted for MIDI as well.
Nice thinking.
Sony's entry into this new market (created by Sony itself—they invented the MiniDisc) is on the board for this month's RAP Test Drive. The Sony MDM-X4 MiniDisc Multitrack Recorder isn't going to fit into a shoe box this time around, though. It's grown to tabletop size. But, not unlike Dr. Who and his inter-dimensional, time-traveling phone booth, it's still much bigger on the inside than it is on the outside. The "current MiniDisc recorder tech" is the almost vertical line going up on the graphical chart of "Advances In Digital Stuff." In computerese, this is the latest, greatest magneto-optical read/write/repeatedly stuff with one of the best digital audio data compression schemes we've got, so far. It even works! And you know what? Just over three years ago, there were some major advances in preamp design that allow absolutely incredible low-noise performance from the analog audio electronics.
There's even another new media being used. Although the X4 can work with 60 and 74 minute MiniDisc Audio Disks, you'll only get a choice of recording on one (mono) or two (stereo) channels. To get the 37 minutes of all four tracks operating, you'll have to hunt down a 140MB MiniDisc Data Disk. Is there really a difference? My calculator says no. I wrote the RAP Test Drive of the first Sony MiniDisc recorder four years ago. Guess what? I bought the machine afterwards. It's still a little workhorse today; I use it as a "sound palette" if you will, to drop whatever I've chosen to use later. (I don't think I could live without it.) That means I already have a lot of MiniDiscs, of the audio kind. It would be nice to use them. But, I digress. The bottom line is: at the moment, MiniDisc Data Disks are hard to find. Best Buy, Circuit City, CompUSA, Computer City, my broadcast suppliers, and even my mail-order computer suppliers don't carry them yet. Even so, you only need to find one supplier with a good price.
That said, it's time to explore.
The left side of the MDM-X4 is a six-channel mixer, with two mono sends, two stereo returns, and a monitor section. Channels 1 and 2 are balanced input XLR/¼" phone connectors. You'll have to have your own phantom power supply if you're going to use high-end microphones. Channels 3 through 6 are unbalanced ¼" phone connectors, as are the sends, returns, and the four individual track outputs. All are on a sunken flat panel pointing up. The stereo outs and the monitor outs are RCA jacks with standard MIDI In/Out/Thru jacks on the back panel pointing, well, back. Although seeing all the wires is not too pretty sometimes, I am one who appreciates the ease of making changes in the connections simply by leaning forward over the gently angled control surface and repatching from there. Lean to the right, and you'll see a small CPU-like fan on the side panel; don't worry, it's very quiet. A built-in power supply plugs into the wall using a non-removable, non-grounded cord.
Each of channels 1 through 4 has a trim pot, a line/mic or track input button, a send pot, a pan pot, two bus assign buttons (1/2 and 3/4), and a limited but capable 3-band equalizer. Channels 5 and 6 are controlled by a stereo fader, sporting only a balance control, two bus assign buttons, and a very limited 2-band EQ. The mono sends go to two master pots. The stereo returns each have a stereo master pot with two bus assign buttons. The monitor section has some features. Besides a monitor volume (which also controls the front panel headphone jack), this nice piece of work allows a choice of monitoring all or some of channels 1/2, 3/4, stereo, or cue (fed by four individual pots coming directly from the MiniDisc, just like the big guys!). The master fader is the same size as the channel faders, although it is also the same color.
If you're into fancy footwork, two jacks on the right side of the front panel are ready for foot pedals, each programmable to work several transport functions, including punch-ins. It doesn't matter what kind of pedals you have (open or closed); the unit will figure out what's connected to it when powering up.
The right side of the X4 is decidedly digital—from the standard Sony smoked window LCD display to the multiple function buttons. Grouped in four sections, there is no mistaking the transport controls, record enablers, locate functions, and editing/programming buttons. If you rest the heel of your hand just under the jog/shuttle wheel, all of the buttons, except the record enable buttons, are within easy reach. But, just a little stretch gets you record-ready. The transport controls sit under your thumb and include a "top" button which sends you to the beginning of the disk. A brightly-lit record button sits by itself under your index finger. Same finger works the locate section—mark, in, out, shift, and locators A-D (E-H when shifted).
In the editing/programming button group, you'll find the controls for repeat functions, time display (up, down, and musical bars), a rehearsal mode, auto punch-in, one-level undo/redo, enter, and exit. All editing and programming is menu-driven. Select the list of what you want to do, and spin the jog wheel. Touch the enter key with your choice displayed (exit and enter are closest to you, sitting under your middle and ring fingers).
In the programming department, vari-speed will go plus/minus 8%. However, it works in record as well as play—the combined 8% during record and 8% during playback adds up to 16%. Other user-defined parameters include: MIDI controls, on/off; MIDI device ID; MIDI Sync clock output, on/off; MIDI frames; footswitch one and two transport functions; pre-roll and post-roll seconds played (for rehearsal or auto punch-in/out); number of tracks being recorded (1, 2, or 4); volume adjust during rehearsal mode; display brightness; and undo/redo, enable/disable. It should be mentioned that undo only works if there is enough room on the disc to handle the backup material. When the unit realizes it doesn't have enough space to make undo available, it turns off the undo LED—still, one has to be careful not to make an edit, thinking undo is always going to be there.
Speaking of editing, it only took a few minutes to become comfortable with the "cut and paste" functions of the recorder. Just like a word processor, the X4 only needs to know where to start the edit (in), where to end the edit (out), and, to where you want it moved (dest). It works best "on the fly," although you can cue down to the frame (1/30th of a second) without audio—there is no scrubbing here. It takes only a little practice. Want to cut a raw voice-over and remove the bad takes or copy the only the good takes to another track? Set your edit points, scroll through the edit menu for the options, and hit enter. Confirm with another enter, and it's done. The next time you use the edit function, the menu will be sitting at the last choice you made. Want to compare what you just did with the original? Hit the undo button. Want to toggle back to the completed edit again? Hit the undo button. MiniDisc works with a Table Of Contents (TOC) that keeps track of where the audio is on the disk. The actual audio isn't moved, just the "performance" of the edits (much the same way MIDI files aren't sound files; they're the "performance" of the musician—the sounds are being generated anew each time by the sampler or synthesizer). That means no waiting. This is probably what should be called a brilliant idea. But, there are some drawbacks: the disk can become "fragmented" quite easily. Only the longest amount of continuous time available on the disk will be listed as "time left available" on the disk. The manual explains that if you have a continuous blank space of 2 minutes on the disk with the next largest continuous blank space being 1 ½ minutes, the display will indicate only 2 minutes of recording time left on the disk, ignoring the next largest continuous blank space. If you record for 1 ½ minutes now, and stop, the display will indicate 1 ½ minutes left because that was the next largest continuous blank space.
Confusing? Yah, could be in a crunch. Maybe "Defrag" (and don't forget "Format," Sony) will appear in the next incarnation. Of course, what could really throw you at all times is the numbering system. Let's suppose you have cuts/songs 1-5 (out of a maximum 255). Erase cut/song 2, and number 3 becomes 2, number 4 becomes 3, and number 5 becomes 4.
Which brings us to labeling cuts. MiniDisc: The Data Kind allows you to name each cut with up to 7 characters, and the disk with up to 11 characters. It's a spin-the-wheel-to-find-the-letter-you-want kinda thing. Unfortunately, this is a downgrade from my 2-track MiniDisc: The Audio Kind. I can label it with up to 100 characters per cut or disk name, with a total of about 1,700 characters on the disk.
I have, however, saved the best for last. Even though there are only four tracks to work with, you may mix them down to one or two tracks. Let's review that carefully; it's an important feature. You've got a stereo music bed on 1 and 2 and some discrete left/right zaps, whooshes, and SFX on tracks 3 and 4. Using the mixer, you can put them all on tracks 1 and 2. Voila'! You've got two free tracks! Someone once called that process "phantom tracking." Theoretically, you can do this all day long. You just have to remember: undo only works once.
If you've been thinking about setting up a small studio, at the station or at home, the Sony MDM-X4 offers some very advanced capabilities. It can be used very quickly for simple commercial production, like copy inside of a jingle donut, or a straight read over a music bed. If you're lucky enough to have an assistant, you might have him or her make some "modular" special effects on this box (pre-produced, multitracked sections), then put them into the big production in the big room. At a sports remote, this could be your mixer and prerecorded segment player all in one. For the creative news department, something like this would be perfect for produced features using actualities, natsound, and music. And, if one MiniDisc 2-track makes a good palette for temporary sound storage, imagine what a multitrack sound palette would do. You get the idea.
But, this is not an 8-track SAW computer program, nor is it a Roland DM800 or Orban DSE7000. It is an affordable, working solution to the needs of not-so-complicated production demands. At about $1100/street, and for what the MiniDisc-based studio-in-a-box does, it's a bargain-in-a-box too.
♦