Jason Garrett, Production Director, KVRY-FM, Phoenix, Arizona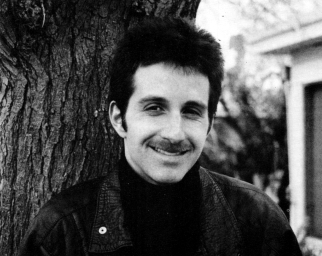 by Jerry Vigil
This month's RAP Interview checks into the competitive market of Phoenix, Arizona where Jason Garrett heads up the Production Department at Variety 104.7, KVRY-FM. Jason was in grade school during the disco days of the seventies, but by the time he was in college, he became known as The Disco Stranger, a seventies character that eventually got Jason his first professional radio gig. This led to a successful run as a CHR night jock on several stations under the air name, Kid Corona. The constant moving up and down the dial eventually lost its appeal, and like many of today's Production Directors, Jason left the airwaves on a full-time basis to take on the duties of Production Director. It has been about a year and a half since Jason made the switch. Join us for a colorful visit as we check in to find out how things are going at this second stage of his career.
R.A.P.: Where did your radio career begin?
Jason: My career started while I was a student at San Diego State University. My first radio job was at the college station there, KCR-FM. I started off doing a one-hour disco show. The station had a kind of hard rock alternative format which I really wasn't into. So, to get around playing that music, I asked the PD if I could do this disco show. Eventually, that turned into a four-hour deal. From that show, a character emerged that eventually got me into my first real radio station. Somebody dared me to start dressing up to get into character on the show, so I did. Then it was my idea to take this character out onto the streets, and I started doing this strut, this dance, in front of students on Friday afternoons. The character became known as The Disco Stranger. I took this gig down to Mission Beach and to Padres games. I started getting publicity and TV coverage, and this led to my first on-air job at XHRM in San Diego, which at the time was called the Power Station, 92.5. I did nights there while in college. That was my first on-air gig, and that's how I broke in.
R.A.P.: Did you do a seventies show at XHRM?
Jason: No. When I started doing radio professionally, it had nothing to do with the seventies. It was a CHR station--actually it was an urban format at XHRM, and they hired me mostly because they liked my high energy delivery that derived from my disco show presentation.
R.A.P.: Did you continue to do the gig at the college station?
Jason: I continued doing that show and that character until my graduation which was in 1991. But before I graduated, I also worked at a couple of other stations in San Diego. I actually started professionally as a morning show producer at Q106, KKLQ in San Diego, producing the Murphy and McKeever morning show. That was back in '87. Then I went to XHRM 92.5 in '88 or '89. After that gig, I went to XHTZ, which was Jammin' Z90 at the time. In 1989-1990 it was just getting off the ground. My whole background has been as a top forty CHR night jock.
I established a pretty large cult following with this disco character, and you've got to remember that back in 1987-88, this seventies trend was not really in existence at all. Most people thought I was nuts, but I got tons of TV coverage and newspaper coverage from it.
R.A.P.: How did you wind up at KVRY as a Production Director?
Jason: When I left XHRM, I went to Z90 and changed my on-air name from Jason Garrett to Kid Corona, like the beer. The reason we did that was because of the proximity to Tijuana and that hallmark. We needed something that sounded young and hip. We did a lot of tie-ins with Corona beer through club gigs and things of that sort. Kid Corona was my on-air name in the industry for the past six or seven years. I just recently went back to using Jason Garrett.
I got an offer to come to Phoenix in 1991 to do nights as Kid Corona at KOY-FM, and I was there until they switched formats. Then I spent the next two years doing the night shift at Power 92. Then they went to more of a rock lean, and I began looking to get out of CHR because it was just becoming very unstable. I wanted more of a management position because I was getting tired of jumping around from station to station doing nights. The Adult Contemporary format seemed more of a logical choice to go. KVRY used to be the old KZZP in Phoenix. They had already changed from the CHR format to adult, so I figured there might be more of a long-term future there.
I started at Variety 104.7 KVRY in January, 1994, and I was hired by the Program Director, Steve Elliott, because he was developing a seventies show on Saturday night. He had heard about my background in San Diego and hired me initially to develop that show from a one-hour show into a live four-hour show. I produced a lot of the elements I was using in that program myself. There were promos and other on-air elements. He liked them and he offered me the Production Director gig about a month after that.
My whole career has been as a Top 40 jock, and now it feels like I've come full circle. I'm back on the air doing the disco thing. When I came to Phoenix initially, I thought the Disco Stranger character was dead and buried, but I thought wrong.
R.A.P.: Have you thought about syndicating the seventies show?
Jason: I've been shopping around for some people to pick up the show. It's a very political thing, and right now it seems that a lot of stations all over the country are flooded with this type of show. What makes my show different from any other seventies shows that are out there right now is that it's not really a disco show per se. I do a lot of things on the air with production, like parodies of the disco era through fake commercials and false promos. For example, right now one of my shticks is that Lief Garrett is my half brother, and I'm going to be running for President in 1996. I chose him as my running mate, so the ticket is Garrett-Garrett '96. I also did a lot during the November congressional election with political advertising that I cooked up in the production room such as Proposition 500 which is a polyester tax. I urged listeners to vote no because it will cost thrift stores millions of dollars and that listeners in fact do have a right to wear polyester in public. The program broadcast on the pseudo PRN network, which is the Polyester Radio Network, a network many listeners throughout the Phoenix market actually think is real. And the way that the show is presented, through production and other elements, it sounds like a syndicated show, and a lot of people think that it is. So I'm hoping maybe to get the show national. I've talked to some people in New York and it's just a matter of timing for something like that.
R.A.P.: What are your responsibilities as Production Director?
Jason: I do a little bit of everything. Mainly, I do all the station promos. I'm in charge of all the commercial spots. I work on a daily basis with the sales department to make sure they're happy, and I assign more of the less creative work out to the disk jockeys to voice. I use air talent for tagging spots and things of that sort, but I handle most of the actual production work.
Right now I'm actually doing three jobs. I'm the full-time Production Director. I'm also doing the night shift from seven to midnight every night through the summer to kind of get the ratings going and build a base at night. Our station's always been a nine to five office listening station, and we're trying to do more at night. Then I've also got the seventies Saturday night show going. So I'm doing a juggling act right now with these three things.
R.A.P.: Does the station use any outside voices?
Jason: Our station voice is Randy Reeves out of Atlanta. He sends us raw voice tracks, and a lot of the things I use on my disco show, as well as in station promos, are some of his out takes. I think he's aware of it. A lot of voice-over artists screw things up and send their out takes along with the good takes. I'll actually use some of the out takes in our promos. It gives them kind of a comedic feel. It makes our promos stand out a little bit more.
R.A.P.: How would you describe your "style" of production?
Jason: Whatever I produce has to sound energetic. It has to cut through. And I'm a firm believer in doing production that entertains. Right now it has been real easy for me to do that. We just got some new equipment in at the station, the Orban DSE-7000 digital machine, which has made my life extremely easy. It has enabled me to not only experiment more, but it has also freed me up to just go in and play around more. There's a feature on there called "Undo" where if you do something you don't like, you can undo it. You could never do that with tape. Anyway, I like to make sure that the spots we produce cut through the other spots we get from agencies. I like to make our spots sound unique to our station.
R.A.P.: Did you check out some of the other workstations before you settled on the DSE-7000?
Jason: We looked at some of the others, but we got the DSE into the radio station on a trial basis. Our engineer brought it in so I could play with it, and when the company came to claim the machine, I actually blockaded the production room door and threatened them over my dead body to take it.
R.A.P.: Did you really?
Jason: Yeah, they came to get it because we only had it on a trial basis for thirty days. I guess the squeaky wheel gets the grease because I stormed into the GM's office and said, "You can't take this machine!" I was on my knees. It was terrible. It was pathetic.
R.A.P.: But it worked!
Jason: Yeah, it worked. They bought it and I have it. I would recommend that machine for any Production Director, new or seasoned. It's a user friendly machine. The people who designed it obviously had worked in production before. When you go through the owner's manual reading about the DSE-7000, they are very humorous about it. It's almost like they understand what Production Directors go through. The designers of this machine understand what production is about, and they have really produced a winning machine. I want another one. I want to get two or three of them.
R.A.P.: Is the rest of the station digital yet?
Jason: The station is looking to go totally digital by the end of the year. Our control room is still on cart, so to produce a masterpiece on the DSE and then dub it onto a cart is just heartbreaking. I can't wait for them to transfer everything over to digital. They've looked at several different systems, and I think they're getting ready to close on something by at least the end of the year, maybe a little later.
R.A.P.: Aside from your Saturday night show and doing nights for the summer, you basically took yourself off the air. What was it like to give up the air shift full-time?
Jason: It was tough. It was almost like quitting smoking. It was a very difficult thing to do. I loved the on-air thing, but I think it's something every jock has to face sooner or later. Do you want to be a talent for life, or do you want to do something else? Do you start on the management track, or do you just want to stay on the air? It's been my experience from knowing a lot of people in the business that most DJs, unless they're extremely lucky, get old and poor.
R.A.P.: What did you perceive as the upside of going into production, other than the sense of a more stable position?
Jason: The upside is obviously the hours. Coming off a night shift for so many years, I got my nights back. I actually got to see what the moon looks like. I also became more involved with the inner workings of the station. I felt more in the loop. As a night jock you tend to get very isolated from the station. You come in at night and nobody's there. You leave--still nobody's there. Since becoming a Production Director, I feel like it has put me into the management loop more. I feel there's more room for advancement. I'm hoping this might even lead to some sort of job where I could develop specialty shows for Nationwide or for other larger radio corporations doing what I'm doing now but on more of a national basis. And I'm certainly not going to limit myself to just the seventies. I'm only twenty-seven and during that time I certainly wasn't dancing in clubs or anything like that.
R.A.P.: What is it about the seventies music that you like? What does it do for you?
Jason: I identify with it because I think that music of the late seventies era just brings out the silliness in everyone. My show does not necessarily focus specifically on disco. It focuses more on how the listeners react to the disco music. When listeners call up, they're really genuinely themselves. The music strikes a certain chord with people, and I think that disco music of the seventies exposes everybody's unique humanness on a very weird level, a very polyester level.
R.A.P.: Does the station offer any other seventies programming other than the Saturday night show?
Jason: No, not really. Variety 104.7 is an adult contemporary station. We play a lot of the current hits and some songs from the eighties, but our focus during the week is pretty much on contemporary music. I'll run a promo Thursdays, Fridays and Saturday afternoons plugging what's coming up on the seventies show, but we don't really focus on the seventies at all during the week.
R.A.P.: This is your first Production Director gig. Were there any surprises that came along with the job after you got it? What expectations did you have going in?
Jason: Well, going into the position I was really excited about it because, finally, here was a chance for me to be creative on a full-time basis without having to worry about going on the air and performing. I could take all day to produce sixty seconds of really good quality work. What I was pretty surprised about when I started the position was, of course, working with the sales department which comes as a shock to any first-time Production Director. We have a great staff at Variety and they're all very supportive, but the politics involved can bog down the creative flow. I try and rise above all the politics of the sales department and the office and try and concentrate on the product that I'm producing.
When I took over the position, the production department was very disorganized. I was surprised how disorganized it really was. It surprised me how much work was involved in just organizing the flow of commercials that come through, just small things like alphabetizing the reel-to-reel tapes of spots that come into the station. That was never done. Setting up a workable start-rack for spots that are going to start the next day or the next week--just basic things within the production department were not set up. So I had to break down the entire system and set up a whole new system that worked, not only with the talent, but the sales department. That was the most surprising element and that was the most work. Once that was out of the way and under my belt, the only surprise left was how much fun it was. I've really gotten into it now within the past year, and it's really taking off for me.
R.A.P.: So do you expect you'll stay a production man for the rest of the decade?
Jason: That's kind of hard to say. I'm interested in a lot of things. Right now I'm trying to get my voice-over career off the ground. I was really surprised to find that once you become a Production Director, it opens up many more doors in terms of getting into voice-over work, and that's something that has interested me for a long time. I do a lot of character voices. I do a lot of them on in-house spots, and I've also done a few agency spots here in Phoenix. But what I'm looking for now, really, is an agency or a manager for some representation and somebody who will really help me market that side of my career. So, to answer the question about staying a Production Director, yes, I would like to do that. But I would also like to branch off into voice work. I also do a lot of consulting for talent and would like to pursue that further. I do guest speaking and lectures at broadcast schools and at universities, helping to develop up and coming talent. I like that whole area of talent management and production combined.
R.A.P.: How were your ratings as a jock?
Jason: I was very successful as a top forty jock from San Diego to Phoenix. I've always been either number one or number two at night at every station I've worked at. Seventies Saturday Night, which is the name of the program I'm doing right now, has always fluttered between number one and number two in the market for that time spot on Saturday night. So I've had a lot of success as an on-air person, and I'm hoping I can carry that over into production as well.
R.A.P.: With those kinds of numbers, it seems you might be one of the few that could become an old and RICH disk jockey?
Jason: I don't know. I'm at a fork in the road right now in my career. I know I'm talented on the air, but it's just more luck of the draw when you're on the air. You're more expendable. I feel a little more secure as a Production Director because I can use that position to fall back on. If the station ever changes format or Program Directors, which many of the stations I've worked at have, my chances of staying in the building seem a little bit better as a Production Director than as a jock. You know, a lot of PDs like to clean house. But I don't know. I'm going on ten years in the business and who knows? I could go back into it full-time on the air if I got the right offer. It just depends.
R.A.P.: How's your relationship with the sales department?
Jason: That has come along very well. Usually in every sales department in every radio station there's always one Account Executive who gets on your nerves, and I'm not going to name names because that person could be anybody. But what I'm saying is you just kind of have to learn to rise above that. My relationship with our sales department is great. I mean, they have actively gone out on the streets and sold my seventies show, so I'm usually never without a sponsor for that. In return, I make sure that all their campaigns are done professionally, and with the DSE-7000, it makes it a lot easier for me to redo spec spots and to update copy and keep running files on certain nightclub accounts and spots of that nature that are updated constantly. It has made it a lot easier for me. In that regard I think equipment can improve relationships between the Production Director and the sales department.
R.A.P.: You used the word "campaigns" instead of spots or commercials. It sounds like there's a sense of respect for the commercials--more than just another spot sold, another spot to cut.
Jason: The sales department has a consumer approach to advertising, and their main focus is, obviously, on the buyer, and not just on getting a message out on a commercial and then collecting a check for it. So it was important when I took the position that I understood that. And they understood I was also coming from that angle, so it was a perfect match. That's how I approach every account. I see it as an advertising campaign and not necessarily as a sixty-second commercial that's going to be here today and gone tomorrow.
R.A.P.: How many commercials do you produce a week?
Jason: I usually do at least ten, if not more, plus promo work for both the regular format and for the seventies show.
R.A.P.: Are you writing all the promos?
Jason: A lot of the copywriting for our station promos is shared between me and the Program Director. I'll put in my two cents as far as the actual copy goes, and he will write a lot of that stuff too. I do all the writing for the seventies promos.
R.A.P.: Are you writing the commercials?
Jason: I write about fifty percent of that stuff. The other half is done by our corporate Creative Director. I think he's in North Carolina. He writes a lot of commercial copy for Nationwide stations. The sales staff will go to him for ideas. He's very good at writing generic-type stuff. When it comes to more localized Phoenix things, I'll do most of that.
R.A.P.: What are some ways you get creative with commercials?
Jason: Take something as simple as a tag for a McDonald's spot. Every other station in the market will simply read a thirty-second tag highlighting a ninety-nine cent double cheeseburger. I will take either the agency-produced music or music of our own, and I'll turn that announcer read into a sixteen-year-old kid or a cowboy or somebody else. The result is that even the national spots on our station stand out from the other thirty-five or forty stations in the market that are running the same spot, the same copy, because we deliver the tag copy differently. This makes our production different from every other station in the market. It cuts through with character voices that are not necessarily intended to be funny or dorky, but just something that sounds different and that maybe an average person could relate to because the spot sounds more natural than if it was just an announcer type voice doing the tag.
I did a lot of Snapple tags in a New York accent to coincide with their campaign, "It's a Real Eastern Thing." So I try and differentiate everything from the other stations in this way, everything from a five-second tag to a fully produced spot.
R.A.P.: How do you find the time to get creative on tags and everything else with the night shift and the seventies show to do as well?
Jason: I get into the office between one and two in the afternoon and I usually get off the air about twelve, so it's a full day. It's almost twelve hours. Sometimes I put in more. The seventies show requires at least four hours of show prep before I go on the air, and with this summer shift right now, I have to be at the radio station on Saturday afternoon around four o'clock to prep and get that rolling for Saturday night. So, I find the time. It's very challenging, very invigorating, and I kind of thrive on it.
R.A.P.: What are some timesaving tips you can offer? You must do some things to shave minutes here and there throughout the course of a day.
Jason: Don't become too neurotic or focused on one specific project. You're never going to achieve perfection. So, if it comes from your gut and it sounds good, then move on. Obviously there are some things that require extra attention, but in order to get everything done, you can't spend hours and hours on one specific thing. You've got to give equal time to everything, but in moderation.
R.A.P.: What production libraries are you using?
Jason: We're using Attitude from TA&A, Toby Arnold & Associates. We have Synergy, and we've got some stuff from TM Century.
R.A.P.: If you had every salesperson out there listening to you, what would you say to them?
Jason: I would say be nice to your Production Director and get your copy in before four-thirty on Friday afternoon.
R.A.P.: Do you have deadlines for the sales department?
Jason: We try and establish deadlines. Deadlines rarely hold up in any sales department in terms of getting things in early, but the earlier something comes in, obviously the more time can be paid to it. And it just puts a lot of stress on production people when things come in late that have to go on the next day because you can't spend as much time perfecting it. So for the betterment of the product and the client, get things in as early as possible.
R.A.P.: What about a tip for someone in the small markets trying to get into major market production?
Jason: If you want to go to a large market, don't try and break in through production. Maybe go to a larger market as a jock and then move up through the ranks into production like I did. I never had to start in a small market, but if I had started in a small market, I probably would have gone to a larger market as a jock and done the same thing that I've done now. And gain a real understanding of the market you're going to go to. Get to know who your audience is going to be. That helps.
R.A.P.: What tip would you give to programmers who are looking for a creative Production Director?
Jason: I would say try to find a Production Director who doesn't agree with you all the time. The worst thing for a Program Director these days is to have people in there creative departments, especially the Production Director, who constantly agree with what they say all the time for fear of upsetting that person or losing their job. I think a little bit of dissent is healthy and it helps the creative process. Find a Production Director with ideas of his or her own and somebody who is willing to take more risks with production. Taking a risk in production is not like taking a risk on the air because you can obviously listen back to what you've done in production before it ever airs. So it gives you a lot more leeway to take risks in that respect and have fun and not be so serious all the time. After all, it is a fun business and you should have fun with it.
♦