Ronn Lipkin, Production Director, KLSX-FM, Los Angeles, CA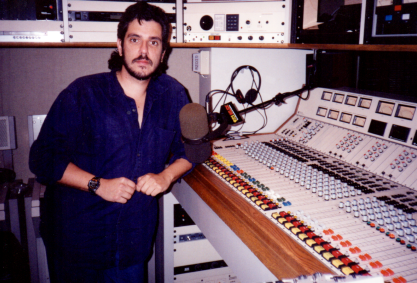 by Jerry Vigil
He's one of Howard Stern's biggest fans, and probably the only Production Director with as much experience producing at a "Howard Stern station." This month, we visit with Ronn Lipkin, Production Director at L.A.'s classic rock KLSX-FM, proud owner of the Howard Stern morning show despite record setting fines! Join us for a behind the scenes look at producing at a Stern station, and find out how Ronn helped put the "fun" back into funeral.
R.A.P.: Where did you get your start in radio, and how did you wind up at KLSX?
Ronn: I started in a small market. My first job in radio was right out of college -- I was a music major. I put together my first demo tape in my bedroom on an old Wallensac recorder -- one of those with the tape speed as slow as 15/16 ips. I didn't really know what I was doing, but I cut out a few newspaper stories and had a friend click a typewriter in the background -- primitive effects. I took that tape around to all the stations in Delaware and Southern New Jersey, where I'm from, and it clicked at one of them, a little station, WNRK, in Newark, Delaware. I worked there for a while, doing what I didn't realize was going to be a very, very long airshift. I started off doing noon to 4:45, which was noon to sign off. It was a little AM daytimer. What I didn't know at the time was that sign off in the summer was 8:30 p.m.! Guess who was on from noon to 8:30? It was good training, but, boy, was I beat! I ran out of creative ways to introduce songs -- "Here's Eddie Rabbit, still driving his life away," as I played it for the fourth time that day. I didn't know what to say, but it was good experience. On top of that, I would often get off at 8:30 and do three to four hours of production in their little studio. So the days were long -- part of the dues paying -- but they were well worth it.
Then I went to a hometown station in southern New Jersey. WJIC was a little place out in the middle of a cornfield, and I was the Music Director there. We went Country when I arrived, and I didn't know anything about that format. So, I tried to bone up as quickly as possible. I then went on to WAMS in Wilmington, Delaware which was the first, I guess you could say, "rated market" I worked in. I think the market rank was 75. That's where I really started to encounter pros. Some guys there were working weekends in Philadelphia which was the nearest major market. I worked at WAMS in a variety of capacities -- news, some street reporting, weekend jock things, and production.
My first big break was when I went to WYSP in Philadelphia. I was working in Wilmington at the time and a friend of mine, Todd Doran, noticed an ad in one of the trades for an Assistant Production Director at WYSP. I thought, "Oh, my God! I'm not ready to make the major market yet!" But then I thought, "Yes you are! C'mon!" So, I really labored in this little 2 track room in Wilmington to make my tape the best it could possibly be. I figured for a job like that there would be quite a number of applicants. So, I made it as custom as possible and acted out my resume. I put my resume on tape and made it 94 seconds long because the station was 94 FM. And I made damn sure it was 94 seconds long because I knew they'd be timing it, and I wanted to make sure it wasn't 93 seconds because their chief competition was 93.3!
So, I sent that off, and I got called back by R.D. Steele who was the Production Director at the time. He said, "Hey, that was pretty good. Now, get me a second tape." I thought, "Okay, sure. No problem with that." So I listened to WYSP and did a few promos in the style I thought best suited the station. It was a two minute tape, but I easily spent twenty-four hours on it. I did a million takes on everything. I wanted to make it perfect. It was a big gig. The second tape got me the interview, and I became Assistant Production Director there.
R.D. told me something very interesting. He said it was the second tape that really separates the men from the boys because a lot of people shoot their load, so to speak, on the first tape, and they have absolutely nothing left to give on the second. He said of the many other applicants they had, only three or four of them could even produce the second tape. Knowing that felt pretty good. Anyway, I was Assistant Production Director for the first year and a half at WYSP in Philly, and it was great, finally playing in the big leagues. I was R.D.'s assistant till about October of '85.
R.D. was great to me. He really taught me a lot of things, and he was extremely creative. And what was unusual about WYSP was that for a major market station, they had a very underequipped production studio. There was one studio. It was a 2 track with an old Collins board - you know, rotary pots, no effects, no nothing. Whatever multi-tracking there was, it was done with the cart machines we had stacked up.
When R.D. left to do his own thing, doing voice work, I became Production Director. It was very intimidating at first. This was my first official Production Director gig. Here I am, in this major market, I'm the Production Director, and I don't have a whole lot of experience. It was intimidating because here were all these jocks, some of which I hadn't grown up listening to necessarily, but I certainly had a lot of respect for. There were a lot of pretty famous names in the area, and here I was working side by side with them. It was hard at first, I'll tell you that. The station was going through a decline in the ratings at that time. WMMR was beating us pretty badly, and that's a rivalry that's been going on for many, many years. But, I just kept working at it, trying to keep my ears open, listening to people's advice, constantly critiquing my work, and I think I got better.
Then in August of '86, something big happened at WYSP that really changed my life. That was the day we became "Howard Stern All Morning and Classic Rock All Day." Howard, as you know, is broadcast from New York, but WYSP, being an Infinity station, decided to start carrying him. That was Andy Bloom's idea. Andy was the Program Director at YSP at the time and is still my Program Director here at KLSX.
Andy thought, "Funny is funny. You don't have to be a local morning show to work." Howard Stern is simply very funny. So, Andy engineered this whole simulcast deal, and we began airing Howard in the morning. That was the turning point for YSP. We just started going nuts. The ratings went up, and revenues went up. Those were very good times at YSP. I ended up working there for seven years, from '84 till '91. I saw Howard Stern become number one in Philly, and we were part of the big funeral for the morning man at WMMR. We had this big mock funeral right outside of the MMR studio, with about...oh God, there were thousands of people there. Just imagine, thousands of people, led by Howard, screaming and chanting, "You suck" in the direction of the MMR studios, right outside their windows! It was amazing because of the intense rivalry between the stations. That felt especially good.
Andy left YSP at the end of '90 to become the Program Director here at KLSX with the idea of getting Howard on the air out here. His Promotions Director at YSP, Scott Siegelbaum, followed him right away. Andy knew I really wanted to come to L.A. very much, because my wife is from here, because I like the weather, because it's a very creative environment. I followed shortly thereafter, and that's how I got here.
R.A.P.: Was Andy the PD at WYSP when you arrived in Philadelphia?
Ronn: No. Andy came to the station, I think, in the beginning of '85 shortly after I got there. He was only 23 years old when he came from Milwaukee. I thought, "Oh my God, who is this guy? He's only 23! He's a kid!" As it turned out, the guy is a visionary, and he has a tremendous grasp of the big picture, of marketing strategy, of how a station should sound.
R.A.P.: You've worked with Andy for a long time. That has to have many advantages for both of you.
Ronn: Yes. We're on similar wave lengths a lot of the time. We have a certain ESP that goes on. He starts to say something and I'll say, "Yeah, I got it. I know just what you mean." Then I'll go an execute that idea, and afterwards he'll say, "There you go. That's it."
It also helps that Andy is able to very clearly articulate what it is he wants, and I know what he's looking for. Conversely, I try not to make everything "formula." I'm always looking for something different, but something that still maintains the basic idea Andy has instilled in us, and that is that we are selling the station first. We are involved in positioning and marketing the station, and we always keep that in mind every time we produce a promo. A station promo should not be cute just for cute's sake or creative to show how flashy you are. Does what you are doing sell the station? Does it sell the position and the call letters effectively? That's something he has really instilled in everybody here. That's one of his many strengths.
R.A.P.: What are some specific applications of this positioning and marketing philosophy there at KLSX?
Ronn: First of all, any promotion starts from the "promotional" level -- anything we do is designed to reinforce the station image. For example, we have this giant flea market that we do. It's called the Classic Rock Expo. The first words are "Classic Rock." The same goes for the Classic Rock Art Show we did last year where we gathered a number of classic rock performers who are also painters and photographers. We staged a large exhibition of their works and auctioned them off for charity, for the American Foundation for AIDS Research. Those two things were two of the station's biggest recent promotions, and they, by definition, were involved in reinforcing the station's image. We were dealing with Classic Rock artists and with merchants of Classic Rock memorabilia.
The other major promotion we did this year was Howard Stern's visit to town. As you may recall, he promised that when he became number one in L.A., when he beat Mark and Brian, he would come to town and hold a funeral for them. The other half of our positioning, which is "Howard Stern All Morning" was obviously there as well.
R.A.P.: Tell us a little more about the funeral for Mark and Brian.
Ronn: Well, the first day Howard was on the air here in Los Angeles, which I believe was July 25, 1991, he said he was going to be number one and that he was going to beat the pants off Mark and Brian. Well, Mark and Brian have had a very significant run of being number one here. They were very dominant here in the mornings. I guess their TV show had just started at that time, so they were about to get some national exposure. Everybody was listening to them. That's an exaggeration obviously, but their ratings were very strong. Howard said, "When we beat them, we're coming to L.A.. We're going to do a broadcast, and we're gonna have a funeral for them."
Using my experience with Howard in Philadelphia as a guide, I said, "Alright, it will probably be about three years or so, maybe two and a half years." But Howard shot up in the ratings. People discovered him very quickly. A year later, Howard was number one. He beat Mark and Brian. It was very fast. We started doing all sorts of positioning right before Howard became number one. Warren Williams, who is our Music Director and also the voice of the promos, came up with the idea of "helping to put the 'fun' back into 'funeral'." We did these subtle exhortations to "Make Howard number one -- put the FUN back into funeral!" So, when we were sitting there watching the numbers on the Arbitron download, and Howard became number one, we began howling. We were screaming! It was time to start planning this funeral.
Howard did this song parody contest where he solicited Mark and Brian song parodies from the listeners. The winning parody was set to the Bonanza theme, and the guy was singing, "When you gonna go, when you gonna go back to Nebraska?" That was one of the nicer ones. A lot of them were not very complimentary to Mark and Brian. That was a preliminary thing. Then we started to get the details on where and when Howard would arrive. It turned out we were going to do a two day broadcast the Monday and Tuesday before Thanksgiving. On the first day, Howard would have a star studded line up of people, and we would broadcast live from Spago which is a very famous and trendy restaurant in Los Angeles. I couldn't begin to describe the amount of preparation. This was like staging a concert. They arranged for everything from food to security. Because he is a controversial figure, we did not scrimp on security.
It was pretty exciting to have Howard, in the flesh, come down and do the broadcast. At most stations, if you come into the station at eight o'clock in the morning, you can see your morning guy. Well, here we just watch tapes roll.
From a production stand point, putting this together was very challenging. Howard asked us to produce the in and out bumpers here -- "Howard will be right back" and "Now here's Howard Stern" and so on. We really wanted to make them extra special, so I called on Paul Turner who took my job at YSP when I left. He's got this very strong, gritty, "basso" voice that can be very nasty. We produced a number of bumpers that were, you know.... "hasta la vista Jay Thomas!" I had one with the sound of someone screaming, like they were falling off a building, then Paul said, "Adios Rick Dees! Mark and Brian...YOU SUCK!!" If you could just hear Paul Turner with his voice, "Here's the king of all media, Howard Stern, live from L.A.!"
Howard himself was not subtle with his attacks on the other stations. He was very brutal, but it was funny. It's just a hoot to hear them attacked that way. Could you have imagined, however many years ago, even mentioning another station's call letters on your station? Howard's always talking about the competition. One saying we came up with was, "The first three letters in loser are L O S." I hope no one there [at KLOS] takes that personally because I don't know anyone there. However, Howard did latch onto that, he really liked it, and he used that a lot. In fact, the day Howard became number one, we had an airplane fly over KLOS with a banner stringed behind it that said just that. Hey, this is war! Anyway, we had Paul Turner voice these in and out bumpers, and I produced them. Howard really liked them. We figured there was going to be a lot of people listening to the broadcast, so I made sure we had some really sparkling things that positioned the station, positioned our classic rock theme. We also started to promote our Classic Rock Expo at that time. Since this would probably be our highest cume over a two day period ever, with people checking out Howard, I had to make sure everything that went on the air was pristine. I try to do that anyway, but especially for this. There were a lot of late nights making sure every promo sold the station as well as it could.
The second day of the funeral, which was Tuesday, was the funeral itself. It was held at the Palace Theater in Hollywood right at Hollywood and Vine. Howard had a press conference, and the attendance was just unbelievable. Reporters from all over the country were there. After the press conference we held a mock funeral for Mark and Brian under a huge Roman Parthenon like set that was built outside in the parking lot next to the Palace Theater. There was about 25,000 people there. They closed down Hollywood Boulevard. They closed down Vine. There was a huge police presence, helicopters, everything. I got there at about five in the morning, and there were already two or three thousand people waiting outside under the lights. Howard inspires that kind of loyalty and with good reason; he's funny as hell. Sometimes, when I'm coming to work, I have to sit out in the parking lot and wait for Howard to finish his show because I can't miss a minute of him when he's really on a roll.
Anyway, we had the stage set up, and Howard came out in an emperor's outfit. He had the song parody winners come out and sing their various song parodies downing Mark and Brian. It was basically Howard's coronation and Mark and Brian's funeral service. The climax of the funeral involved two mannequins of Mark and Brian with big guillotines coming down and blood spurting out. Not subtle, but again, this is warfare.
It was very satisfying. We were in every newspaper. We were on every TV newscast. I mean, this was a big deal. In a town where there are many celebrities, where you can see them walking down the street, for someone in radio to command that much attention was really amazing. Scott, our Promotions Director, was just telling me that he was making up his monthly promotion report. Part of that report includes dubs of all the news stories that appeared on the TV stations about the station and about Howard. Scott said we were going to have at least two hours of footage for the month. Riding the Howard Stern train has really been amazing. I think he's the funniest morning show I've ever heard.
R.A.P.: Can you recall anyone as big as this guy? Is he compared to anyone you know of?
Ronn: Well, I don't think anyone's really done a national morning show before. I think the last time that was done was by Arthur Godfreid. I don't think anyone's really done anything quite like this. Howard is also a master of self promotion, and let's face it, that's how he got to be big. He's a genius at it. I think he is the biggest one yet.
R.A.P.: And he keeps getting bigger!
Ronn: Yes, and you know what's interesting is that he is really a very nice guy. You just don't get the impression from talking to him that he's got a big ego or anything like that. He is genuinely appreciative of the things that everybody does for him and all the work we do for him. He's our distant co worker really. It's not like he's just some star who drops into town every couple of years. He really appreciates the fact that we're on the team. He's really a very decent guy.
R.A.P.: How do you get Howard Stern to flow promotionally into the other dayparts of the station?
Ronn: There's always the worry that you really fragment the station by being "Howard Stern All Morning" and "Classic Rock All Day," and in a way, it is almost like two stations. It definitely was a challenge to integrate Howard into the rest of the station and the rest of the station into Howard. One way we do it is to use Howard IDs, and mix them into promos with the rest of the jocks. "Hey, this is Howard Stern. Hey, this is Shauna. How ya doing, this is Damien..." and so on. Shauna and Damien are the mid day and afternoon jocks.
I did another thing that illustrates both the "Howard Stern All Morning" and "Classic Rock All Day" positions in one sweeper. I pulled a line out of Howard's show where he says, "Hello Los Angeles, look at this!" Then I did a montage of guitar licks -- famous classic licks -- in rapid fire succession, and I made it sound as though we were in a big concert hall with a huge applause. The kicker was. "97.1 KLSX. Howard Stern All Morning, Classic Rock All Day." I've used various Howard drop-ins on station IDs that run throughout the course of the day, and the research has shown that people perceive us as one big station rather than something fragmented.
R.A.P.: Howard is across the country when he does his show. What are his hours on KLSX? How does all that work out?
Ronn: Howard is on in New York starting at 6 a.m.. We pick him up live at 3 a.m. here, and we carry him live from 3 to 6. We're taping all the while. We leave the show generally untouched, except for time checks and weather. We edit out time checks because they'll never match up, and it would be totally random chance if they did. And, of course, the weather is irrelevant -- not that he does a whole lot of weather.
R.A.P.: So you guys begin editing at four o'clock in the morning after the first hour is done.
Ronn: Yeah. Then at six o'clock, we start rebroadcasting the first hour of the show, and in the meantime, we're taping his last hour. And sometimes Howard runs late. In New York he might be on until eleven or so. Sometimes the show is four and a half hours, sometimes longer.
R.A.P.: Does KLSX run a lot of promos inside Howard's show for other station events?
Ronn: Yes. Since Howard is the highest rated portion of the day, the highest cume, highest average quarter hour, we do a tremendous amount of recycling in Howard. When he breaks, we always run a promo first, whether it is for one of our events or the next jock, or even for Jim Ladd our night jock, or the afternoon show. We use Howard's show as our biggest area of recycling for the rest of the day.
R.A.P.: How are commercials handled in the show? Are there some spots that air "nationally," some "network" Stern spots?
Ronn: Yes, there are some network Stern spots. TDK has been running a great deal. We're having this TDK Challenge we just run as part of the show where he challenges people to determine the difference between CD and TDK -- is it CD, or is it TDK? That's a network spot. I think Snapple Natural Beverages is sort of a network spot. Other things are localized, and they run in our local spot breaks.
R.A.P.: Does Howard voice spots for local clients?
Ronn: Oh, yes. Quite a few, in fact. Let me tell you something very interesting about Stern's spots. Howard does a number of spots for local clients here. We fax him the copy, and we get it back usually within a few days. What's interesting about Howard's spots is that sometimes they'll run two minutes long, and usually, they're screamingly funny. Howard just takes the copy and does one take on it. He may involve somebody there in the studio, and he might belch on it. He'll just go off into dimensions that I've never heard, and even Howard's straight spots are very entertaining. I would say the average Howard Stern spot runs about a minute twenty five, and I don't touch them because I think they're gems.
R.A.P.: I suppose after Howard started broadcasting in Philadelphia, he started formatting the show in New York with a bit more of the format of a network show, complete with local and national spot breaks.
Ronn: Yes, kind of. However, there were times in Philly when Howard would go an hour without breaks, and then he'd do two or three breaks in a row. The person running the board would just have to fly by the seat of his pants and listen for Howard to come back on. It was difficult. But here, we're running it on tape, so we have complete control. It's as clean as can be!
R.A.P.: When the show gets edited at four in the morning, do you actually drop your local spots and promos in at that time, or is that done live during playback?
Ronn: It's done live. We just run the tape, and then we'll actually stop tape. The first thing out of Stern's outcue is the station promo, and then we'll come on with a very brief news and a traffic update. Then we'll go into our spot break which is played live. We don't record the spots onto the reel.
R.A.P.: Are portions of Howard's show edited out to make room for more commercials?
Ronn: We really don't edit anything out of Howard. The only things that get edited out are time and temperature.
R.A.P.: You have probably worked with Howard longer than any other Production Director when you combine your time in Philadelphia with your time there at KLSX. You probably know what it's like to have him as the morning man at your station better than any other production guy.
Ronn: Yeah, now that you say that, I think so. It has been a long and very rewarding relationship. I started listening to Stern back in 1982 when he was on WNBC doing afternoons in New York, and I just thought he was the wildest thing I'd ever heard. I just never imagined I'd end up working with him, albeit distantly. Howard has brought these fantastic ratings to both YSP and now KLSX, and he's really been a very integral part of my career. If nothing else, he makes me laugh hysterically. He has extremely sharp and fast wit. Basically, he can say just about anything, he can just start talking and I'm already laughing. I'm an addict.
R.A.P.: How is the rest of the station doing? Have the other dayparts climbed in the ratings as well?
Ronn: Oh yes. Every daypart has really benefitted. But it is not just Howard. I mean, obviously, Howard brings a lot of people to the party, but it's up to the rest of the station to keep them there. The music must be very finely tuned, and Warren Williams is a great Music Director. He puts the music together with a great deal of care and taste. And we've got a number of great veteran jocks here. There's Shauna and Damien, and Jim Ladd. Jim taught me a great deal about mixing. When I first started here, Jim was putting together a piece about Dr. Martin Luther King. He said, "Well, here's a speech, and I think it would sound really interesting to have Pink Floyd's 'One Of These Days' under it." That's primarily an instrumental piece, and I was like, "Jim, this just isn't going to work!" So I tried to humor him, and I mixed the music kind of halfheartedly under the speech. Then he said, "No, no. Here." And he showed me; he remixed it and had this Pink Floyd piece blasting under Dr. King...and it worked! The words were simply delivered so powerfully that they cut through, and there was something so insistent about the beat of the music and the way the two matched. So, that kind of experimentation has certainly led to making some promos really sing. Jim has especially opened up my mind to mixing disparate elements together for a really ear catching effect.
R.A.P.: Do you use speakers other than your studio monitors to do your mixing?
Ronn: I've found that I mix everything to the worst speaker now. I used to mix everything to the best, to the big JBL monitors. I do almost all my mixing on the little Auratone cubes now. I try to mix for the worst clock radio, for the worst car radio, because if it sounds good there, in my opinion, it will sound fine on the audiophile system, too.
R.A.P.: When you do that, do you find that you mix the music louder than you would if you had used the JBLs?
Ronn: Yes.
R.A.P.: Are you producing any commercials for the station?
Ronn: I do almost no retail production work, which is thrilling! The retail Production Director is Mark Morris, and he does a tremendous job. He handles virtually all of the retail production. I am involved almost solely with the promo positioning for KLSX, which is grand.
R.A.P.: Are there any other people involved in production?
Ronn: Mark and I do just about everything.
R.A.P.: How many production studios are there?
Ronn: We have four production rooms here. I'm working in the 8 track room. Mark's in the 4 track, and we have a couple of 2 track studios that are used for various things. We're looking at going digital. I'm pretty sold on Pro Tools [Digidesign], and I'd really like to have the 8 track version. I just really like the bang for the buck. It has a very advanced software architecture, a very open architecture. There are certainly a lot of great units out there. The AKG [DSE-7000] is a terrific unit, very easy to use. But, it just doesn't have the fine resolution in editing that the Pro Tools system has. It just doesn't have the effects. Plus, I really want to work with a Mac so I can integrate it with MIDI. So I'm going to recommend we get Pro Tools here.
R.A.P.: Is there an AM station there with KLSX?
Ronn: Yes, KRLA, which is a legendary L.A. radio station. A lot of the biggest jocks came through here -- Shadoe Stevens, Casey Kasem, Wink Martindale.
R.A.P.: Are you sharing any of these four production studios with KRLA?
Ronn: Yes. Mark, who's in the 4 track room, has the official title of Production Director for KRLA. But, since virtually everything is a combo buy anyway, he is in essence the Retail Production Director for both stations.
R.A.P.: What production libraries are you using?
Ronn: I've been a Brown Bag client for many years, both at WYSP and here at KLSX -- Flashpoint, Weapons and now Money, and I'm looking forward to Mirage very much. I use Money for the promos. I've also got a diverse collection of CDs from Associated Production Music which Mark uses on the spots. There's also a good number of promo things to use from the APM library. APM's got at least 500 different disks to choose from. They distribute production music from all over the world, and they're very convenient. They're right up the street. So I can go into their listening room just about anytime and audition some new stuff. That's principally what I use.
R.A.P.: Any processing toys?
Ronn: Well, nothing too fancy. I've got my little Lexicon PCM 70 which is fine. I have an Aphex Compellor and the Yamaha SPX 900. I don't do a lot of fancy stuff with effects, just a tinge of reverb here and there. Generally, what I try to accomplish is in the writing, mixing, and presentation rather than with any sort of wild effects.
R.A.P.: Who writes the promos?
Ronn: Overall, the promos are a collaboration between Andy Bloom, Warren and myself. One person may come up with an idea, and another person might write it. Sometimes it might all come from Warren, or it might all come from Andy, or all from me. But generally, someone adds something else along the way.
R.A.P.: You were a music major in college. You must be applying this to Radio to some degree. How are you doing that?
Ronn: I try to look at the promos as compositions, as pieces that tell a story, not only in word, but in texture. I try to give the promo -- this may sound basic -- a start, a middle, and an end. And I try to have that promo say something just as I would back when I was writing little things in sonata form in my college days. Certainly, the education has helped me to mix things in the same key and to try to put things together with a sense of musicality so there aren't any abrupt edits or things like that. I certainly can attribute a lot to having a music theory background.
R.A.P.: Do you play any instruments?
Ronn: Well, I play CDs a lot (laughs). My main instrument, oddly enough, was bass clarinet. The bass clarinet is to the clarinet as the bassoon is to the oboe. I play keyboards...well, I thank God for MIDI. I can pick out a tune pretty well on a keyboard, but the act of putting two hands together is just well beyond my coordination. So, I'm very glad that the ability to layer things with MIDI is available to me now.
R.A.P.: Do you have a free-lance business?
Ronn: Yes, I'm working on it. I must say that most of my energy has been devoted to the station over the last year and a half. It's my job, and that's been the most important thing. But I am starting to branch out. I've been doing some work for another station that I can't mention right now because they're undergoing a change. I'm helping engineer the production for that. I've been doing some stuff for YSP back in Philly. I'm certainly looking to branch out, to do more, to produce pieces for other stations.
R.A.P.: You sound like you have a good set of pipes. Are you voicing a lot of the promos for the station?
Ronn: Generally not. Generally, Warren Williams, the Music Director and APD, is the voice. Warren has a very commanding, yet adult and very smooth delivery. His voice is just so strong and unique that he's mostly the one. When I put my voice on something, it tends to be more of the guy next door-ish kind of thing, or sometimes I'll lapse into some bizarre character. Warren is our principle promo voice, but we also use Bill St. James. Bill is also very awesome. David Perry, who is a longtime jock here in L.A. and now rides shotgun over the Stern show in the morning, also has a tremendous voice. I'll use him sometimes as well. I like to have a good diversity of voices on the promos. I don't mix it up so much that you don't know what you're listening to, but I try to minimize burn on any one particular voice.
R.A.P.: What's your production philosophy?
Ronn: I think that production, in its subtle way, can make or break a station. It really is the spice, the window dressing that can attract people. I think it can make a station sound very cool, and can subliminally make people really like, and really identify with your station. On a simpler level, it is marketing. As with any kind of marketing, the more memorable you make it, the more alive you make the call letters and the station's identity in the listeners' minds. That's when you're doing your job as a Production Director. I don't think I've come up with anything novel there; it's just what I've found on my particular journey. I know which promos and IDs people talk about or come to me and say something about, and which ones sort of just go by. I don't live for the recognition, mind you; I just want to do the best job I can in selling the station and that means making the promos sing, making the call letters meaningful, making the station sound "cool" because we are a classic rock station. We're really not playing any new music, although we do play some newer things by classic artists. So, it's important to keep the production interesting. I think a well executed piece can really energize a song that maybe you've heard quite a number of times -- a very cool ID going into even "Layla," which we've heard many times, can energize that song sufficiently enough that it can almost make it seem new again.
R.A.P.: What would you say to our readers who are aspiring to make it to the top markets?
Ronn: It's important to keep trying new and different things, to listen to all kinds of music, to watch all sorts of different TV shows, to read voraciously. I get a lot of ideas just by reading good novels, not by taking a situation that was described, but by tuning into the author's imagination and trying to open up my mind as well. It's important to remember, most of all, that you are trying to sell a product, and that is your radio station, its format, its music, and its disk jockeys. Once you use that as a basic blueprint, I've found a lot of times that the creative frills just come along, and they work like magic. Rather than say, "What kind of creative thing can I come up with to sell the station?" start with the basics instead, and the fun stuff just somehow materializes out of thin air...sometimes.
R.A.P.: Any final thoughts you'd like to share?
Ronn: Well, there has certainly been a number of people that have helped me in my career, and if this is my four pages of fame, I might as well thank them. Mike Lee of Brown Bag has been a very steady influence in my career. He's given me a lot of advice and has been sort of my "production guru." Andy Bloom certainly has guided my career. Through all the years of struggling through the old 2 track room at YSP, Andy promised me he would get me a new studio, and he certainly did. I had to move across the country for it, but it's been worth it. Besides, I always wanted to live in L.A., and I was very lucky to have this opportunity to come out here, work with Howard, work with classic rock, which is the music that I love, and to be able to sit in this very nice 8 track studio and play around and have a good time. Also, my wife Amanda is probably my toughest critic. I credit her very much with helping improve what I do. Production Directors sometimes get a little too involved with our work and we'll say, "Gosh, aren't I creative?" after hearing something played back on the air. Amanda might look at me and say, "Well, c'mon. That wasn't that good. You could have done this or that." I'll say, "Ooh, yeah, you're right!" She's not in the business. She's a psychotherapist, so she analyzes my work and does a very good job at it.
♦