Stephen R. Smith, Production Director, Q102/KRNQ-FM, Des Moines, IA
by Jerry Vigil
In this issue, we wind up the 1991 Radio And Production Awards where we had a "first" take place. Granted, this was only our 2nd annual competition, but nevertheless, Stephen Smith was the first person to enter both categories in his division (small market promo and commercial) and walk away with both trophies. He was also a runner-up in last year's competition!
We decided to find out a little more about Stephen Smith. Maybe he's some veteran producer hiding out in 110th ranked Des Moines with twenty years of experience under his belt. Not. What we found was a very likeable thirty-two year old who had spent most of his working years in construction, and is only now in year three of his radio career at just his second station.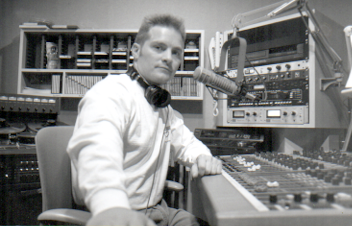 R.A.P.: Tell us about your rather short history in the radio industry. Where did it all start?
Stephen: It started in the fall of '87 when I enrolled at Brown Institute [broadcast school] in Minneapolis. Brown is part of National Education Centers. I started there thinking I wanted to be a DJ. But, during the last three or four weeks of the course, they gave us a brief overview of radio production, and I seemed to really excel dramatically in that portion of the class. I was writing three or four commercials a week -- doing little jingles and things like that -- and nobody else in the class was doing that. I was getting real good grades and thought maybe this was the direction I should go, rather than just spin records. So, I decided to pursue being a production person.
I graduated from Brown in June of '88 and got my first job down in Kirksville, Missouri at KRXL/KIRX radio in October of 1988.
R.A.P.: The transition from construction to radio must have been an interesting one.
Stephen: When I first started working there, I was working seventy and eighty hours a week, and I was wondering to myself, "gosh, is this radio life?" I couldn't quite get the hang of managing my time. Trying to manage your time in construction is very different from doing it in an office environment, and even more so when compared to time management in a production studio.
R.A.P.: Obviously, you chose to stay in radio. Tell us a bit about your first job at KRXL/KIRX.
Stephen: In Kirksville, I was hired on as the Continuity Director, but I was more or less their Production Director also. I filled both positions. We were writing about fifty to sixty ads a week. It was your basic, small town radio situation. But I was real fortunate to have a large staff of voices on hand from both the AM and FM stations. This helped out a lot. In Kirksville, I was pretty much camped out at my typewriter all the time. But I did manage to make it into the studio from time to time. I would save for myself those commercials I thought I could really have fun with. Then I'd sneak in whenever I could, and I'd try to whip out some jingles or some other interesting pieces of work. It worked out fine, and I even won some awards while I was in Kirksville. I won a couple of first place, and a couple of honorable mention awards from the Missouri Broadcasting Association. So I figured something must be going right.
R.A.P.: Not too many people can claim to have won an award for their work during their first year in radio. How did that come about?
Stephen: It was a year after I started my first job that they had the Missouri Broadcasting Association Awards. I won first place for a commercial, small markets, in the state of Missouri. That was for the first jingle I ever wrote outside of school. It was for a little supplement paper that came along with the daily paper called the Kirksville Crier. The jingle was just this little song and dance number. They really liked it, and I sold it to them for fifty bucks. This particular jingle I wrote three months after I started at the radio station.
R.A.P.: You must have some music background.
Stephen: Yes, I do. I used to be a lead singer in a band back in the early eighties. That really helps a lot. I can also diddle around with a keyboard a little bit. I'm not really good on the keyboard, but I'm good enough that I can layer things and come out with a pretty neat melody. I'm also a drummer. I drummed for sixteen years, so I've got good rhythm. But the keyboard I kind of adopted, and I would like to take some lessons and get better at it because, if you can play good keyboard, the opportunities are incredible. The options of what you can do creatively are endless.
R.A.P.: When did you leave Kirksville?
Stephen: I left there on January first of 1991. That's when I came up to Des Moines to work for KRNQ. Chuck Knight, who was the Program Director at the time, hired me. Chuck has since left and is now in Indianapolis at WENS, I believe. Matt McCann is my new Program Director. This was the first time I ever had to go through a Program Director transition, but everything went real smooth. So, I've been at KRNQ-FM/KRNT-AM for about a year now, and everything's working out fine. I've managed to win some additional awards since I've been here, including some EMA awards and an Addy.
R.A.P.: Writing and producing commercials is obviously your forte. Do you also produce promos for the station?
Stephen: I probably produce about ten percent of the promos at the station. We have an excellent Promotions Director, Scott Schubert. He not only comes up with the promotion ideas and brainstorms with the PD, but he also produces about ninety percent of the promos. He's an exceptional producer. My main task is all of the commercial production.
R.A.P.: What training in production did they give you at this broadcast school you attended?
Stephen: At the start of the class they showed us a mixing board, and they showed us a Tascam reel-to-reel. It was a 4-track, so I was very fortunate to learn multi-track right off the bat. Then they had us do a music edit with our blades and china markers. Then they had us produce three commercials for the semester. After you did these things, you would pass the production course. Well, I did the music edit with no problem. I had been editing music on cassettes for many years. Then I ended up writing some fifteen plus commercials for the semester, and the teacher was giving me A-plus-pluses on them. I think he started grading my work a little bit high at the beginning. Then I seemed to get better as the class went on, and he had no place to go with the grades but to add another plus. But basically, they taught us how to edit, and they taught us how to write copy using the old AIDA principle and other copywriting basics. After that, they pretty much left it up to us to find what we wanted our commercials to be about and how we wanted to produce them, including what music we wanted to use.
I had this little Casio keyboard at home, and I would go home at night with these ideas in my head. I would record a little music bed. Then I'd come in and do the song and dance number in the studio and come out with these jingles. I'd make donuts and everything else, and, apparently, they don't see a lot of that at Brown from the students just starting out. It took them by surprise a little bit, but all this flowed kind of naturally for me.
R.A.P.: What is this "AIDA" principle of copywriting you mentioned?
Stephen: The "A" stands for Action in the first three seconds. Next is the Interest. Then you want to create Desire. Then you call to Action again -- tell them to go out and buy it. I've seen this principle written up in many different ways. As far as formulas for writing commercials go, everything I've read all follows the same pattern.
When I'm writing copy, there will be times when I'm really trying to follow that formula. Then there will be other times when I somewhat just hash out a piece of copy. And I'll tell you, the ones that I follow the formula with seem to have a much better flow throughout the whole message.
I've got sort of a strange mind, so different, wacky things sometimes get mixed up with this formula. Also, I've got a really good assistant at the station, Mr. Cal Bierman. Cal is very talented. He's got a wacky mind as well. He thinks in terms of cartoons, and he can really come up with these off the wall situations. He's written and produced some delightful spots. I feel lucky to be able to work with somebody as talented as Cal.
R.A.P.: One of your winning entries in the recent RAP Awards, "Farley's Family Fun," sounds a bit like a cartoon kind of song.
Stephen: Yea. The salesperson wanted something really zany, and the first thing that popped into my head was Bullwinkle doing a rap. So I started there, and it evolved into the final spot. I've done probably seven or eight Farley's spots in the past year. It's a large, family entertainment complex, and the client really likes the spots.
R.A.P.: Do you and Cal write all of the spots for the station?
Stephen: Yes. I write about seventy-five to eighty percent of the commercials, and Cal writes the others. He's just a part-time assistant.
R.A.P.: How many spots are you two writing and producing every week?
Stephen: We're doing about ten to twenty spec ads a week, and we're doing about twenty to thirty spots a week for schedules that are already placed. It keeps us running around.
R.A.P.: Do you ever get tired of writing so many commercials?
Stephen: I wouldn't say tired. I'd say I get brain dead. You get a client, you're looking at the fact sheet, and you're thinking, "Boy, this guy's got a clever name for his business. I know there's something here," but it just doesn't come. All commercials are like combination locks; if you can figure out the combination, boom! Everything opens up, and you get a really good ad for the client. Other times, you just look and look and look, and the ideas don't come anymore. When it gets like that, it's nice to just set the thing down and move on to something else. Then, hopefully, when you pick it back up later, that little spark will be there, and you'll see the way to go. But for me, it's more a matter of getting brain dead rather than getting tired of writing copy.
Studio work is almost therapeutic for me. If I've had a rough day and I have a small bit to produce for the morning show, what I'll normally do is save that and make it the very last thing I do for the day. I'll get all my chores done. Then I'll go into the studio and have a lot of fun with this little morning thing. I'm not trying to sell anything, and I can be as wild and zany as I want because the only people I have to please, really, are the morning crew, and God knows they're wacky anyway. That's my therapy, and after doing some work for the morning show, I can leave work in a real good mood.
R.A.P.: Are some of the jocks helping with the production, or are you just getting voice tracks from them?
Stephen: Some of the jocks I will give the commercial to, and they'll produce it. There are a couple of others that I will engineer the board for.
Kelly Fox, from our morning show, does great character voices. Our midday jock, Patty Simpson, does character voices, great dialogues, and great straight reads. Our afternoon jock, John Drake, does a bunch of characters and has an incredibly nice, deep, powerful voice. He also does great production and has been a Production Director at other stations, so he knows production. Phil Crowley, our nighttime guy, does a great job. Our overnight guy, Jimmy Wright, also does spots for me.
I mostly give the jocks dubs, tags, agency donut spots, or some basic straight read ads. I don't like to give them commercials that are too complex, and I think that's mostly because of my own fear that it's not going to turn out the way I have it in my head. I prefer to do those myself.
So I have a lot of people helping out, both with voices and production. Also, our FM traffic person, Tammy Miller, has a great singing voice. Whenever I'm producing a jingle that needs a female voice, I'll run back to Tammy and ask if she can spare ten or fifteen minutes. Then we'll get back there and sing away. We've done a number of jingles together. There seems to be a lot of talent in the building, and that's nice.
R.A.P.: It sounds like most of your creative stuff is of the "jingle" type.
Stephen: Yes, I seem to fall into that. As of late, I've been trying to push my creativity into different areas -- trying to use more sounds and experimenting more with the positioning of those sounds in the stereo spectrum. But the song and dance numbers come real easy for me.
R.A.P.: There's a lot of production going on at your station. How many production rooms are there?
Stephen: We have one 4-track and one 8-track. The 8-track studio was just put in last fall. In that room we have the Wheatstone SP-6 board, a beautiful board. To the left of the board is a Mitsubishi VCR, an SPH4 Gentner phone system, an EV-ELX1R 4-channel mike mixer we use when we need to hook up more mikes in the studio, a Yamaha SPX-1000, an Eventide H949 Harmonizer, two Urei LA-4 compressors, and a Technics SLP-1300 CD player. Over on the right side we have our Sherwood dual cassette deck, two Audicord cart decks, and an ITC 99B cart deck. Our 8-track is an Otari MX5050B with the auto-locater, and we have two Otari MX5050 2-tracks. For mikes we use EV RE-20s. For speakers we have Auratone cube speakers for our nearfield monitors and JBL100 Centurys for our main monitors.
In the 4-track studio we're running a Harris board with an Otari 4-track and an Otari 2-track. We've got two Urei LA-4 compressors, a Yamaha SPX-90II, two Audicord cart decks, one ITC 99B, and a Sherwood dual cassette deck. And of course, we're using the same mike, the EV RE-20.
R.A.P.: Those sound like some good rooms.
Stephen: Good rooms, I find, are relative because that 4-track room was like our "flagship" studio until the 8-track was built. Now, I hardly ever go into the 4-track, but still, it's a darn good room. In fact, the Farley's commercial was produced in the 4-track studio. You can do some good work in that 4-track room, but this Wheatstone board and the 8-track are spoiling me. I think we're the only 8-track radio studio in town. I think the other stations only have 4-tracks. If I'm wrong, I'm sure someone will correct me.
R.A.P.: KRNQ/KRNT seems better equipped than most stations in markets the size of Des Moines. Why is that?
Stephen: Well, we're part of Saga Communications. Saga is headed by Mr. Ed Christian, and he knows production equipment. He knows what's good and what's bad. It's nice to have him that knowledgeable and able to buy us some of the toys we like to play with. I think we were the last station in the Saga chain to get an 8-track. When I first started at KRNQ, the first time he met me, he asked if there was anything I needed to do my job better. I kind of joked around and said that an 8-track would be nice. He said, "Well, we're getting an 8-track, and we'll have a new studio built...," and, within the year, we had an 8-track and the new studio was built.
R.A.P.: Did you have much part in the design of the new studio?
Stephen: Yes, I did. Our engineer's name is Joe Farrington. Joe came in and grabbed my arm, and we sat down in the conference room and started drawing things out on paper. The room is small, and we wanted to get all this equipment in there. So, we plotted and plotted until we came up with something that worked. So, yes, I was involved in the designing of the studio.
R.A.P.: What was the transition like, going from your 4-track studio to 8-track?
Stephen: It was very intimidating at first. The Harris board we have in our 4-track is not real complex looking. On the other hand, the Wheatstone SP-6 is just a field of knobs, so it was intimidating. But I got in there and dabbled around a bit. I didn't try to do anything real tough at first. Then we got a gentleman whose name is Willie Wells to come in. He used to be a Production Director at one of our sister stations, WLRW in Champagne, IL. He's now at WKLH in Milwaukee. Willie came over and did a little two-day seminar, and I learned a ton from him. I can't thank him enough. He made the board so easy to use. It looks intimidating as hell, but it's a very user friendly board. When you actually sit down and start working with it, it makes production fast. It's very clean sounding, and Willie took all the scariness away. I haven't run into anything yet that I cannot do because of the board. The board is not limiting me at all.
R.A.P.: Did your station consider a digital workstation when they were building the new studio?
Stephen: They were thinking about digital workstations at that time, but it was probably a little bit too soon and probably a little bit too pricey. They went with the analog 8-track, but I would imagine that Saga is going to start slipping some digital workstations into the chain within the next few years or so. I think the digital workstation is the epitome of, "Wow! Why didn't I latch onto something like this earlier?"
R.A.P.: What makes a good commercial?
Stephen: I would say the first requirement of a good commercial is that it has to be memorable. You read so much about how we're bombarded with God knows how many different messages every day, and we only remember a fraction of what we hear. So, I think it first has to be memorable. To achieve that, what I like to do is try and think of something that is fun to say. So, throughout the repetition of the spot being played over and over, hopefully, people are hearing that something, and they're saying it out loud because it feels fun to say. I like to play with words that feel good rolling off the tongue.
Of course, a good commercial also has to send the message that the client wants the listeners to hear. I think that is where the war comes in between creativity [and the client]. I want to say it in a creative way, and they might be thinking a little more along the lines of print advertising. They may want me to throw in the laundry list, and that's the last thing I want to do. That's where the little tug of war comes in, and sometimes you just have to put the laundry list in there. When I have do that, I try to do it in such a way that I almost fool the listeners so they don't actually think they're hearing a list but are still getting several pieces of information about the client.
R.A.P.: If you're doing as many as fifty spots a week, you must have a lot of contact with the sales department. Tell us a little about your sales staff.
Stephen: We've got a good sales department. We've got a big sales department. At last count, I think we had ten salespeople. I deal with a lot of salespeople, and I like to work closely with them. I set up my guidelines, deadlines, and rules, and I imagine, in their own way, they try to follow them as best as they can. But, it's the nature of the beast; being salespeople, they're always trying to push the envelope. That's their job. But I like to think I have them under control. Sometimes I think I grant them too many exceptions from the deadlines, and I end up always working myself into a corner. But, as my General Manager, Mr. Phil Hoover, told me, "You can't get caught up with enforcing the rules. You have to remember what the primary purpose is that we're all doing this for. And that is to get a commercial on the air." So, I try to remember that and try not to get caught up with enforcing deadlines to the absolute second.
R.A.P.: Do you find yourself sacrificing creativity from time to time to get so many spots on the air?
Stephen: Oh, yea. I think everybody who does radio production probably has to sacrifice some creativity from time to time. You're sitting there, and you're thinking, "Boy, this is a really good idea. I think I could really do something wild with this." Then you look at the clock and say, "Well, maybe next time." I think there are always those times when you have to make those sacrifices. It's a bummer, but what can you do?
R.A.P.: What percentage of your time would you say is spent in the studio, and what percentage is spent behind the typewriter?
Stephen: It's probably about sixty or seventy percent in the studio and the rest at the typewriter. It's close to half, but I think I spend more time in the studio because writing things, a lot of times, doesn't take long at all. It's just a matter of finding the right music, finding the right sound effects, getting it all put together the way it is in your brain that sometimes can take a couple of hours.
R.A.P.: What production libraries are you using?
Stephen: In our 4-track room we still have the old workhorse of the industry, the FirstCom Digital Production Library. In the new 8-track studio, we went with FirstCom's Custom Production Library. We also have their Digifects sound effects library and the Sound Ideas 4000 Series sound effects library.
For promos, we have Techsonics and Power Play. Plus we also have a lot of nice stingers, logos, and things of that nature in the FirstCom Custom Production Library. We've got a lot of things to draw from, and it's nice.
R.A.P.: What are the formats of the two stations, and how are they doing in the market?
Stephen: The format of the FM is, I guess, what you'd call adult top-40. The AM is a "Music of Your Life" format. Our ratings are good. The AM side is moving up and continually getting stronger numbers. Our FM, Q102, seems to be in constant battle for the number one slot with the AOR station in town, KGGO. Of course, there's also WHO, the news and information station in town. They always have good numbers.
R.A.P.: Your counterpart at WHO, Craig Rogers, also turns out some pretty good production. In fact, you were both finalists in both small market categories of the RAP Awards.
Stephen: Yes. Craig does some great work. As a matter of fact, his car wash commercial had me worried when I heard that on the tape. As soon as the magazine came out and we found out who the winners were, Craig faxed me a letter congratulating me and saying he thought we both represented Des Moines very well. I've never met Craig, and I thought that was a nice gesture on his part. I faxed him back saying, "Thank you. Congratulations on your finish," and I agreed: I think we both represented Des Moines pretty darn good.
R.A.P.: If you could have anything you wanted that would make you better at your job, what would be on your wish list?
Stephen: Well, I don't have a computer or a word processor. I'm still banging stuff out on a typewriter, and that gets tiring. It gets tiring when you mess up a line and you either have to white something out or you have to use correction tape on the line. It gets tiring when you write a commercial and read through the copy and you say, "You know, this thought right here should really go down here, and this one should go up here." Well, you can't rearrange stuff with a typewriter, so you have to type the whole thing over again. A processor would really help me.
Having a really nice keyboard would be something else that would help me because I like to do the song and dance number. I think I would be able to start whipping up some real good quality sounding jingles, and who knows, maybe even open up some kind of creative services department above and beyond the regular production department. One of the morning guys has a little Casio. I'll get my hands on it and whip out a little music bed every now and then, but it still has that Casio sound. It would be nice to get into an Ensoniq or a Korg with an onboard sequencer and even sampling capabilities. A real good drum machine and a DAT machine would be nice also. Of course, the digital workstation would be great. I'm the kind of person that if you leave me a question like that, the list will go on and on and on.
R.A.P.: Have you ever done an airshift?
Stephen: No. The closest I've done to an airshift was this "alternative music hour" I did down in Kirksville. The salesman sold a twelve-week contract to a local record store, and I would go on the air Thursday nights at nine o'clock. I had my own format. All I had to do was give the record store three, thirty-second, live commercials. Everything else was music that I would pick out and play. But there was no format. I didn't have to follow a clock, and I could basically play whatever I wanted to. I was flying by the seat of my pants and having a ball doing it. It was really fun, and I realized I should enjoy it because I knew it was a distorted view of what an actual DJ has to go through.
R.A.P.: At least you got a little taste of what DJ work is like, though distorted it may have been.
Stephen: Yes. That's one of the reasons I wanted to do it. I didn't know if I might want to perhaps cross over, sometime down the line, and get into jocking. I don't think I will now, though. I think I'm pretty much into production. This is my niche, and this is what my brain was created for.
I'm an older person, or at least older than a lot of people when they first get into radio. So I don't have the luxury of having ten or twelve years to find my way to a medium or large market station. I'm on a fast track, and I've got to keep pushing myself.
R.A.P.: Are your goals aimed at moving up in the markets?
Stephen: Yea. I'm originally from Minneapolis. My family and close friends live up there. My fiancé is also from Minneapolis. It would be nice to someday, eventually drift back up into the Minneapolis area. It's a great radio town and a great music town. I think that's where I'd really like to wind up, however long it takes.
R.A.P.: What did you think about radio when you first got out of the broadcast school and were three months into the business? At that point, what did you think about the career change you made?
Stephen: I was wondering if it was a big mistake. I was working long hours, and things weren't clicking. My time management was way off. I was trying to do too much of it myself, being in the construction mode of thinking. There were many times when I would walk into my Sales Manager's office, who was more or less my superior at this station rather than the Program Director, and I would say, "I don't think I can do this job." He'd say, "Oh, just stick with it. You'll get it. Don't worry about it. If you get too mad, just walk outside and walk around the building a couple of times and cool off." Or he'd say, "Look. The worst thing that can happen is a commercial won't run, and we'll do a makegood on it." He'd try to calm me down because sometimes I can be somewhat of a passionate person with my emotions.
So, I was thinking I may have made a mistake, and this really wasn't it for me. Then, I don't know what happened, but it was almost overnight that things just clicked for me. I got the hang of it. All of a sudden I was putting in normal fifty to fifty-five hour weeks!
R.A.P.: Do you have any advice for those who are young in the business and are wondering if they made the right choice?
Stephen: Try to keep having fun. If you stop having fun at what you're doing, why do it? You're certainly not going to be making a million dollars in radio, so I think one of the big paybacks with it is having fun and being as creative as you can so when you hear that creative message on the air, you get that tingling rush up your spine saying, "Yes, I did that!" That's the payback. So, keep trying to have fun, stick to it, and if things get too hot, go outside and walk around the building a couple of times (laughs).
♦