Keith Eubanks, Creative Director, Power 99 - WAPW-FM, Atlanta, GA
by Jerry Vigil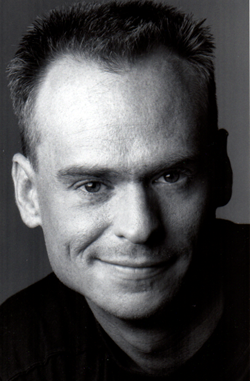 This month's interview stops at powerhouse Power 99 in Atlanta where Creative Director Keith Eubanks cranks out the club spots in style, and in large numbers! Keith shares some of his secrets to cutting the club spots you've heard on past Cassettes and gives us some insight into dealing with the club owners and managers who ask for blood daily. If you cut your fair share of club spots, you'll relate. If you don't, smile!
R.A.P.: Where did your radio career start, and how did you wind up at Power 99?
Keith: I guess it started back in 1975 when I was just getting into high school. If I remember correctly, I couldn't even drive yet. I started here in Atlanta at a 5,000 watt gospel station in East Point. The people they catered to were like blue-haired ladies in nursing homes. It was blue grass, country, hillbilly gospel. The station probably had some of the first broadcast equipment manufactured. I talked and begged my way into doing some news and some on-air stuff here and there. That got me through high school. Then I went off to college at Auburn University. I got into general curriculum and did the business major thing. I worked at the college station which proved to be the greatest catalyst of all for me being in radio. It was then that I realized this was something I ought to be doing, not just to pass fun time in college, but for a living because I loved it so much.
While in college, I was fortunate enough to also get a weekend gig at WHHY in Montgomery. This was the first real radio job I ever had. Not only was I working weekends there, but during the week, I was working for a small AM station in Opelika doing some news and on-air stuff.
I got out of school and came back home to Atlanta and started working in advertising. I worked for McCann-Erickson in the broadcast traffic division. This was on a national level, and I got a real good feel for something that I didn't want to do. I learned that quickly -- a lot of paperwork. I worked with some great people, but I realized that was not my thing. I loved the environment that the ad agency offered, but I wanted to be up two floors in creative instead of down there pushing papers.
While I was at McCann-Erickson, I also worked part-time for a black AM station that was doing very well at the time. As I think about it, I've probably put in as much time in black/urban formatted radio as I have in pop radio. I left McCann-Erickson after about a year and went to another agency and piddled around with more computer oriented things. I finally ended up going full-time with KISS 104 when they started up to go against V103 here in Atlanta. I did afternoons and was their Production Director. I went from there to Z93 where I segued back into pop radio again. From Z93 I went to Power 99. I've been here for about four years now, and I can't really imagine being anywhere else. I've weathered so many things and seen so much happen that it feels very much like home.
R.A.P.: You were a late night jock at Power 99 for a while before you became Production Director. Was that the position you went into the station at?
Keith: No. I went in as nothing. I wanted to be on the station so badly that I started off doing the Casey Casem show at five o'clock Saturday morning. I did a little bit of research during the week and a little bit of production. I was just clawing for everything I could get. Then it escalated from there. I started doing some overnight things and worked my way into filling in for the girl who did ten to two at night. I'd do some board-op for the morning show during remotes and a little more production. Finally, I got the overnight shift which was my first full-time position at the station. Then, miraculously enough, I went from overnights to Production Director, and that just blew me away.
Randy Reeves was the Production Director two people before me. I worked with him while he was here. Kevin Hayes came into the position for a hot minute, then I replaced him. Kevin was the Production Director for a little less than a year.
I learned so much from Randy. The neat thing is how I used to listen to the man in high school. I just admired his air work so much. Then, one day I was working with him. Now, I'm actually doing what he used to do, and it really blows me away.
R.A.P.: Most of your previous radio time was spent jocking. What made you decide to do production full-time?
Keith: It was mainly the positive feedback I got. People would compliment me on things I would do in production. After a while, a light went on in my head, and I realized this was where the ad agency interest I've always had comes in and meshes with the radio. I can work on the air, but I can also do these commercials which is something I've always loved to do. This is how I really like being creative -- taking sixty or thirty seconds and making it really stand out from what's around it.
R.A.P.: How is the production department structured at Power 99?
Keith: It depends upon the work load. Bars are probably our most common clients. We probably have fifteen bars on the air right now. We have to do fifteen different approaches for these bars, and everybody wants their spots to be different from everybody else's. A lot of stations have the Production Director doing it all. We're different. Everybody -- from the midday girl to the people on the morning show to the night guy and the afternoon jock -- does production. But they don't produce all of it all the time. Some people produce their own stuff because they're good at it and because I like the variety. If I produced everything, you would begin hearing the similarities on the air. If I allow Sean and Domino, our afternoon and night guys, to do production -- and they do great production -- then we'll have an overall better variety of production than if just one person does it. So, jocks do production, but they don't do a whole lot because I've taken a lot of that on myself.
I've got two assistants. One of them does pretty much all the dubs for me. He does no voice work at all. My other assistant, who just came on board, does do voice work, and he does great bar spots, so that made him an immediate asset. He also fills in for me when I'm off or working on the air.
R.A.P.: Who handles the writing of the spots?
Keith: The account executives did a lot of it until I came in. Then I found out they didn't need to be doing so much. We needed more consistency and better creative quality, so I started taking on more and more writing. They still submit spots, and many times I will rewrite the spot somewhat. We employ a lot of humor at the station. The station is real fun to listen to, and when we get to the stopsets, we don't want them to be boring. We want people to say, "Hey, that's a funny commercial!" A lot of times, when I get out on the street doing promotions and appearances, I hear as many people talking about the commercials as the fun contests. That's kind of neat. I enjoy writing. I've got a laptop that I use at my desk and take home with me to use.
R.A.P.: You recently went from Production Director to Creative Director. Why?
Keith: Since I began taking on so much of the creative process, creating concepts and dealing more with the clients, we felt the clients might be more accustomed to dealing with somebody who might be creative as opposed to somebody who is technical. Plus, when I'm dealing with the advertising agencies, they don't think they're dealing with the guy who's doing the dubs. They're talking with someone a little more on their level.
R.A.P.: Our readers, and especially our listeners of The Cassette, are most familiar with the exceptional club spots you send in for The Cassette. Would you say producing club spots is your fortè?
Keith: I think so, and everybody tells me that. I guess if you hit your foot twenty times every day, after about a year, you're going to be hitting your foot and not feel a thing. Now, when I do a bar spot, it takes a lot to turn me on to what I'm doing. With most of them, the Account Executive will come up to me and say, "How did it turn out?" I'll just say, "It's a bar spot! A bar spot is a bar spot!" I mean, I still get enthusiastic about it, but there's only so much "thump" you can listen to before it all starts sounding the same.
We've had some instances here where people wanted something totally different, and I gave them something totally different. One of our biggest clients is Petris. I've been doing their spots since they went on the air with us. Recently, we went in a totally different direction with their spots. We told a story in them, and as we told the story we had sound effects accompanying each sentence where the words warranted a sound effect. It was real funny, and it ran for three or four weeks. A lot of people remember the spot. I suppose bar spots are probably what I will be best known for, if anything.
R.A.P.: How many bar spots would you say the station is cutting per week?
Keith: Not every bar is on every week, but I'd say we produce every bit of ten to twelve bar spots a week. A lot of those are multiple cuts where they've got different things for different days, so much so that if we can get away with doing a live tag on the air, over the music bed at the end of the spot, we'll do it. Sometimes they'll want a different spot for every day of the week, but sometimes you can get away with a generic spot that covers the whole week, and then tag it with today's special event.
R.A.P.: Do some of the clubs feel like they're getting cheated on the production end when they just have a generic spot with a tag?
Keith: I don't think so. As a whole, everybody at the station does very good bar spots, or they wouldn't be there. We don't do generic ones very often. What we'll usually do is make a spot talking about Friday night, for instance, but it'll be running all week long. Then we'll tag it saying, "but tonight it's the wet T-shirt contest," and so on.
We're at a point now, with all the bars, where they drive this department. We could call it Club Spot USA because that's really what we crank out more than anything else. And because the station is so promotions oriented, we've got a different jock at a different club every night of the week. To support that, our sales staff has come up with this thing called the Appearance Calendar. It's a promo that runs every hour or every other hour. There'll be three different jocks on each promo saying, "Hey this is so and so. Join me tonight at whatever. Hi this is so and so, join me Friday night at whatever. Hi, this is so and so, join me Saturday at Car World," and so on. That's a daily promo that has to be cranked out, and believe me, if the promo's not there, the salespeople are at my doorstep wanting to know why, where is it, and can we get it changed. Having that every day, and having so many things that can go wrong with a promo like that -- dated material, inaccurate material, times that have changed -- it's a fiasco! That alone keeps us running in a million different directions.
Plus, for every bar spot, every Account Executive wants a cassette of everything that is done. The jocks are not real good about doing the cassette dubs, so that leaves the three of us in production running to do cassettes all the time for everybody.
R.A.P.: What percentage of all commercials you produce would you say the club spots account for?
Keith: A good seventy percent. The rest of that is car dealerships and the like.
R.A.P.: Do you feel that anything in your department suffers because of all the attention the club spots are getting?
Keith: No. Not at all. To be honest with you, these spots you hear that I've sent for The Cassette are spots that ninety-nine percent of the time I've sat down with no copy at all, just facts, and ad-libbed the whole thing to multi-track. Spots like that, I've got down to where I can almost do them in my sleep. I like spending time on the other stuff like national spots -- for instance, if Kroger comes through and wants us to do something, or General Foods, who recently came on and wanted us to create a concept for them. Those are the ones I like because I know big people somewhere in New York or LA are going to be hearing the spots, and I want the spots to reflect the quality they're used to.
Agency people will often say, "Oh, it sounds to radio-ish. It sounds like a radio spot." So I work real hard at making things that we do, outside of bar spots, not sound radio. I try to make them sound more like something that would come out of a large production company.
R.A.P.: What things do you do to avoid making a spot sound "radio-ish?"
Keith: It's hard to describe. It's not having somebody go, "Hi! This is Johnny Jonathan. Come on out and buy some furniture for these prices!" I try to come up with a unique approach to copy, and some of my concepts are real unorthodox. One other thing I do is bring in talent for some of the spots. I work with a guy in town who is union talent, and he and I do this workshop together at a production company in town. It's for people who want to get into television and radio voice-over work for agencies. Every now and then, we'll get people who have that natural gift of a great voice. They're untainted by media and by the expectations of what you do in a voice-over session, but they have this naturally great voice. After a six week course you get to know these people, and I'll say, "Hey, I've got a commercial I'd like you to do." Of course these people are chompin' at the bit to do a commercial. You still have to coach them a little bit, but I've had some great results with people from the workshop.
That's where some of the talent I bring in comes from. I'm to the point now where I have approached the Northside School of the Performing Arts. They're pretty well known regionally in the high school art arena as having a real good department. I thought, "Why don't we go over there, get some of these kids who are wanting to get into acting, and bring them in?" You're going to find kids that are animated and probably sound great. You can use them for a variety of things, and these kids would be happy to get a bag full of CD's and a few T-shirts from the station to do a commercial! That's one project I'm in the process of working on now.
R.A.P.: Tell us a little more about this workshop you and your partner do.
Keith: The guy's name is Paul Armbruster. He moved here a couple of years ago from LA. The workshop is basically for people who want to get into doing voice-over work for TV and radio. It's for people that are green and have never done it. However, some of our students have done it. We had a guy recently who is an anchor for CNN which is based here in Atlanta, but most of the people are pretty green.
Paul and I make a great team. We've been doing the workshop for about a year and a half now. We do one about every four months or so. Paul was doing the workshops by himself before I came along. Then we teamed up, and now I provide input on the technical end -- mike usage, different technical aspects of the studio, etc.. Here lately, as Paul has gotten more familiar with my voice work, he has let me offer more input to the talent on the voice end of the sessions. The workshop goes on for about eight weeks. We meet once a week at one of the production companies here in town after hours.
R.A.P.: To have the time to pursue outside talent for spots, you must have some deadlines for the salespeople to follow.
Keith: Oh, boy! Now there's a topic to talk about! Deadlines! I've set up a deadline of 4:30 the day before something has to be on, at the very outside. Tonight, at six o'clock, they came in and said, "Uh, this was just faxed to us."
"Well, when does it need to be on?"
"In an hour."
I casually said, "Well, rest assured it won't be on." I'm versed in changing the logs -- writing things on, and rescheduling spots -- so I just went and changed the log. Even so, I still didn't get out of there until eight. There are some things we'll bend the rules for, but for the most part [we'll stick to the deadlines]. We're in a sold out status right now, so we can't miss anything. We'll reschedule spots and put others in place of those we don't get in on time. You can do so many back-flips. After a certain point, I'm not going to do a back-flip.
Also, we often get to a point where I'm on too many spots or just enough spots, or my assistant is on too many or just enough. Everything has to hang in a real delicate balance or someone will get me on the phone, like my boss, and say, "You're on too many things. Can we get some things recut?" Like tonight. Here's another piece of copy, and it has got to go on now. I have no other voices available. I can't do it. I'm on too many spots. The only other option is to get my boss, Rick Stacy, to do it. So, when he gets off the air tomorrow morning at nine o'clock, I'll get him to do it for me, and the spots will start in midday.
R.A.P.: When you changed the log tonight, did you also go into the computer and move spots around?
Keith: Oddly enough, tonight was the first time I had actually dealt with our Traffic Manager's computer. I called her at home and got her on the speaker phone. She and I are a team. Her name is Vicki Nichols, and she's the Traffic and Continuity Manager -- one person doing all this with all these bars and everything else! The woman is a walking miracle. Everybody knows it, too. On the phone tonight, when I was going into the computer for my first time, she talked me through everything. She talked me through the "bump" list so I could put things back on the log that had been bumped. The woman is telling me, "This is cart number this, and this is contract number this." She has all these numbers in her head. Maybe every traffic person knows this, but it's amazing. She's invaluable. And she's so even-tempered. Nothing gets her flustered, and that's great because she offsets me when I'm lunging down an Account Executive's throat.
R.A.P.: That's something we don't touch on very often in the magazine, the relationship between production and traffic/continuity. It's very important.
Keith: It is. And I'll tell you, at my first production gig back at KISS, Bernice was the woman that did it there. Of course, I was green as hell and knew nothing about dealing with Account Executives and the importance of things being in at a certain time and being done. It was all a complete learning process for me. What ultimately ended my relationship with that station, I think, was that I finally turned her against me. This was after about a year. The relationship was no longer there. We had it for a long time, and then something didn't click one day. It progressively got worse, and then we parted ways. I say that just to emphasize how important the relationship is between the Production Director and the traffic person. I can't imagine having two people doing the traffic and continuity, and I know a lot of stations have two people doing it. In that case, you've got three personalities involved. Fortunately, for us, we've got two.
Vicki and I have always had this great relationship ever since I started at the station, and that's why it was kind of a natural for me to move into this position one day. We had always worked so well together.
R.A.P.: You deal with club owners and managers on a regular basis. What have you learned about dealing with these people?
Keith: Never trust them. It's like trying to predict the unpredictable. They'll tell you one thing, you'll take everything they've said, you'll go and produce the spot exactly the way they wanted it, you'll play it for them, and then they'll say something like, "Well, how 'bout if we do this, and can you change this?" Before you know it, the spot is something totally different, and you say, "But wait a minute! We went over this, and you approved these things!" You can never rely on what they say they want.
R.A.P.: How do you deal with a client who wants to change something you've already gotten approval for and produced?
Keith: I'll refer to Petris again since they happen to be the biggest one. Peter Gatien owns a lot of really big, successful clubs all over the country. He's the king of the club scene. He owns Petris, and he just sent a guy down to run the club. The first couple of weeks with this new guy, John, were a little rocky. Now, things have turned around. He and I are buddies. Not only am I continuing to do his creative, but I'm also doing an appearance in the club once a week as a jock from the station. I stay in touch with him all week long, and he tells me what he wants. When I present something and he says, "Oh, I don't know about this...," I just talk to him about it. We've developed this rapport, and we get along very well now. We have a very good working relationship, a situation we all questioned in the early days from the Sales Manager on down. But we turned it around by satisfying the guy and showing him we were in his corner.
A lot of it is just PR stuff -- being on the phone with the man. I happen to live near the club, so I'd drop by at ten o'clock at night on my way home from the gym or somewhere. I'd have a commercial to play for him, so I'd take him out to the car and let him hear it. It's taking the time to provide that personal service and showing these people that you care.
Of course, you're going to find snakes in the grass in every club scene, and there are plenty of snakes in town, but John happens to be one guy I like.
R.A.P.: Are you suggesting that it's a matter of becoming a "buddy" with these people so you can gain their trust?
Keith: That's what it is. Now, a lot of them I would not readily open up to and trust. John's case happens to be one where it happened this way. He's fun, and we see eye to eye on a lot of things, especially after we got deeper into the professional and interpersonal relationship. Developing the relationship is where it's at.
Sometimes you can tell people they like a spot and get them to agree. This guy in particular almost WANTS an opinion. He'll tell you, "No, no, I don't like this." But if you put it a certain way, you can almost tell him that he does like it, and he'll buy it.
I had a guy on the phone today for a place called the Rent Connection. This guy was the Director of Marketing for this business that helps people find a place to live. I played the commercial for the guy. It was really different but very funny. The guy said, "You know, I'm not real sure about that...." After I had talked to him for about another three minutes, knowing this was a good spot and believing wholeheartedly in it, I had talked him into loving it. By the time I hung up, he was so into the commercial he could hardly wait to hear it on the air. I find a lot of people like that. If you reassure them and say, "Hey, I've been doing this for a while, and believe me, I'd tell you if it was questionable." If you let them know everything is going to be okay in the long run and it's going to work for them, they'll simmer down a lot.
R.A.P.: It seems a lot of times that clients want to change something simply to have the last word. Do you find this to be true?
Keith: Yes. I agree with that completely. Yesterday, I dealt with a record store chain called Turtles. I wanted to switch the first sentence of the copy with the second sentence so the sentences would fit in the music gaps just right. They didn't want to do it. Honestly, looking at the copy, it wouldn't have changed a thing, but the woman said, "Don't mess with my copy. I want my copy the way it is." She just wanted the last word on it. I have to watch myself with situations like this because I could have gone off on this person. I have to shut my mouth and say, "Hey, they're paying my car note every month and buying me toys, so I'm just going to shut up and go with it."
But, once again, if you develop a good relationship with these people, you can get away with so much. Part of my college education was in sociology, and I just thrived on it because a lot of it was dealing with the masses, dealing with people. I always find it challenging to learn how to work with somebody so you can win them over. A lot of this stuff is based on Dale Carnegie and Zig Ziglar. You change peoples' opinions, and you talk them into seeing things the way you see them. It's not manipulation so much as it is developing a relationship, and before you know it, you've got people eating out of your hands. It's not going to work in every situation, but it can certainly be done.
R.A.P.: When producing club spots with intricate music beds, do you cut up the bed first then apply the copy or vice versa?
Keith: I cut up the bed first. I find it so much easier. There's too much trial and error to go through, and it's a real shot in the dark to try to match up the music to a voice track that's already on the multi-track. So we try to edit the music beds together beforehand.
R.A.P.: Tell us about promo production at Power 99. Who does it?
Keith: We're unusual in that area because Rick Stacy, the PD, loves to do promos. And it's just as well because I can't imagine having to do the writing and production of the commercials AND having to do promos, too. We use Mark Driscoll to voice our promos, and anyone who uses Mark knows how great he is and how unique his voice is, but the state his voice tracks arrive in is something else. He doesn't give you the read in complete sentences. He does it in fragments. Then you have to splice words and phrases together to make a complete sentence. I'm almost glad I don't have to do the promos because of that. Rick enjoys producing them, and it shows because he got two awards for the station in the Firstcom Awards this year. Rick does most of the promos. I've done a few, and Domino, our night guy, will also do a few promos here and there.
R.A.P.: How do the various departments at Power 99 get along with one another?
Keith: There's a wonderful family atmosphere at this radio station. Down deep, what really bonds the station together is that every-body is like a brother and sister. Everybody feels that way. There are days when I will go to lunch with the engineer; Chris, his assistant; Vicki, the traffic/continuity person; and Joyce, our business manager. You've got four totally different departments that you would think would have nothing to do with each other, all going to lunch together; and we'll cut up and talk like we've known each other for twenty years. We have our favorite places in remote corners of the city, and we'll say, "Okay, on a certain day we're going to venture down here for lunch. It may be a two hour lunch, but we're gonna go," and we'll take the tops off the cars and go and have this great bonding time. We do it because we want to and we like to. We all get along together, and that's why things work so well at the station. That is what has contributed to us getting Station of the Year and our Music Director getting Music Director of the Year; and as I mentioned, Rick got the Firsty awards. We've had a very good couple of months.
R.A.P.: Is there a separate producer for the station's morning show?
Keith: Yes. That's George Lowe, and he's a genius. This guy is basically a stand-up comic. The guests that come through the station are just rolling by the time they leave. He does some stand-up stuff in town, and he's won some Emmy Awards for some of his voice work on television. He doesn't pull music and that kind of stuff. All he does is book guests, he does voices and bits, intros the show, intros guests, and he does the show close. He doesn't have a high personality profile on the morning show, but his characters do.
R.A.P.: Is he pre-recording his bits in a production studio?
Keith: Yes. He works out of our big 8-track studio.
R.A.P.: How many production studios are there?
Keith: We have two 8-track studios. One of them is brand new. We also have a 4-track studio. Oddly enough, there's not a person in the station that doesn't prefer using the 4-track studio over the 8-track studio. In fact, probably everything you've heard from me on The Cassette was all done in the 4-track room. This is because the mike chain in the 4-track room has more balls, more depth. Here we are with an 8-track studio with a Pacific Recorders console. We've got AKG mikes that probably cost six or seven hundred bucks each. We've got Orban equalizers, compressors, a Compellor, and a Yamaha SPX-1000. We've got this incredible, brand new Studer 8-track, and everybody prefers to use the 4-track room with an old MCI 4-track workhorse in it.
R.A.P.: What microphone are you using in the 4-track studio?
Keith: It's that big Tylenol capsule, the Shure SM5. With the AKG's, everybody complains about them being too sensitive and always popping P's. We're taking measures to make that 8-track a lot more friendly for people so they'll get in there and use it more.
R.A.P.: Have you considered just putting an SM5 in the 8-track room?
Keith: Here we go into one of those engineering things. The engineer says to me, "You know, these mikes are eighteen times more expensive than those big SM5's, and they sound a whole hell of a lot better. You just have to get used to 'em."
Another part of the charm of the 4-track room is that we've got one of those little dbx compressors on line with the mike. Our engineer says, "Well, you know, all you're doing is just splattin' your voice. You don't need to be splattin' it like that...."
"Yea, but Vic, we like...."
"Yea, it makes you sound like you've got more balls than you already...."
"Yes, Vic. That's right! It's just a little magic thing. Why don't you give us some splat and some SM5's?"
Probably twenty percent of the voice work at the station is done out of the 8-track, and eighty percent out of the 4-track. People will go into the 4-track room and do their voice on tape and take it into the 8-track room and produce it in there.
R.A.P.: What musical background do you have?
Keith: I used to take piano lessons when I was ten. I've played a variety of musical instruments, a little bit through high school. I never went with anything very seriously. I also sang all through high school. In fact, I've sung pretty much all my life. I've never really been able to read music, but I've always been able to wing my way through singing and playing the instruments. I'll tell you, the experience has really come in handy, just the knowledge of how music is structured and how club songs will go in eight counts and sixteen counts. It really helps in building music beds the right way. I think that working knowledge of music helps when you're putting these things together. Plus, it makes it a hell of a lot faster. You know you've got to go eight or sixteen beats before the thing is going to repeat itself or change somehow. Then you'll make an edit right there and either go to a different piece altogether, or you'll go somewhere else in the same song. There have been times when I've been asked to edit or re-edit a song we have on the air, and recently I had one of the record reps come in ask me to do an edit for a song. Having a working knowledge of how music is built really makes editing music a whole lot easier.
R.A.P.: Is there anything you dislike about the production gig at Power 99?
Keith: Sometimes I don't handle stress very well. I'll let it get to me. Whenever I see something about stress management in psychology publications or even the newspaper or hear something on TV or the radio, my ears perk up and I listen because I learn about new ways to deal with stress. There have been days when people thought I was going to jump out the window. Now, it's better than it was, but it's still there. When you've got six people that want things yesterday, and you're the only person there to do it, and you know you're on twenty-three thousand commercials as it is in every stop set, and you can't do them, you're like, "What the hell am I going to do? Where am I going to get the voices for this?"
That's probably the hardest thing to deal with, everybody wanting everything yesterday. On top of that, there's that "appearance promo" I mentioned. Seven days a week those have to be produced, sometimes two of them a day. Between making sure the Account Executives get the information in, making sure the jocks get their part done, and coordinating all of it, sometimes I feel like going out on a killing spree. I really think a lot of it is the format because we are so promotionally driven and out on the street all the time; and we're always talking about it and producing things talking about it. That's where a lot of that stress comes in. There are so many elements that have to come together.
Every six months, I get to my "fill" point, and I'll take a long weekend. I'll save up a lot of my vacation time for winter because I'm a big skier. I spend a lot of time out west in Tahoe and Colorado. That's a big stress reducer for me.
R.A.P.: How's your relationship with the sales department?
Keith: Very good. The sales department played a big part in me getting the job. I was doing things for them when I was working part-time and overnights that pleased a lot of the salespeople. A lot of them pulled for me to get this job. If it weren't for these salespeople and George Lowe, the morning show producer, I probably wouldn't be in the position. I've weathered this first year of hell on earth and emerged a stronger and more calm person for it, and I think the salespeople are all happy with me. I go into the sales meetings a couple of times a month and say, "Okay, bitch at me. What do you need more of? What do you want done differently?" For the most part, we all get along, and again, I'm friends with a lot of them.
R.A.P.: Any plans for converting to digital production soon?
Keith: There are plans to take that old 8-track studio that nobody will even walk into and transform it into a digital studio. We recently had a brief look at the AKG DSE-7000, but to be honest with you, with the way the economy is right now, a lot of things are on hold for the time being. We're considering it but not moving on it right now.
R.A.P.: What's in the future for Keith Eubanks?
Keith: I've never even been to New York or LA, but for some reason, I might want to work in one of those markets somewhere down the line -- maybe at an ad agency again, but it would have to be in a creative capacity.
For now, I couldn't ask for or create a better environment anywhere, and Rick Stacy has been just wonderful to work with. To get the support from the sales staff and everybody else is just great. It's a tremendous experience to be here. Sometimes I wake up and ask, "What am I going to do one day?" I've achieved this goal I never ever thought I would achieve at the age of twenty-nine. I'm at the only CHR here, doing what I want to do. I really don't want to go anywhere else.
♦