Arden Hanley, Senior Imaging Producer, Capital 95.8, London, UK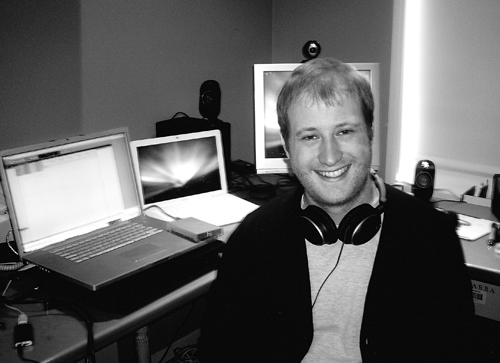 By Jerry Vigil
Each year, we try to visit with at least one or two of our RAP Awards trophy winners, especially newcomers to that short list. Taking home the top prize for Large Market Promo this year was Arden Hanley, Senior Imaging Producer at Capital Radio in London. Recognition for his work is nothing new for Arden; he has many other awards under his belt from competitions in Australia, New York, and the UK. We get better acquainted with Arden in this month's RAP Interview, who started his radio career in Australia at the very young age of eight! After a rapid rise through major stations in Australia, a sight-seeing trip to Europe eventually turned into permanent residency in the UK, where Arden now handles the imaging for one of London's first commercial radio stations. Be sure to check out this month's CD for an awesome sampler from Arden, including his award winning promo.
JV: How did you get your start in radio and what were some of the highlights in your early career?
Arden: I started off in community radio back in the area where I grew up, a radio station called FM 104.7 in Morwell, which is in part of Victoria called Gippsland, obviously in Australia. This was in 1987, and I was eight years old at the time. I used to do an after-school show. I was rather lucky that at that time the station did have a fair amount of younger people involved who were learning radio and volunteering at the station, although I was the youngest there. I always had an interest in the more technical sides of radio, and luckily for me I got the chance to volunteer in their production studios, as well as doing my after-school show. The majority of work I did on tape before the digital explosion actually happened at that community station with a splice block and razor and three 2-track tape machines to put things together. After that I was lucky enough to work mostly with digital systems, as around the time I started in commercial radio, the first digital systems were coming into Australia, and I managed to move into jobs just after they were introduced.
So I used the skills that I learned as a volunteer in a community station to get my first full-time job at the local commercial station, which was called 3TR. Then when I was 16, while I was doing high school, I got a job tech op-ing the local football call on the local commercial station. That was in 1995. While I was there, I was very lucky to have quite an understanding and inspiring PD who let me try out everything from announcing to production to some writing, and he really helped me develop my skills along the way. When I finished high school in 1997, he'd moved on to another station in Victoria called 3SH in Swan Hill and asked me if I'd like my first full-time job in radio.
So I had my first real radio job at 3SH in Swan Hill at the start of 1998. We were a staff of 5 people running 2 different formats out of that building, so I got to be an announcer, a copywriter, production guy, and even read the news a couple of times when we were short of staff, as I think a lot of people who start off in radio do. The smaller stations are a great grounding to try a whole lot of different things and see what works best for you and where your passion in this industry lies.
JV: And what did you find about your passion at that time?
Arden: I found fairly early on that not only was I a much better production person than I was in front of the microphone, but I also enjoyed that side of things a lot more. So I started developing my production skills and trying to make contact with some of my industry peers and sort of soak up all the knowledge that I could.
After that, in 1999 I went to a duopoly in Canberra, which was FM 104.7, a rock station, and Mix 106.3, which was a 25+ female-skewed AC station. That was my first production team there. I was hired by a guy called Mark Jennings, who I think had been in that market for probably five or six years by the time I arrived and had a long history of big markets in Australia under his belt. I was lucky to work with him, and he sort of taught me a lot and got me prepared for working in big radio stations rather than smaller stations. That was the first time that I had a job which focused me solely on doing production, and I really started to hone my craft there.
JV: Where to next?
Arden: Later that year, I think in no small measure thanks to some great guidance from Mark, I moved on to Today FM in Sydney to work on the Hot 30 Countdown, which was at that time, and still is, a national night show around the country. At that stage, I was working in the production department, but day-to-day on the show. It was a small team of us that were putting together the nightly countdown every night, editing a lot of celebrity interviews and such. It was a lot of production that needed to be done on a nightly basis — comedy sketches and various bits of imaging for the show. That was also my first major market experience because Today FM at that stage, and I believe it is again right now, was the number one music station in Sydney. So being based in that building you got to work with the best of the best in the radio industry at the time. That was a fantastic grounding and a fantastic station to develop your production skills in because you had a big reputation to uphold there.
After that, I went to Nova 100 in Melbourne, which was the second of the Nova radio stations to launch in Australia, and I was part of the launch team for that station. I had the fantastic experience of joining a team where we got to build a radio station from the ground up. That was in 2001, and we started off as a team of 3 production people covering all the sort of production needs of the radio station leading up to launch day, working in various studios around Melbourne, wherever we could get studio time while our studios were still being built. They built the production studios first, and in the last week and a half preceding the actual launch of the radio station, once the builders had left for the day and it wasn't a construction site anymore, we'd go in there and work at night and do all the production for the radio station until the builders got back there at 4:00 or 5:00 in the morning. We'd clear out and go get some sleep while the builders carried on putting together our radio station.
JV: You eventually left Australia. When and how did that happen?
Arden: Nova was the last station I worked at in Australia. I was there from 2001 through to 2006. Then in mid-2006, my partner and I decided that we'd like to go and see the world and see a whole lot of Europe before we got too old and responsible. My partner has British parents, so we made our first stop in the UK, London, and we've been there ever since.
In addition to my work with Nova, I was lucky enough by this stage to have started consulting a radio station in Germany called Big FM, a big CHR station. They cover a fair proportion of the southern half of Germany, and they're based in Stuttgart, which is the home of Mercedes and Porsche and a whole lot of very nice cars. After moving across to the UK, my first bit of work was sort of upping my commitment to them, now that I was on the same side of the world as them. I built a bit of a network of contacts in the UK and made sure everyone knew who I was and knew I was there and available, and after a few other small projects for a station called FM 107.9 in Oxford and XFM in London, I was lucky enough to land a gig at Capital Radio in London.
JV: Before we move on to Capital, tell us a bit more about the consulting that you were doing for the station in Germany. On what level was this, production, or programming?
Arden: I was actually introduced to them through a programming consultant I know called Simon Mumford. He is still their programming consultant to this day. He's done a lot of work with them, sort of building their brand and honing their brand. But he identified fairly early on after he started working with them that they needed a little bit of help on the production side of things. So the consulting work that I do with them sort of involves developing the sound of their station and working a lot with the people on the ground there. In the whole time that I've worked with them, they've always had their own local producers. And rather than me just being a production service that delivers something to them once a month or once a week, I've spent a lot of time working with their local producers and giving them the skills, so if I do deliver them some bits of production once a month, then in the times in between, they have the skills to make things that will sit alongside that. So as well as doing the production work and working with the programming team there on developing their station sound, there's been a fair amount of training there as well for the various producers they've had come through the ranks.
JV: How do you like teaching?
Arden: I quite enjoy that side of the job. I've been very lucky along the way to have learned from some excellent producers, starting with Mark Jennings and Brendan Taylor who I worked with at Today FM and Vicki Marr who I worked with at Nova 100 and Jeff Thomas along the way — I've spent some time learning from the master there. Having learned so much from those people and lots of other people that I've worked with along the way, it's great to be able to pass on some of that knowledge and some of those skills to other producers. It's especially interesting because my German is probably only passable enough to order me dinner in a restaurant and not much beyond that, and I realized that some of the truths about radio are quite universal, and they cross a lot of borders and a lot of boundaries, and there are things you can teach people about radio that aren't reliant on what sort of language you speak. There are so many things you can teach people and that you can learn from people working in radio as well, because it is such an emotional medium that works on that emotional level and connects with people regardless of what language you're talking at the time.
JV: Have you pursued teaching any further?
Arden: I've been lucky enough, at a couple of points in my career, to speak to radio classes in Australia about production. And at various other points, I've done sort of ad hoc work for other radio stations, training particular people. But probably my biggest job on that side of things has been the guys with Big FM in Germany. That's certainly been my longest running kind of teaching gig, I suppose.
JV: Do you find any differences between UK radio and Australian radio?
Arden: I find quite a huge difference between UK radio and Australian radio actually. A lot of that is driven by music styles. Australian music taste is probably quite a lot closer to American music taste, obviously with Australian artists thrown in. If you look at the top 40 in America and the top 40 in Australia, you can see a lot of crossover between the two, and especially, I think Australians and Americans both sort of share that love of the big rock sound. Australia's also embraced a lot of urban music that's topping the charts in America at the moment.
One of the interesting things about moving to the UK is, while you still have some of that crossover, the UK has its own very unique sound as well. They still like the guitar in the UK, but it's a different style of music. They're probably a lot bigger on pop music in the UK as well. So that already kind of changes the way you approach imaging to a certain extent.
There's another thing that I really noticed, coming from Australia and going to the UK. At the core of Australian radio, even before you get into building a promo and creating a great sound and a great image for the radio station, you sort of start off with this kind of dry Australian sense of humor as the backbone for it. It took a little while to sort of switch my thinking across to the UK where it starts off a little bit more in the beginning with those basics of making really great sounding radio imaging and the imaging that jumps out of the speakers, beginning at that point rather than beginning from the more relaxed and humorous side that Australian imaging does.
JV: What are your responsibilities there at Capital?
Arden: Well, there's James Stodd who's the head of production and me as the senior imaging producer, and we share a lot of the imaging responsibilities for the radio station. Capital is set up in such a way that neither of us take responsibility for particular shows or particular day parts. We're in contact pretty much on a daily basis, talking about which particular things each of us has the skills to attack best. We're also quite lucky that our breakfast show and our drive show and our night show all have a support staff working with them as well, people that have some great basic technical skills as well. We've got guys on the ground for each of the shows that can focus on things like cutting up interviews and packaging up small bits of content, and that allows the production team to focus just on imaging and branding the radio station.
So I spend probably the majority of my day sitting in a studio and thinking how can I make Capital sound great today, and that's been pretty much my job description from day one, and that's the way I continue approaching it.
JV: That sounds great. It sounds like you're not overwhelmed, and you have time to create some great radio. Would you agree?
Arden: Yeah, I've been quite lucky since I've been at Capital. While it gets very busy at times, there's always been enough support around that you never feel like you're chasing your tail. You've always got enough time to stop and think for a moment about what's the best way of approaching something, which is nice – it doesn't always happen in radio. A lot of the time in radio, and at a lot of the stations I've been at, you spend so much time working just to sort of clear your "In" tray of everything that's coming in, and it's nice to be at a radio station where part of the brief is building enough time into your day to think about what you can do to make the station sound great every day.
JV: Capital has undergone some recent ownership changes in the evolving UK radio market. What's the latest?
Arden: GCap Media owned Capital up until the end of May, and now we've been bought by a group called Global Radio who have also bought one of the other big radio groups in the UK called Chrysalis who owned one of Capital's competitors in London, Heart FM. So we're waiting to sort of be joined together with them and welcome old foes into the fold, so to speak, so that we can all start working on the same thing now.
In the UK at the moment, Global probably are the biggest radio group. There's also a group called Bauer, which is probably the second biggest media radio group in the UK, who own stations all across the country as well. And there's another group called Absolute Radio, which is quite new on the scene. They've only owned very small stations in the UK up until this point, but they've just completed buying Virgin Radio in London, which is a national radio station.
At the moment, the UK market has three big commercial radio groups. Then the BBC as well, in the UK, is quite a force to be reckoned with. That's a public broadcaster, and they have quite a number of radio stations, one of which is Radio 1, which is a youth-targeted radio station and is a national radio station that for a long time has been right there at the top with all of the commercial radio stations. That's another interesting change from Australia as well, and I think that's a difference from the American market. In the UK, the national public broadcaster is such a strong force to be reckoned with, and that keeps the whole commercial radio industry on their toes.
JV: Congratulations once again on your trophy winning promo from the latest RAP Awards! Tell us a little bit about the promo and the creative process involved?
Arden: First a little background on Bam Bam. He was quite famous in UK radio for saying things that he wasn't supposed to say, and he racked up a number of broadcast fines in his time on a rival radio station in London, Kiss FM, when he was doing the breakfast show there. So when James Stodd, Scott Muller and myself, were talking about how we brand Bam Bam, since he'd been signed to Capital Radio to do the night show, we sort of started at the point that what came out of his mouth could be potentially dangerous for everyone involved.
I think the promo that won the award began life as a brainstorm session, which sort of spanned about 2.5 days in all, as we sort of looked at every possible angle that we could take with Bam Bam's character and Bam Bam's show in the imaging sense. We wrote at it from a lot of different angles and a lot of different creative treatments. Finally, we got to the point where, I can't even remember which of us, at the end of the day came up with the idea of having an eight-year old read sections of Bam Bam's show opener. But we had an amazing time, the three of us, thinking about what we could get the eight-year old son of our marketing director to say that would give the impression of him using some rather blue language without getting our marketing director into horrible trouble at home with his wife.
JV: How much time did you spend actually producing it?
Arden: I think that particular piece I probably spent about three to four hours producing. Some of the sound design at the front, especially using some of the different clips, a lot of those came from film and TV and pieces from artists that we had intermixed with voiceover people as well. There's a fair bit of production detail in there, which took up the bulk of the time. As often happens with quite simple ideas that turn out to be the best ones, the faster part of the promo to produce, was the ear-catching part with our young boy giving the disclaimer towards the end of the promo.
JV: Before we wrap it up, you have your own company called Ruptured Spark. Our readers might be familiar with an advertisement or demo they heard on the CD recently. Tell us about Ruptured Spark.
Arden: Well, I started Ruptured Spark while I was at Nova 100 in Melbourne. I was having difficulty finding the type of sounds I wanted for my production from what was available in our market at that particular time. There were a lot of great libraries out there during my time there, but unfortunately, a lot of our competitors had them licensed. So I was stuck in a situation where I had to image a radio station, and I was missing that imaging effects library, one of the essential tools you need to do that. So I started getting home at night and putting together my own sounds, initially just in mind for taking care of the one radio station I was working on. Then as my library of material grew, I started to think that they might actually be useful to some other radio stations around. So I sent out some feelers to a few of my colleagues, and they expressed an interest, and from there Ruptured Spark was born. I started off with that first CD in 2003, and in 2007 I completed the second CD with a similar idea in mind.
I approach a lot of the material that I use for Ruptured Spark first thinking about what I need for the radio station I'm working on and the kind of things that I need that will work really well for me. Then I construct them in such a way that they're easy to break down and easy to customize. They're in workpart form, so that hopefully they can be used by other people out there as well.
♦