Page 3 of 3
NEW PLUG-INS
Although technically not new, since they were released as free upgrades for Pro Tools version 6.9, Digidesign has given us two new standard plug-ins that represent substantial improvements on the older versions.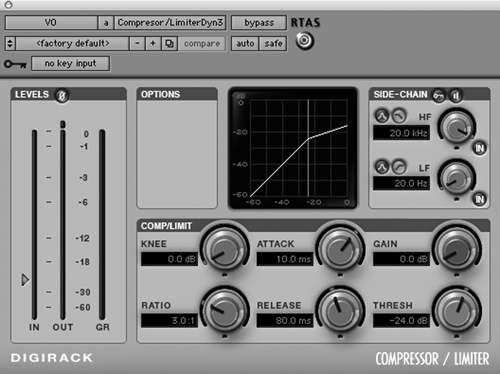 Dynamics III represents a step forward, not only in terms of the user interface (see figure 7), but also in terms of sound. The old version was typical of early digital compressor plugs — it works okay, but it was sterile and often abrupt. Dynamics III is much smoother sounding, and while it doesn't have much in the way of "character," it's processing is far more subtle, even when pushed.
Like the previous Dynamics II, Dynamics III comes configured three ways — as a compressor/limiter, and expander/gate, and a de-esser. (Y'all know that those are all just re-jiggered compressors, doncha? 'cause they are.) But as you can see from figures 8 and 9, they're substantially more useable and give you a far clearer picture of what's going on at any given moment.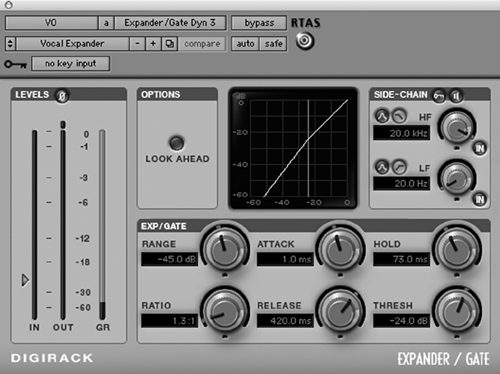 The other upgraded plug-in is EQ III, the first really good-sounding equalizer ever included with Pro Tools. It's available in one-, four-, and seven-band versions, and each includes both a high-pass and a low-pass filter. As with Dynamics III, the interface presents settings in a clear and concise fashion that make it immediately useable. Did I mention that it sounds good? EQ III competes well with third-party EQs, and goes easy on the CPU to boot. I like it.
Because of the architectural changes to Pro Tools, not all third-party plug-ins have as yet been updated to run on version 7. This is because Pro Tools 7 has changed the plug-in executable format on both platforms to improve efficiency, and on HD systems the DSP-manager has been changed for the same reason. So one way or the other, you're likely to need updates to all of your plugs within the next year.
Digidesign maintains a complete list of compatible and incompatible plugs at www.digidesign.com/developers/plugin_info/grid/, and as of this writing there are more compatible than incompatible plug-ins displayed there. But I'll definitely have to update my Waves plugs, along with the Sony Oxford compressors.
TO UPGRADE OR NOT
I don't think this should even be a question. If you're a Pro Tools user, the upgrade to version 7 is a must-have. Pro Tools is truly an industry standard, and one look at the DAW Network on www.rapmag.com will tell you that there are more Pro Tools users in production than ever. The upgrade for LE and m-Powered versions is $75 US, and for HD users the price is $150 US. If you're one of those users, Steve sez go do it. If you're on the fence about Pro Tools, version 7 may be just the thing to push you over.
For more information, visit www.digidesign.com.
♦