Page 2 of 3
THE BIG REORG
Once you've opened a session in Pro Tools 7, you'll see that it doesn't look much different than version 6 at first glance. But look around — the old neighborhood has changed.
Evidently Digidesign has been listening to its end users, at least in some areas. The improvements are most evident in the menu system, which has always been a pet peeve of mine. Previous versions of Pro Tools have evolved by sticking new functions under menus that often made little sense — for example, I've always hated the Display versus Windows menus. See, you used the Display menus to choose what parameters would be visible in say the Mix window, then used the Windows menu to make the Mix window actually appear in front. Perhaps it was just the poor choice of terms, or the fact that they were right next to one another, but it didn't work for me.

Figure 3 shows the version 7 menu bar above the menu bar from version 6. As you can see, the new menu bar is much better organized based on how we all work. The Window menu is still where you make the Mix window come to the front, but the Displays menu is replaced by the View menu, which is now located on the left side (figure 4). The new Track menu is where you create, duplicate, and delete tracks, which makes far more sense than having those functions under the File menu as they were in version 6.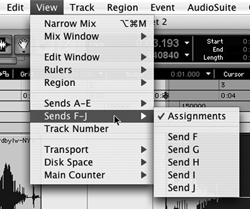 Please note that while most of the illustrations here are taken from a Macintosh, the Windows XP version of Pro Tools 7 looks identical. In fact, there are those who argue that Pro Tools is now more stable and substantially faster on a Windows XP machine than it is on a Mac, which amounts to a one-eighty turn from the situation a few years back. It will be interesting to see how that plays out on the new Intel-powered Macs.
The Duplicate track function now asks you to specify exactly what you want duplicated — just audio, or audio plus automation, sends, groups, etc. — as well as how many copies you want. The old Show/Hide list is now known as the Track List, and has extra options for organizing your tracks by groups, name, and so forth.
There's more... the much-used Import Audio function used to be nearly impossible to find on the little gray bar above the right-hand Region list. Never mind the fact that that gray bar was simply labeled Audio and looked like a decorative element until you clicked on it and revealed the drop-down menus. It also made that function difficult if not impossible to script with a macro program like Quickeys, since that drop-down wasn't part of any organized menu structure. You had to write the macro to click-and-hold at a certain point on that window, and hope for the best.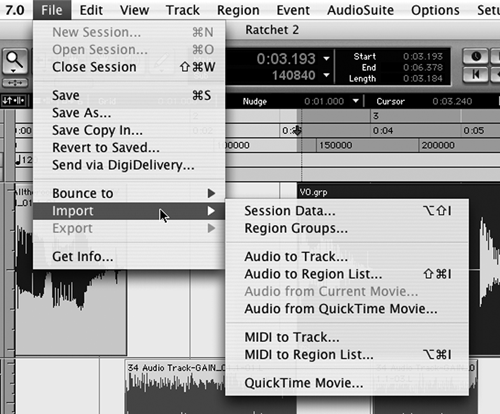 Import is now underneath the File menu where it belongs in version 7 (see figure 5). Better yet, the Import menu has submenus attached to it that among other things makes it simple to decide if you want to import audio just to the region list, or have Pro Tools automatically create an appropriate audio track and place it there.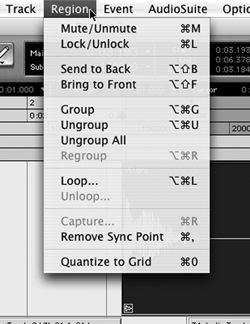 One new feature that makes me happy is the ability to group audio regions, a function that exists in several other high-end editors but has been lacking here (figure 6). Located under the new Region menu, the Group command essentially turns two separate audio regions into one for purposes of moving, editing or muting, without having to use the Consolidate function that re-writes the selected regions into a whole new audio file. Of course, these regions can be ungrouped later, but meanwhile they remain as a new region in the Region list and so can be used again on a track as a grouped unit. Nice.
Gimme a big "hallelujah!" here: Pro Tools 7 supports up to 999 memory locations (that's Markers to you), up from the previous 200. I can't tell you how long that's been an issue for me, particularly when marking fluffs in a four-hour VO session.
There are a lot of little things that make Pro Tools 7 a pleasure. For example, you can now resize the I/O window, which is very handy when you have multiple monitors or a large number of physical inputs and outputs. You can now drag and copy Send slot assignments to different mixer channels, in the same way you do on insert plug-ins. This makes setting up a cue mix a quick process.
You can now drag and drop audio files directly from the desktop into the Region list, a real time-saver. And when adding multiple Regions to the Edit window you can choose whether each goes on a separate track, or each is stacked in series on the same track. Finally, enabling a new option called Link Track and Edit Selection automatically selects the Track when you click on a Region within that track.
Unfortunately we didn't get one feature that we really need, and that's audio bins or folders that help organize regions. It's not uncommon for me to end up with several hundred regions at the end of an intense promo with lots of edits, and all those regions end up just sitting in that loooong region list on the right. Sure, I can sort them by timestamp or alphanumerically, but what I really need to do is plop all the VO regions into a folder within the region list, and do the same with the music and with the sound effects. Maybe next time...