Rich Boerner, Ronn Lipkin, Rob Frazier, KLSX FM Talk, Los Angeles, CA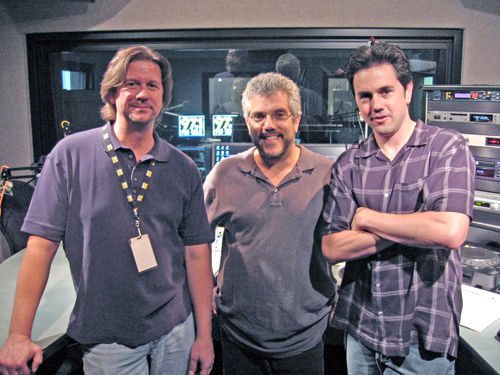 By Jerry Vigil
A few stations are lucky enough to have one amazing person in the production/creative department. Several names come to mind. You know who they are. But how many stations can claim a trio of super talents? And how often do you find three talents of this caliber all focusing their creative genius on just one radio station? It's a recipe that's working well for KLSX 97.1 FM Talk in Los Angeles. Don't let their 15th ranked 12+ numbers fool you. They're ranked amongst the top five billing stations in LA. They have been consistently ranked #1, 2 or 3 in the Infinity cluster for the past two years. Last year, the station billed 37 million. And they do it by relying 30-40% on local business. Rich Boerner, Ronn Lipkin, and Rob Frazier. Check your back issues for background on these gents. We interviewed Rob most recently in July of 2003. We visited with Rich ten years ago in March of 1995. And it was over twelve years ago when we checked in on Ronn in January 1993. The trio picked up RAP awards in all three categories this year, adding to an already overstuffed trophy case. It's perhaps radio's most powerful creative team, and this month we check it with the three R's to find out a little more about what makes this team work so well at generating amazing amounts of direct sales revenue.
JV: Rich and Ronn, it's been over ten years since we interviewed each of you. Ronn, you were at KLSX even back then, and Rich, you were at WTKS in Orlando. What are some highlights from the last ten years for each of you? Rich, how did you wind up at KLSX?
Rich: Well I left WTKS in May of '96 to go to San Francisco to put Alice@97.3 on the air. I went in as the Creative Director/APD and within a month was interim PD. The station was exciting, but a bit unstable. That's when I started getting the calls from KLSX in LA. I loved San Francisco but Bob Moore basically said, "I want you in LA, what will it take to get you here?" I told him and he said, "You got it!" I started here in December of '96.
KLSX was still struggling at the time, and with APD and weekend music responsibilities, I wanted to make sure that Ronn Lipkin, who had been there 5 years already, was not paranoid about me coming in. So I got KLSX to buy a new Pro Tools system for him. Kinda my way of saying, "you're an important part of what we're going to do here."
Ronn: The biggest highlights were the birth of my kids. Ian was born in '96, Troy in '98. As far as radio goes, moving to our new studios earlier this year was big, almost like getting a new job where you know everybody but the equipment's brand new. Let's see, other highlights would be the Moody Blues at the Whisky in '93, some of the Stern broadcasts, watching Brian Wilson's band rehearse... it all reminds me that working in radio offers unique, exciting opportunities.
JV: What are your titles and responsibilities?
Rich: I am the Creative Director/APD and leader of the pack. Ronn is Production Director and Rob is Commercial Production Manager. But honestly, I consider the three of us equals creatively. I just happen to have a few more managerial responsibilities.
Rob: As the Commercial Production Manager, I'm mostly responsible for writing, voicing and producing commercials. There is some promo work.
Ronn: As Production Director, along with Rich and Rob, I get to turn electricity and words into cash.
JV: Rich, how did the in-house agency thing come to be? Is it handled as a separate business within the station?
Rich: The agency deal happened in '99 in the middle of the dot-com explosion. We were probably pushing 45% local business back then, and our GM Bob Moore allowed me to take control of the entire department and expand it by, for one, giving us three full time production people. We started running weekly creative meetings for clients and super-serving our customers. The positive billing results followed.
We don't run the department as a separate agency; it's part of what you get when you buy KLSX. It's a very powerful sales tool for our AEs.
JV: What's the typical procedure to handle a client who wants you guys to do a commercial for them? Are all of you involved in a creative meeting? Do you visit the client's place of business? How much time are you given to turn spots around? Is the creative done first, then the buy placed, or are you on constant deadlines?
Rob: It's pretty fluid in that it depends on the situation. Sometimes all of us are involved in a spot, sometimes two, sometimes just one of us is involved. Clients that we have worked with in the past may already have a creative relationship established with one or more members of the team. New advertisers may meet with all three of us at first. I have on occasion gone on calls with salespeople, and it is always helpful to meet with the client on his or her own turf, but it is the exception more than the rule. As far as spot turnaround, we're no different than the other production departments in that we get anywhere from a week to 12-hours notice. As for which comes first, the creative or the buy, sometimes the creative is what closes the deal, which is somewhat rewarding.
Ronn: We all sit down on Wednesday mornings for our creative meeting, which is designed to help new clients get off the ground with their spots, or to help existing clients freshen their campaigns. AEs sign up for the meeting in advance, and then they either bring in their clients in person or we do a conference call.
The AE's and the sales managers have a good grasp of how long it takes to come up with something effective for their clients, so we usually have deadlines that range from 72 hours to a week to turn something around. Except, of course when they need it yesterday.
JV: To what to you most attribute the success KLSX has had with the direct advertising, with regards to what your doing with the commercials? Is it a Roy Williams approach you're taking with the clients? Is it more about creating "entertaining" spots? Why are the commercials working for the client?
Rob: We make better commercials because we care about making better commercials. Some people think "Less is More;" I think better is, well, better.
Rich: In a perfect world, it would be creating spots and promos that I think are cool and funny. But we all know that's not how it works. For promos, I pretty much have complete creative freedom. The only restraints are FCC and time. Because we run the syndicated Tom Leykis show in PM drive, I try to keep all promos 35 seconds or less. Commercials are a different animal. It really depends on the AE and the client. Our experienced AE's know what a creative tool we are and sell us as such, which gives us a little more power when dealing with clients. No matter, we will always try to explain to clients what we think will work best for them on KLSX.
Ronn: Sometimes we go cinematically crazy, and sometimes we're just real. I think that the best campaigns we've done are free of "ad speak" and meaningless, clichéd jargon. If a client has something worth selling, we try to get the word out by [gasp!] actually speaking like a person to our listeners. Also, since we have a lot of mortgage clients who like to voice their own spots, one thing that's been successful is to make the clients feel comfortable during their recording session. And it's not just getting them coffee — I make the AE do that, come on — it's helping the client/spokesman to relax, to speak in words that he normally uses, and to convey the enthusiasm that helped him succeed in business in his spot. We've built some big business doing that.
JV: Are there other things that you would attribute the direct sales success to? For example, are there more salespeople selling direct than the average station might have? The station is ranked 15th in the market, but it's a top biller. What else does the station do, if anything, outside of what you three do, to make this happen?
Rob: For starters, I think there is more direct selling in talk radio simply because there is more inventory to sell. Having "controversial" personalities like Howard Stern and Tom Leykis on the roster also adds to the importance of local direct advertising in that many national clients have specific orders that their spots not run in "controversial" programming. These shows however have huge, devout followings that any advertiser would benefit from reaching, and our local direct advertisers do just that. Many well-known local businesses got to be well known from branding themselves on KLSX. The station is also a solid performer in the 25-54 demo, consistently in the top 5.
JV: Do you all work together on promos and imaging as well? How does that work?
Rich: Promos and imaging are primarily my domain. I work with Ronn on the most complex ones, because we've been doing that for 8 years, plus he's a Pro Tools magician. During the past year, I've been able to get Rob more involved in the promo process too. Both those guys are delightfully twisted in different ways.
Ronn: I enjoy working with Rich when he's constructing imaging and promos. Sometimes I'm there as engineer, sometimes as a voice guy screaming and laughing hysterically — why am I so good at that? — and sometimes I'm just the admiring spectator to the creative madness.
Rob: Ronn and Rich still do most of the promo work, but I am getting more involved with the promos and enjoying every minute of it.
JV: You have a unique arrangement of 3 full time production people, and a part-timer as well, all working for just one radio station. Is it the in-house agency thing alone that requires the extra bodies? Is the Talk format itself more production intensive than a music station? Perhaps it's a combination of both?
Rich: It's definitely the combo. As an FM Talk station we basically have morning shows 24 hours a day. Plus 18 spots an hour, promos, and live paid programming weekend shows. There is a LOT of production involved in just maintaining a product like that. But we try to do more than maintain. We strive to improve a little bit every day. We want to have the feel of the upper end of KROQ. We have high energy, sarcastic promos, alt-rock "97.1" jingles that totally rock, and spots which attempt to entertain and sell effectively.
Ronn: Our GM, Bob Moore, realized a long time ago the value of producing spots in-house, and with the inherent extra inventory in Talk, there are plenty of opportunities to create campaigns.
JV: You are all very creative and talented individuals. What's it like to have each other to brainstorm with every day? Do you each have special areas of expertise the others draw from, regular creative meetings or brainstorming sessions where all three of you are involved? The combination of all your talents in one building is a powerful creative force. Give us an idea of what it's like to have that creative force around every day.
Rob: The key word here is individuals. We are three creative individuals who can brainstorm together or just as easily come up with stuff on our own. We have our formal creative meetings with clients and sales once or twice a week where we will all kick around ideas in an open setting. Rich's office is right across the hall from my studio, so I can always pop in there if I'm stuck. It really is nice to have these guys available to bounce ideas off of. I like your use of the phrase "creative force" because that is what we are. We have such a strong track record with sales that we are viewed as an indispensable resource. We make them money. The clients come to us believing we are the experts and that we will deliver for them. Most of the time we do. But it all starts with "creative and talented individuals."
Rich: I use and abuse those guys…bleed them dry creatively. Then tell the world "I work alone." Seriously, they make me look like a freaking genius every day. My creativity came from childhood head trauma. They're just messed up. It's a very cool mix of mania.
Ronn: Thank you for the kind words. Rich and Rob are always up to something. Rob played me his newest Acid creation "San Francisco" the other day, in which he reanimated Jack Kerouac, which was inspiring on many levels. As for Rich, well, he's always encouraging me to think outside the box, then throw the box away and use something else, like a trapezoid. And then make fun of the trapezoid, and so on.
JV: Do you go outside of your own team for creative input and feedback, brainstorming with other individuals for example? What are some other outside sources you use for ideas, such as websites or books or other services.
Rich: I use everything I see, hear, feel, think. Then use Rob and Ronn as creative soundboards. We also have a very helpful Friday ritual at a restaurant-pub called The Brass Monkey in which we find many creative ideas tucked away in juicy pastrami sandwiches and longneck bottles of fermented barley and hops.
Rob: Yes, the Brass Monkey has been an excellent source of inspiration for the creative team. And never underestimate the power of beer. Karaoke starts at 4:00 on Friday! Seriously though, as far as outside influences go, having a life outside of the radio station is paramount. Real life experiences are the fertile soil from which much creativity springs. Professionally, I visit a lot of industry sites, both radio and advertising, and subscribe to several newsletters from people like Roy Williams, Dan O'Day, Mark Ramsey and so on. And I read books both about and not about radio advertising.
Ronn: I try to listen to my kids, and the way that they are totally uninhibited creatively, and then try to let go of my own set ideas. If that doesn't work, I drink beer and listen to Wagner opera. Wagner rocks, dude.
JV: Few stations can afford to staff their creative team as well as KLSX has. Do you have any ideas for the 2 guys handling 4 stations in a typical medium market cluster, ideas to help them expand their creativity? What can they do in lieu of having a couple of you in the building?
Rob: Produce for yourself. Obviously, everything you produce can't be a masterpiece, but they don't have to be steaming piles of crap either. Set yourself a standard and then do your best to meet or exceed that standard. Most of the time you will be the only one who takes any pride in what you've done, so don't let yourself down. Pick where you think you can shine and then shine! Shine brightly! And be sure to let other people know how brightly you shine! Take a page from sales; if you produced a spot that closed a big account, have the AE send an email to your PD, GSM and GM about how your great work benefited sales and the station. Make sure that the station knows what a valuable resource you and your department are to the station's bottom line. Once you change management's perception of your department from something that costs them money to something that makes them money, you'll start getting more of what you want or need. Seminars, music libraries, and new gear are now investments that enhance the bottom line.
Rich: Pray… drink… utilize RAP magazine for ideas. Explore the Dan O'Day and Roy Williams creative seminars. Get out into the public as much as possible, then use real life for ideas. You experience the same things listeners do outside the studio.
Ronn: That's a tough question. I think it's important to set reasonable deadlines with the salespeople and to make sure you have all the tools you need, like a good music library, sound effects and such. Then, don't take the job home with you. It'll keep you fresh.
JV: Clients probably want to run the commercials you create on other stations, even outside the Infinity chain. What will the average spot cost the client for air on other stations?
Rich: We created a very thorough and nicely bound 13-page "KLSX Advertising and Production Handbook" that outlines who we are, what we do, how we do it, and how salespeople can get spots done effectively. And it also includes a rate sheet for spots that leave the station. The minimum cost of any spot to leave the station is $300. It goes up from there with multiple voices, needle drops fees, etc.
JV: Rich, I know you had a CD of comedy stuff you sold at record stores back in the '90s. What are each of you doing, if anything, outside of the KLSX gig? Do you have a voice-over biz going? Freelance production or writing?
Rich: LA's been great to me. My freelance company RBCreative.com has really benefited from the move. I've continued to do voice and image for stations. However, in '03 I became an on-call image consultant for a number of Canadian stations in the Corus Entertainment chain. I've put on successful Creative Imaging and morning show seminars for a bunch of them. On the VO front I've been able to secure an agent and have done a few national radio spots and some promo work for Fox TV and UPN.
Rob: I have a growing voiceover business and am in the process of hiring an agent. I have several regular freelance clients and I'm looking to expand in the Haunted Attraction arena this year. I also like to dabble with electronic music as my alter ego Robnokshus. By the way, you can hear a wide variety of my stuff at www.robfraziercreative.com.
Ronn: I've got some voice and editing projects going, like for Boston Medical Group, Maximum Testosterole, Soleil Resorts, mostly things that run on KLSX that I've been lucky enough to have expand to other markets.
JV: Do you all have studios at home? What's the setup?
Rob: I have a small setup at home with Vegas, Acid and Sound Forge, running on a 2.5 gig AMD Athlon machine. I have an AKG 2000B mic running through a Symetrix 528E, through an old NuMark DJ board into my sound card. The AKG is a nice, warm condenser mic for under $300. I mostly do Acid stuff at home.
Rich: No studio for me. As a single dad with two kids, my home time belongs to me… and my kids.
Ronn: I mostly use my home computer to research my kids' homework and juggle my fantasy baseball rosters.
JV: What's the studio setup at KLSX?
Ronn; Our new studios are great: digital SAS Rubicon consoles, all new Pro Tools and Sony software, fast computers. I'm still amazed, on a daily basis, at the tools Infinity has given us.
JV: Any parting thoughts for our readers?
Rob: It's nice that the industry is paying attention to the commercials that we put on the air. Whether it's concern over commercial load, commercial length or commercial quality, what we do is currently in the spotlight. Capitalize on it. Learn to promote yourself and what you do for the station's bottom line.
Ronn: I think there'll always be a need for creative production, even more so in the age of Podcasting and satellite radio. There are more opportunities than ever to have fun with audio and make a living at it.
Rich: Challenge yourself every day. And if you're not having fun… find another job.
♦