Page 3 of 3
OTHER GOODIES
Forge 8 now lets you re-map the keyboard commands as you wish. This is great for those of us who switch between different editors, each of which has its own set of key commands for specific functions. It's simple enough to use — all you do is find a command in the Current Key Bindings list and press the desired key combo. Or you can select a new key combo and scroll through the Available Commands list to assign the combo. Beware that the list is interminably long, which I suppose is a good-news bad-news joke. But being able to re-assign keystrokes to keep them familiar between Forge and my other editors is worth the price of admission all by itself.
Sony has also decided to add support for two very important formats in Sound Forge 8 — ASIO and VST. ASIO stands for Audio Stream In/Out and was developed by Steinberg. It's a little piece of software, specifically a driver, that facilitates communication between your computer and your sound card. VST stands for Virtual Studio Technology, and is also a Steinberg creation. VST is a format for plug-ins, and both ASIO and VST have been made publicly available at no charge to other manufacturers. As a result, most every popular audio card has an ASIO driver, and as we've seen in past reviews there are literally hundreds of excellent VST plug-ins that are either free or very inexpensive.
Why are ASIO and VST important additions to Sound Forge? Because in my experience ASIO drivers are among the most stable available, and have the lowest latency of any driver. They beat the living you-know-what out of Microsoft's Wave Driver and MME driver, and don't get me started on that last resort, Microsoft Sound Mapper. They're fast, responsive, and about as foolproof as a driver can be. Heck, there are nice ASIO drivers for even a rank entry-level Sound Blaster card that can make it quite useable.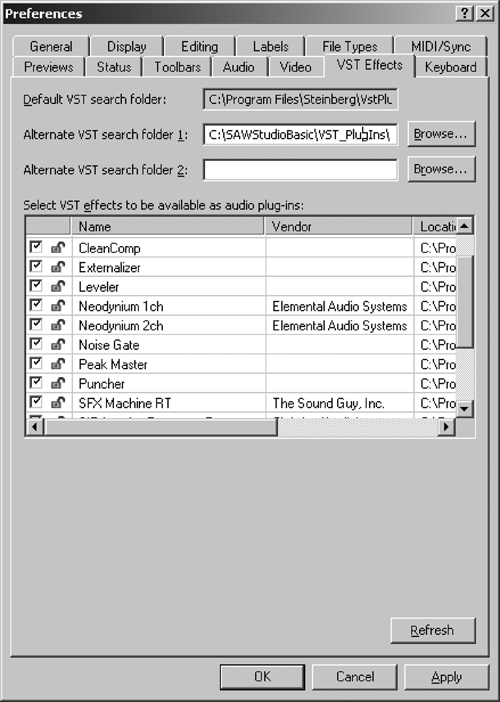 And the addition of support for VST plug-ins means that Sound Forge can now utilize any of those groovy plugs you can find on the internet (although it also means that poorly-written VST plugs can crash Forge like they can any other editor. But we only use stable, proven plugs, right? No cracks, right?).
If you own any other Sony plug-ins, you'll find they're nicely integrated into Forge 8's FX Favorites menu. All the usual suspects come bundled with Sound Forge 8, including a nice selection of compressors and limiters, EQs, phasers and flangers, as well as Sony's very cool Acoustic Mirror modeling reverb. This is an Impulse Response Convolution reverb, which re-creates the sound of specific acoustical spaces using Impulse Response recordings. Sony includes a whole blast of IR files with Forge 8, and these include everything from churches and theaters to hallways and stairwells. There are even IRs of the Washington Bridge, for cryin' out loud. All very fun stuff.
NICE BONUS OR TWO
Here's another little bonus in Forge 8... when you first fire it up, the program will now open the last sound file you edited. Yup, complete with any and all effects you'd inserted into the Plug-In Chainer, highlighted regions still highlighted, zoom level maintained, and everything. Finally — I can stop for lunch, quit Forge, and when I return it will open up right back to where I left off. It's a small thing, but it's a nice thing.
Let's also not forget that Sound Forge 8 comes bundled with CD Architect version 5.2. CD Architect is an extremely capable Red Book audio CD burning program. It's a standalone program, but once installed the File Menu in Forge 8 displays an option to Export one file or all files directly into CD Architect, to create an audio CD. While there's little that is new in version 5.2 over version 5 (which was formerly sold as a separate $149 product), CD Architect is a fine addition to your toolbox and what the hey, it's free.
PRY OUT YOUR VISA CARD
If you already own Sound Forge, there is absolutely no reason not to upgrade to version 8, particularly if you use v6 or earlier. If you get on it right away, you can get the upgrade for $99, before it goes to its customary $149.
There's not much to dislike about the upgrade, although Forge's version of scrubbing is pretty lame. But the program feels lean and powerful, and absolutely nothing I threw at it gave it so much as a hiccup. The keymapping is a great stress reliever; the ASIO and VST support make it a much stronger and even better sounding editor, and getting CD Architect for free in the box is an unexpected bonus. You can either order the upgrade as a total download, or you can pay a bit more for a box shipping and get the whole business on CD. Either way, the upgrade is well worth it.
Sony Sound Forge 8 currently retails for $419.99 for the boxed version, and $399.99 for the download version. If you're an existing Forge user the upgrade is $99.95 (with a limited-time promotional code you should get in your email if you've registered the product with Sony); otherwise the upgrade is $149.95. Upgrade pricing from other versions of Sound Forge is available on Sony's well designed website.
For more information, visit Sony's website at www.sony.com/mediasoftware.
♦