Page 2 of 3
MOVING MENUS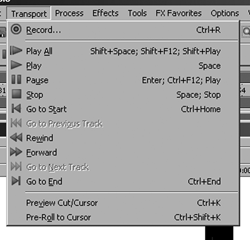 For example, there's a new Transport menu that contains appropriate items that were previously scattered elsewhere. You have to take a trip to the Preferences menu to get it to show up, as it's off by default. But there you'll find commands that belong there, including all of the individual transport controls, as well as items like Preview Cut and Pre-roll to Cursor. It just makes more sense, and makes Forge that much faster to use.
Another new menu, located right next to the Transport menu, is Insert.
Here you'll find items that one commonly inserts into one's track, including Marker, Region, Volume Envelope, and Silence. The Special menu has been removed altogether. Its contents have been relocated, primarily to either the Edit or the Insert menu. Menu categories that were little used and in some cases inappropriate for pro-level audio editing have also been removed, notably the entire group that was formerly found under Acid Looping Tools.
Toolbar icons have not been spared either. A new Insert toolbar now contains icons that correspond to the commands in the new Insert menu.
The Acid Loop Creation Tools toolbar has been removed, and most of its icons are now located on the Navigation toolbar. Actually, Forge's relationship to Acid has changed somewhat. For those of you who actually create Acid loops in Sound Forge, you can still do it -- it's just that most of the commands have been relocated. Under the View menu is a new entry called Metadata. As you can see in the screen capture, this Metadata menu is home to what used to live in the Acid Properties window. I get the feeling that Sony's Acid may be reaching the end of its useful life, and the changes in Forge Pro 10 serve to downplay the integration between Forge and Acid.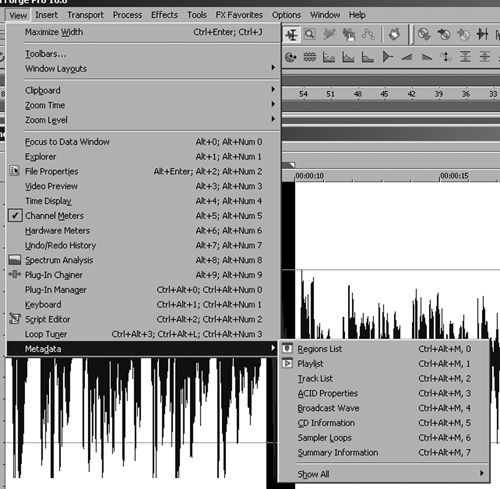 The Metadata menu is also home to a couple of significantly improved features in Forge Pro 10. The more interesting item to me is the Regions List window which is available there. This replaces the old Insert Marker/Region dialog, and looks very much like the Memory Locations window in Pro Tools. Here's an instance where not only has the user interface changed, but the workflow has changed as well.
In version 9 and earlier versions, when you dropped a marker in an audio file by pressing M, the Insert Marker/Region dialog box would appear so you could tell Forge whether the marker was a single location, represented an entire region, give it a name, and so forth.
In Forge Pro 10, dropping a marker does just exactly that -- nothing more. If you want to define a data marker or give it a name, you right-click it and choose an operation from the drop-down menu. Or... you can go to the Metadata menu and then choose Regions List to display the list, where you can edit the information directly as if in a spreadsheet.
Yes there's a keyboard shortcut to bring up the Regions List. Unfortunately it's now Ctl-Alt-M and then 0, but then again some things in the user interface never change. In fact, there are only seven changes to the keyboard shortcut list. All of them have to do with displaying various Windows, and of those only two became more complex: the aforementioned Regions List and the Playlist/Cutlist window. So while you may have some difficulty finding the menu items you're used to using, there's very little to remember in the way of new keyboard shortcuts.