Page 2 of 2
THE MASTER SECTION
The Master section, which takes up nearly a third of the mixer's total width, is home to the usual suspects including two 1/4" jacks for the AUX sends, four more for the two stereo AUX returns and another two for the MAIN outs. All of these are TRS jacks, capable of providing both balanced and unbalanced signal paths. A pair of RCA jacks serve as Tape In and Tape Out, creating a convenient way to connect to a master recorder or external sound source. The MAIN outs are also available on the rear panel as XLRs.
Next is 1/4" headphone out jack, and below that are the source buttons that govern what signals will be delivered to the phones. You can assign the MAIN mix, RCA tape input, FireWire channel 1-2 (straight from your computer), or Alt 3-4 signals to the Control Room outs or the phones. The Alt 3-4 choice is interesting, since the 820i uses another signature Mackie trick -- using a channel mute button to route the signal not into oblivion, but onto a second pair of busses which can be accessed on the rear panel.
Next to the source matrix you'll find the only proper meter on the console -- a stereo LED ladder meter which clips at +20 dB. It makes good sense, inasmuch as the Onyx has a solid +22 dB of headroom overall. At the bottom of the meters is Mackie's standard "Rude Solo" LED, without which no Mackie mixer would be complete. And yes, it flashes when any solo button is depressed.
The AUX master section is home to the two AUX Send masters, each with the aforementioned pre-post button. Next to these are the master Return level controls, along with a RTN TO AUX 1 switch to assign the AUX 2 return to go to the AUX 1 send. Flexible, yes? But wait, there's more... an AUX SEND 1-2 TO FW 5-6 button allows you to route a copy of signals assigned to the AUXES into your computer where they can be processed using plug-ins and brought back into the Onyx via the AUX returns.
Despite all of this flexibility, there will be some that are not pleased by the signal routing that goes into the computer. The output of each channel in the Onyx goes to the computer pre-Insert and pre-EQ, or pre-fader and post-EQ. Ah, but there is an appendix in the PDF manual entitled "Appendix F: Modifications." It seems that if you're willing to take your Onyx 820i to a Mackie service center, you can have your board modified so that the signal sent to your computer is, for example, post-fader or post-insert. You can't say that Mackie doesn't try to give you what you want.
OFF TO THE COMPUTER
Two FireWire 400 jacks on the rear panel allow the Onyx 820i to send and receive digital audio from your computer. Remember, in no way will the Onyx control your computer, but its built-in FireWire interface does allow you to send your tracks into the computer, having gone through all of the delightful analog goodness described above. And of course, you can bring them back from the Onyx for playback.
These operations require that drivers be installed on your computer. Mackie makes drivers available for both Windows and Macintosh computers; a "universal" driver for the PC actually contains both a SIM and WDM drivers, and requires either Windows Vista or XP SP2. There is no mention on the website of Windows 7 support, at least not yet. On the Mac side, OS X is supported through snow leopard, using a core audio driver. All of these drivers are available from Mackie's website.
My first test utilized the ASIO driver with Adobe Audition 3 running under XP. After I'd installed the drivers (a simple enough task), I fired up Audition, selected the ASIO driver in preferences, and Audition saw all eight channels immediately. I successfully recorded multiple tracks simultaneously, with no clicks or pops. The Onyx will do 88.2 or 96 kHz sample rates, and you can change the sample rate from within Audition thanks for ASIO. However, the CPU load at higher sample rates goes up proportionately, so I stuck to 44.1 and 48 for eval purposes.
The only real difficulty I had was with the trim control on the microphone inputs. Like many inexpensive mixers I've used over the past few years, the taper used in the trim controls on the Onyx is iffy at best. With an Electro-voice RE-20 microphone plugged in, I had to crank the trim control up near its maximum position. Given the RE-20s low output level that didn't surprise me, but I did have difficulty dialing in the exact level I wanted near the top of the knob's travel. It seemed that those last few degrees were more sensitive than the rest, and just felt, well, fiddly. But Audition seemed happen enough, and the old RE-20 really did sound good through analog circuitry.
Running ProTools M-Powered 8 was a little different. As you might guess, ProTools M-Powered is not included with the Onyx, nor is it available for sale from Mackie. The M-Powered software carries a price of $249. In addition, you'll need to get an another driver from Mackie that costs $49.99 and install that in order to make it all work. That little driver is what makes the Universal Driver work with ProTools M-Powered. It turns out that if you've ever installed an older version of ProTools, you'll then have to hunt down and remove any of the old pref files before M-Powered will install successfully.
However, once I'd sorted out those issues on a MacBook Pro, Pro Tools M-Powered started right up. I then took a quick trip to the I/O Setup menu, clicked the Default button for both the inputs and outputs, and M-Powered saw all eight ins and two outs on the Onyx 820i. As with Audition, the old mics do sound nice in ProTools having been through some analog circuitry first.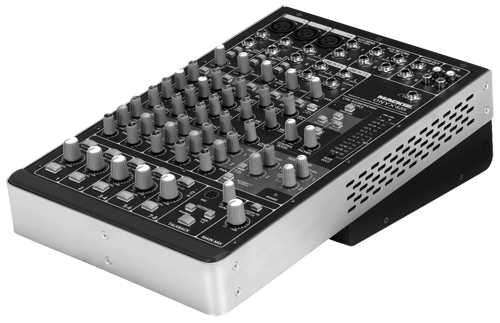 WRAP UP
As far as I'm concerned, the only iffy item in this Onyx package is its ProTools compatibility. If Mackie wrote their own driver as a result of some clever reverse-engineering, then it's possible that Avid (Digi's parent) could sue, in which case that compatibility could be lost.
Yeah, and so what. The Onyx is a very competent little analog mixer at an entry level price. Its built-in interface is compatible with most popular editing software, so what's the big deal? From an audio standpoint, it's a nice-sounding little board, with mic preamps whose trim controls are a bit fiddly, and which will generate a little noise if you push the level hard. But the EQ sounds good, the signal path is otherwise clean, and the build quality seems very good. All in all, it's a nice little entry-level board with some heavy bells and whistles. Steve sez check it out.
The Mackie Onyx 820i Firewire mixer carries a suggested US retail price of $649.99, although street prices tend to be just under $500. For more information worldwide, visit www.mackie.com.
♦