Page 2 of 3
When it came time to build my own recording studios, I knew enough to realize I needed a team. I'm saying, don't try to do it all yourself. No matter how much experience you have, no matter how good you are with tools, there are the right people out there who can guide you and greatly enhance the quality of your perfect dream studio.
I built my first studio the spring of 1986 with my musical partner, Kenn Rickman, a licensed carpenter and an inspired guitarist. We knew the value of great soundproofing and careful electronic design. Kenn had the woodworking skills to implement a very complicated plan. The powerful production room we created together was one of the first of its kind anywhere, a MIDI studio with 27 different sound sources, fully synchronized to an Otari multi-track machine. In spite of the breathtaking MIDI capabilities, that studio was mostly hardware-based. Everything was mixed manually and all processing was done with expensive rack-mounted gear from Lexicon, Orban, and other high-end manufacturers. The meticulous soundproofing and solid electronics utilized in that studio became the successful foundation for the Wendigo film score, Clean Sheets music libraries, and many other productions.
My second studio came years later, long after I had given up professional production work and shortly after the revolution in software-based recording. It was not a commercial venture. It consisted of a Groove Tube mic, a SeaSound Solo plus Expander, some good software, and blankets hung all over my home office for sound absorption. I had a few friends come by and we made some fair recordings in that room, but we were plagued with soundproofing and acoustical problems. Every time a truck drove by, the vocals got ruined. There were a lot of trucks. We kept making small improvements to the room, but they amounted to nothing more than fingers in the dam. Sound isolation was always a variable.
My most recent studio project evolved as an answer to frustration over recording quality in my blanket-covered office. The new studio did not begin as a commercial venture, but it has become one. This new studio came out right. Like the first one, built with my carpenter friend, all sound isolation issues were resolved before construction ever began. Like that first studio, I had a lot of help building it. Like Sound Suite, the rooms are finished wood with acoustical treatments. I learned a lot during the process. There were costly mistakes along the way, and while it probably couldn't have turned out much better, I could have done the same for less money. I hope my experience can help you in your studio design.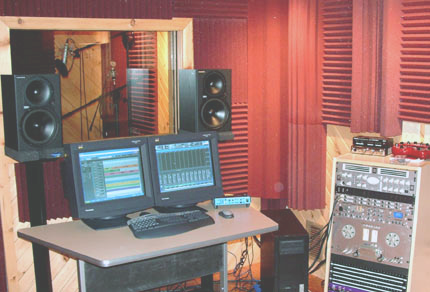 Figure out where you want to build. There are two common places to build home studios, the basement and the freestanding garage. I chose the basement for mine, but most basements are not suitable. Fortunately, my basement had unusually high ceilings and unusually good sound isolation qualities. Other factors in my decision — Northern Michigan winters pack a lot of snow so we really needed some place to keep the vehicles where we wouldn't have to dig them out. Add into that our garage is attached to the house so its sound isolation properties are not great. Freestanding garages, on the other hand, are often perfectly suited for conversion to studios because they offer high vaulted ceilings, total sound isolation from the home, and easy ground-level access for equipment. If you have a freestanding garage, you might want to build your studio there.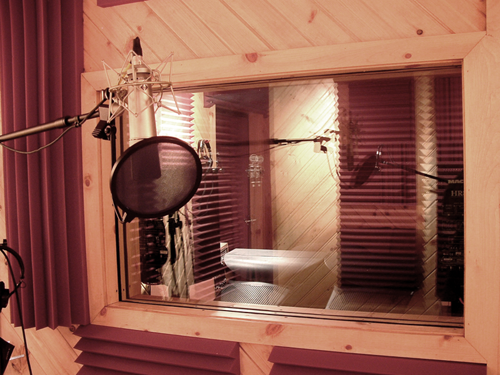 Get to know Auralex products. Go to http://acoustics101.com/ and start reading. Pay special attention to Sheetblock and its applications. I strongly suggest you print out all the construction tutorials and give them to your builder or carpenter. Ask him to fully familiarize himself with everything there and schedule a paid meeting where he will review all of it with you. These manuals are quite technical but a smart carpenter can figure them out and help you understand all the various techniques and methods. While Auralex really is a good choice for your soundproofing products, I regret to say that I encountered serious quality control issues with them. Those issues were: 1) One roll of Sheetblock was delivered mal-formed and unusable. About 8-10 feet into the roll there was a huge gaping hole (roughly 2½ feet long by a variable width of 3-6 inches) where the vinyl didn't form up properly at the factory. How they missed this and shipped it out is beyond understanding. Since each roll weighs 120 pounds, I was not happy about having to pack it up and send it back. What a job. 2) One box of VersaTiles was delivered with BB-sized holes throughout the foam. I called the factory about this and their representative argued that it was within their quality-control norms. I insisted that the VersaTiles should match all the other foam products I ordered. In the end, they agreed and sent a new box of VersaTiles, without BB-holes.
If you buy these products from Sweetwater (I recommend it), they will stand with you shoulder-to-shoulder to correct anything that isn't right. You will also get a better price. Auralex's products are nice, but I recommend going through a "middle man" with clout.
Learn all about Sharka computer solutions. Go to http://sharkacomputers .com/ and let your mind imagine all the possibilities. Then get a great computer guy to build you the perfect audio computer. Or you can get Sharka to build your system. You'll get a killer computer, custom-tailored for media work. But Sharka won't be able to drive over and help you out if you want to make adjustments. For that, you need someone local to you. So you may want to pass the information to a highly skilled local pro and work closely with him to design the perfect machine for your needs. Mac users (and everyone else, please) read on to the next paragraph.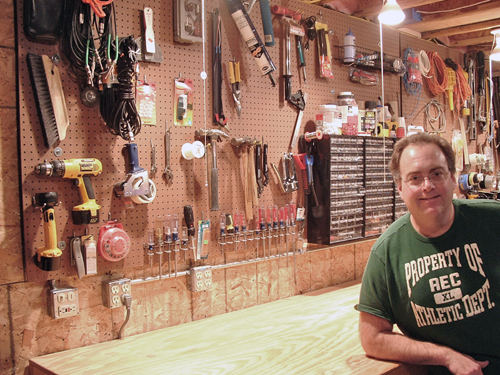 Get someone at Sweetwater. I am definitely a fan of this company. Call and get assigned to one of their experts. Sweetwater calls their reps "sales engineers" because they are so well trained in both sales and recording technology. Reps receive advanced technical training twice a week and conduct hands-on comparative "shoot-outs" with all the gear they carry. They are not afraid to tell you who won and by how much. Sweetwater builds thousands of "turn-key" audio-optimized computer systems each year, both Mac and PC. Be sure to request their tutorial on optimizing your system for audio.
My Sweetwater guy, Jeff Barnett, has guided me so consistently and so well in selecting new audio gear, I have virtually nothing that I don't use regularly. Much of what I have was purchased after Jeff took time to update me on the latest and greatest advances. I've learned to trust him. If you want to call Jeff, he's at: 800-222-4700 ext. 1283.
Go to http://xptweaks.org and learn to really tweak out an XP machine. Start by getting rid of Microsoft Messenger but don't stop there. Get into the page about shutting down unnecessary services. You'll pick up some processing power. One last piece of tweak advice – I wouldn't install Service Pack II.
Assemble Your Team
A president needs a cabinet of experts. He counts on these people to guide him through highly technical issues. As I hinted above, your decision to employ this team approach is the single most important decision you can make toward creation of the perfect studio. There are four areas where you will need the knowledge and skills of your cabinet professionals: 1) home electrical wiring, 2) carpentry/construction, 3) specialized audio computer design, and 4) audio equipment.
If you are absolutely sure you personally have professional level skills in one of these areas, you may opt to skip hiring someone in that category. But be warned, these are the links in the chain. And the weakest link can break, ruining all your efforts.
For my team, I chose Ronnie Byer as carpenter, Bo McCurdy as my computer guy and Jeff Barnett to guide me in my audio design. Each was instrumental in helping me create a powerful, beautifully finished studio that causes clients and friends to catch their breath every time they enter the control room.