Page 2 of 3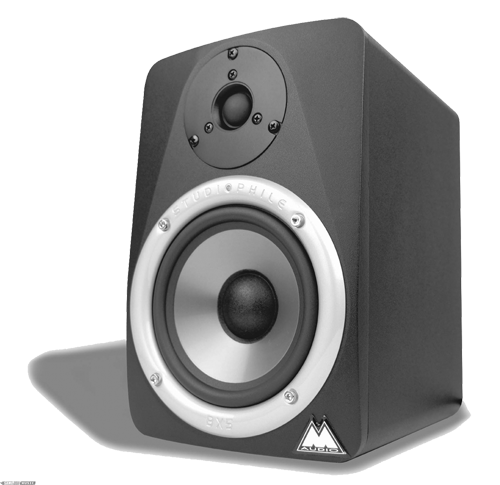 M-AUDIO STUDIOPHILE BX5
The M-Audio BX5 is two-way, compact active monitor built around a one-inch silk-domed tweeter and a 5.25-inch polypropylene cone bass/mid-range driver. Each driver is fed by its own 38-watt power amplifier, with a crossover frequency of 3kHz. Measuring 9.85 x 6.54 x 7.88 inches, the cabinets have rounded corners and are finished in a black plastic laminate. Both drivers are recessed into the baffle, and the silver mounting ring around the bass/mid-range driver features a blue LED to show when the monitors are switched on. These enclosures are also magnetically shielded.
The rear panel is home to a bass port and input connectors on both TRS balanced 1/4" jacks and XLRs, both governed by a single volume control. AC power is via the usual IEC jack... unfortunately the power switch is also in the rear, which is inconvenient if you like to turn off your speakers now and again. The frequency response is spec'd 56Hz to 20kHz, which sounds optimistic for a small box. Sensitivity is 90dBA at one watt and one meter, which is plenty for nearfield monitoring purposes.
A three-way slide switch adjusts the bass response for boundary effects, offering 2dB or 4dB of low-cut shelving. Another slide switch adjusts the bass response directly by selecting 56Hz, 80Hz or 100Hz low-cut values. A third switch allows the high end to be set flat, boosted by 2dB or cut by 2dB, and there's also a presence in/out switch to add mid-range boost. I left all these switches set to flat for evaluation purposes.
In use, the mid-range and high end are detailed, while the silk tweeter manages to keep the high end reasonably smooth, so that you can use them for extended periods without experiencing undue fatigue. Although no maximum SPL is quoted, these little speakers are capable of playing much louder that I'm capable of listening to them, with little loss of clarity.
As I auditioned them, I was initially very impressed with this detail in the mid-range and high end. But the more I listened, the more it appeared that what I was reacting to was a general lack of low-end (which I expected), and a very steep bass roll-off (which I did not expect). Ported speakers inherently have a fairly steep roll-off, often preceded by a significant peak, but the bass end of the BX5 seemed truncated more than most speakers. To my ears the low-frequency response has an unusually steep roll off — presumably a combination of the port tuning and driver protection circuitry — and the result is somewhat misleading at the bass end. I suspect that the addition of a properly calibrated subwoofer would help solve this, but I was still surprised at how quickly the bass disappeared, so much so that it became annoying.
While the speakers did an acceptable job in portraying both male and female voiceover tracks in terms of tonality and detail, they fared less well with bass-heavy production elements and effects. With complex mixed imaging material, the speakers tended to present a rather thin and confused impression of what was going on in the lower octaves. The problem was primarily one of inconsistency. Unfortunately, relocating the speakers to put them closer to walls, although changing the overall spectrum in the expected ways, did little to change the inconsistent nature of the low bass.
The M Audio BX5s are good and useful speakers, and their small size makes them ideal for use in desktop systems where there is little space available. Magnetic shielding is becoming less of an issue as flat-screen monitors become more prevalent, but it's still a welcome inclusion. They are well built, definitely priced right, and represent good value for the money. But unlike other small speakers in this range, the low-bass issues here make some sort of a subwoofer almost mandatory. It's not that the low bass diminishes, rather it's that it disappears so quickly and without a trace.
The M-Audio BX5s carry a suggested list price of $399.95 a pair, and can be found on the street for under $300. For more information visit www.m-audio.com.