Page 4 of 4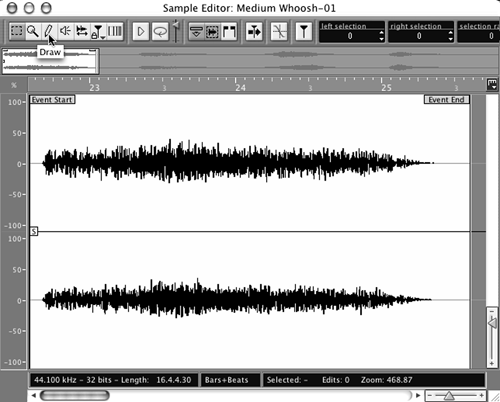 EDITING
You'll likely do most of your editing directly in the main Project window. The zoom sliders let you get close enough for most tasks, and it's an easy window to navigate. If you highlight an audio "event", you'll find red handles on the bottom of it for top and tail trimming, and blue handles on the top for creating quick fades. Grabbing the blue handle in the top center of the event lets you adjust the volume of that event quickly.
Double-clicking on the audio event brings up the Sample Editor window [see screenshot]. This function is reminiscent of Cool Edit Pro, where you could switch between general editing in multitrack and surgical editing in stereo. You can top and tail events quickly, and zoom in to a high magnification level without changing the resolution of your multitrack window — this saves a lot of time and aggravation. All the usual editing tools are available via the icons along the top of the window.
Speaking of the icons, Nuendo's icon-toolbar is intimidating at first look. Fortunately you can hover your cursor over an icon and the name of the tool will pop up, and you'll eventually commit them to memory. The next thing that will annoy you is having to click on one of the icons to select a tool when you're trying to speed through an editing session. You have two options to speed this up: you can right-click to bring up a contextual menu that includes all the tools, or you can use the number keys along the top of your keyboard to select a tool. They're all numbered from left to right, with "1" being the Object Selection tool, "2" being the Region Selection tool, and so on. Again, it's a matter of getting into the Nuendo zone, but you'll get quick with it.
THE MIXER
As of this writing, Nuendo is at version 2.10. Version 2 is a significant upgrade from version 1.x, especially with regards to the mixer. Nuendo's new mixer emulates a big hardware board better than any program I've seen. The multiple windows for channels, EQ and outputs are gone, and in their place is a mixer that looks and feels like a mixer. Although it may take a bit of studying to understand the hieroglyphic icons on the left side, the new mixer gradually reveals itself to be a multilevel digital network that can quickly be expanded for tweaking or collapsed to take up minimal real estate on the screen. In fact, you can create four different mixers, so you can have, for example, one just for FX tweaking, one for EQ, one for tracking, and one with just group and folder channels. You can show selected channels and channel strip sections in narrow, wide and extended mixer views. This is just one area where working on a multi-screen rig has big advantages.
Opening the input/output mixer section lets you boost the level of low-level signals before they hit the EQ and effects, just like the trim on a real board. Each channel has a phase reversal switch and input/output pop-ups for selecting input and output buses. If you add EQ and effects to a channel before recording audio, then the EQ and effects will be printed with the audio. Again, just like a real board.
Two of the eight channel inserts are post-fader. You can bypass EQ, inserts and sends individually or globally for each channel. Right-clicking in Windows (or control-clicking for the Mac) on the channel meter brings up meter options — Hold Peaks, Hold Forever, Input VU, Post-Fader VU and Fast Release. You'll also find the global reset for the VU meters in this area.
Mix automation comes in five modes. Touch Fader starts writing automation when you touch the control and stops when you release the mouse button. Auto-latch starts writing when you click the control and stops when you stop playback or turn off the Write function. X-Over works like Autolatch, except that it stops writing when you cross a previously written automation curve. Overwrite works like Auto-latch, except that it only affects volume and it continues to write until you turn off the Write function. Trim also only affects volume automation, and offsets the volume automation curve without overwriting previous volume information. Waveform data is displayed as a shadow behind automation curves, and you can make automation data move with edited data when you select the "automation follows events" preference or menu choice. You can edit automation using preset curves, jump curves for on/off and ramp curves for continuous multiple values.
FX return channels give you a convenient way to "premix" effect levels. You can also add processing to the effects returns — FX return channels have inserts and EQ with the same layout as audio channels.
Nuendo's mixer also does surround, and does it to death. There's enough here to make George Lucas smile, all the way from plain-vanilla four-channel LCRS to 10.2 surround. Hey, you never know when your AE might show up with an order for car spots in 5.1. Nah, never mind.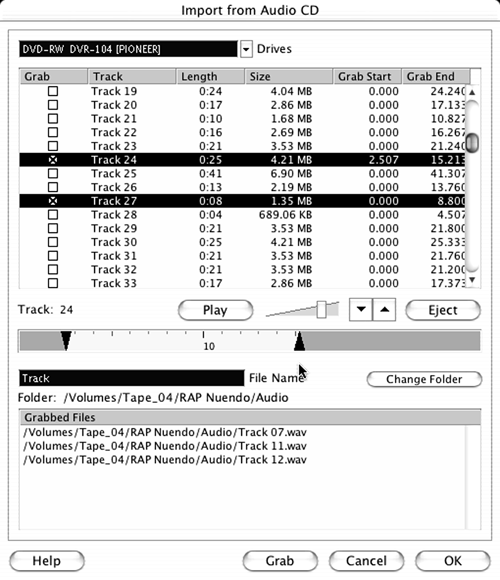 OODLES OF EFFECTS
As mentioned, since Steinberg invented VST it stands to reason that Nuendo is VST plug-friendly. The program ships with 72 VST plug-ins, and a diverse selection of more than 400 signal-processing plugs are available from third-party sources. Besides Apogee's yummy UV-22 dithering, Nuendo's built-in effects plug-ins include reverb, dynamics, delay, chorus, flanging, and noise reduction - all of which can be automated. For those of you who never got over the Rock Star thing, there are also several software synthesizers to satisfy your music-composition cravings. They're all quite good, and some are outstanding — the multiband compression is really nice.
THE DOCUMENTATION
Nuendo comes with a 232-page Quick Start Guide that will give you all the information you need to get rolling. The detailed soft cover manual is a whopping 732 pages, and could use a more comprehensive index, but it does the job. Both are available as PDF files on the installation CD, and you may find it easier to search them on your hard drive for a particular term or function.
NETWORKING
Also new in version 2.10, Nuendo's new networking capabilities may be the one feature that actually makes it worth all the money. Using Nuendo's networking technology, you can collaborate with other users of Nuendo in a peer-to-peer network. The "owner" of a project can share it with any number of users via LAN (Local Area Network) connections and/or WAN (Wide Area Network) connections using standard Ethernet network protocols. This lets several separate users work on a project simultaneously, and should be interesting to production departments working on bits for the same show. At this time you can share audio and MIDI tracks only, but not mixer setups.
I didn't have an opportunity to check out Nuendo's networking, but I hope to do so in the near future. If it works as advertised, it should be way cool.
THE END?
So is Nuendo worth one and a half kilobucks? It's certainly full-featured, and was rock-stable during my evaluation. It has all the features, and once you get the hang of working in it, Nuendo is as quick as any software. The sound quality is excellent, and it will do anything that Pro Tools or Vegas, or CEP will do. There just isn't a lot not to like.
I think it comes down to the networking and collaboration features. If those are happening, then I'd say it's worth the money. Apart from that, Nuendo is a great, if pricey, editor.
Nuendo 2.0 retails for $1,495. For more information, contact Steinberg, a division of Pinnacle, at (818) 973-2788 or visit www.steinbergusa.net. For more information world wide, contact www.steinberg.net.
♦