Page 2 of 2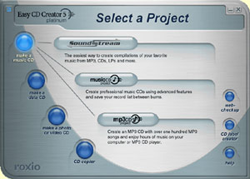 THE SOFTWARE — CD CREATOR
Roxio's Easy CD Creator comes pre-installed on many PCs that have CD burners. It's a capable program that may be all you ever need, and offers wizards that take beginners step by step through the CD creation process. It supports both single and multiple session burning formats, and comes with extras like a jewel case creator program and CDDB support, which allows you to download song titles from the Internet when you insert a disc.
Creator comes with a separate program called DirectCD, which is a packet-writing program that lets you use a CD as a giant floppy. With it you can burn files for backup on a CD by dragging and dropping them from within Windows Explorer. While convenient for this purpose, DirectCD conflicts with many other CD software packages, so you'll have to uninstall it before installing a different CD program.
Creator also requires that Auto Insert Notification is enabled on your computer. This means that every time you insert an audio CD in your PC, Creator launches itself. This is fine unless you intend to use a different software package, and several other manufacturers specifically suggest turning Auto Insert off.
The commercial version of Creator comes complete with the Spin Doctor, a basic noise-reduction application that helps clean up old tapes and records. While useful, the noise-reduction tools available in Sound Forge or Cool Edit are far more sophisticated and effective.
NERO
Ahead Software's Nero requires a bit more user savvy, but has some excellent CD burning and MP3 encoding features. It encodes MP3 files up to 320 Kbps, which will give you near-CD-quality audio, and boasts variable bit rate encoding that finds the perfect balance between sound quality and file size.
Nero provides some gimmicky features such as a Karaoke filter, which more-or-less cancels the lead vocal of a music track. But the program includes a better set of noise-reduction filters than does Creator.
While Nero is a bit more complex than Creator, it's still usable for novices. Pros will find the program direct and flexible — it will easily handle any CD format in use today, including all the video and data formats and the proprietary CD formats used by some samplers.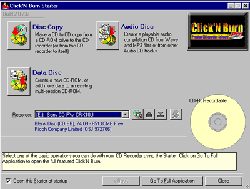 CLICK 'N BURN
Published by Stomper Inc., the company that produces the stick-on CD labels, Click 'N Burn is a full-featured burning program aimed at the pro market. Its interface and feature set are similar to the other programs available for the PC. While it lacks some of the noise-reduction tools of the consumer-oriented packages, it includes a wizard to step novices through the process (cleverly called "Starter: the Anti-Wizard).
Its most significant feature is labeled "Warp Drive." This feature lets you use up to four burners in your PC as an inexpensive CD duplication system. You'll need at least a 300 MHz PC, a bus mastering SCSI interface card and SCSI CDR or CDRW drives, none of which are inexpensive. But given the fact that a dedicated CD duplicator can weigh in at $2,000 or more, this is clearly the strongest feature in an otherwise competent software program.
CDRWIN
At thirty-nine bucks, CDRWin from Golden Hawk Technology is one of the least expensive burning packages available. It's a utilitarian program, but nevertheless supports all the CD formats, decodes MP3s, and even includes support for some commercial CD duplicators and loaders.
Given its Spartan feature set, CDRWin has no wizards, but there is a version that runs in DOS mode. It's a web-only download, and while it's not pretty, it will definitely do the job.
MAC SOFTWARE
While there are several programs available for the Mac, the runaway leader is Adaptec's Toast Titanium. It is among the easiest and most direct of all the CD software programs, although its features are limited in comparison with its Windows competitors.
Toast has no wizards and a limited number of choices for format. Instead, it gives you a menu for selecting audio, data, or disc copy functions. Its strengths include its ability to burn DVD-RAM discs and its ability to run in the background. For burning simple audio CDs and data backups, it's quick and effective.
But most pros who work on the Mac platform use Adaptec's Jam, which is a good example of a dedicated audio CD package. Jam gives you control of all aspects of the audio burning process. You can set the gap times between tracks, and crossfade between cuts using one of several types of fades. At nearly $200, Jam is aimed squarely at the pro market.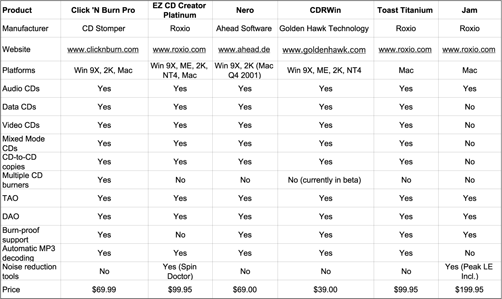 LEAD OUT
So what do I like best among these? Well, all of the programs reviewed here will do the job, but I usually go with Nero on the PC for burning both audio and data CDs, and either Toast or Jam on the Mac depending on the job.
Most CD software is available as a trial download so you can try it out before you buy. Just be sure to check the manufacturer's website to make certain that your CD burner is supported by the software you choose.
♦